Get out of Rome and head to hilltop Tivoli on this fun half-day guided trip. Explore the historic town and visit Hadrian's Villa and the Villa d'Este, two UNESCO World Heritage-listed spots. With an expert guide, tour the town and its historic villas, learning about the history of the area and seeing an exciting swath of the Roman countryside.
Highlights
Visit the town of Tivoli on a half-day trip from Rome
See two UNESCO World Heritage Sites in one day: Hadrian's Villa and Villa d'Este
Learn about the lavish Emperor Hadrian on a tour of Hadrian's Villa (Villa Adriana)
Explore Villa d'Este with your guide and admire its incredible gardens and Bernini-designed fountains
Enjoy round-trip transport by air-conditioned coach from Rome
Recent Photos of This Tour
Hadrian's Villa and Villa d'Este Half-Day Trip from Rome
What You Can Expect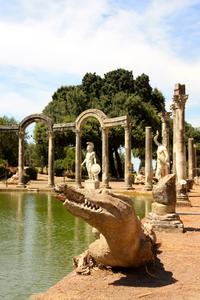 Begin this half-day tour of Tivoli by getting picked up at your hotel in the center of Rome or opt to meet your guide near Rome's Termini Station. Hop on the comfortable coach for the ride. Learn about the history of Tivoli from your guide while admiring the views of the Roman countryside from the coach window.
The first stop is Villa Adriana, also known as Hadrian's Villa, the erstwhile 2nd-century holiday home of Emperor Hadrian. Stroll among the ruins of the villa, which almost seems like more village than villa, as the place was expansive and ostentatious. See the temples and terrain, the theaters and thermal baths and learn about what daily life was like here 1,800 years ago from your guide.
Hop back on the coach and make the short drive to Tivoli's other main attraction: the incredible Villa d'Este. This Renaissance-era palace, built in the the middle of the 16th century, was home to Cardinal Ippolito II d'Este, who at the time was also the governor of Tivoli. Stroll around the palace with your guide learning about its history, lingering in the verdant gardens and gawking at the Baroque fountains designed by none other than the master Gian Lorenzo Bernini.
After the tour, enjoy the relaxing ride back to Rome. The tour concludes where it began – either at your hotel or at Rome's Termini Station. You can also opt for a drop-off at Via Veneto, Piazza Barberini, Piazza Venezia or Piazza della Repubblica.
June 2016
Antonio brought Hadrian's Villa to life for us. I was not prepared for how extensive the villa grounds are. Antonio was able to answer all my botany questions, and pointed out the important sites. It was amazing to see olive trees and cypress trees that were more than 1000 years old.
June 2016
June 2016
Our first stop was a little slower but once we got to the garden part of the last stop with the fountains it was unbelievable. I did not want to leave. Incredible experience. A place to propose , very romantic and beautiful.
May 2016
This was a very good tour with lots of good information from our tour guides. Both the Villa's of Hadrian and d'Este were well worth the short 45 minute ride outside of Rome. The 100 fountains at the Villa d'Este were truly beautiful. I highly recommend this half day tour.
April 2016
We loved this tour. I booked it to see Hadrian's Villa, but I fell in love with Villa d'Este and Tivoli instead!! My only complaint was not having enough time in Tivoli as it was easily the most beautiful place I've ever been in my life. I could have spent a day there easily. The fountains and gardens were stunningly beautiful. We also loved Hadrian's Villa - it was a marvel. Our tour guide was very knowledgeable and patient. We also had time to break off from the group and explore the gardens. I would go back in a heartbeat.
March 2016
Fantastic and a great guid. There were only 9 of us and Villa d'Este was like a private shoeing. Our guide spoke Enlish, French, Spanish and then Italian to the driver. Our 9 were from Chile, Argentina, France, England, Israel and USA.. Just simply a wonderful tour.
February 2016
February 2016
Very good guide and great way to spend a few hours out of the city
February 2016
This tour was amazing and the tour guide was excellent. He was knowledgeable, personable and offered plenty of unique facts and information. I highly recommend this tour if it fits your schedule.
December 2015
I took the trip at end of November and it was excellent. Villa d'Este is very impressive, the fountains are very nice, there is much to see. The trip starts with the tour of 1st floor of the palace, followed by the visit to the gardens where there is multitude of fountains. It is very picturesque tour of the Villa. The 2nd visit at Villa Adriana is also very impressive. Our tour was moving at very slow pace, so some of us went and saw the whole Villa - the main tour just stopped at main attractions. Really very memorable event, very good tour guide.
Advertisement
Advertisement