Indulge in all things Imperial Rome with this informative and entertaining 3-hour guided afternoon tour. Traverse the city on foot and by comfortable coach as you hit all the important sites related to the Roman Empire,including the Forum, Capitoline Hill, the Circus Maximus and a skip-the-line Colosseum tour. And bonus: pop into the Church of St. Peter in Chains to see some marvelous Michelangelo sculptures, including his masterpiece, 'Moses.'
Highlights
3-hour Imperial Rome tour in Italy with an expert guide
See the Roman Forum from Pizza del Campidoglio on Capitoline Hill
Visit the Church of St Peter in Chains on this Rome afternoon tour
Admire the Tomb of Pope Julius II, and see Michelangelo's legendary Moses sculpture
Enjoy a skip-the-line Colosseum tour and learn all about the gladiatorial games
Recent Photos of This Tour
Imperial Rome Afternoon Tour
What You Can Expect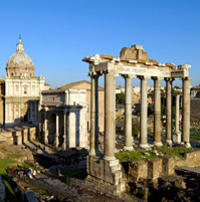 Get picked up at your hotel in Rome or meet your guide near Termini Station to start this informative and entertaining tour of Imperial Rome. Ride via comfortable air-conditioned coach to Piazza Venezia learning about the history of the Roman Empire along the way. Once on the square, have a look at Il Vittoriano, the massive monument to Vittorio Emanuele II, that contemporary Romans love to hate.
Walk up to Capitoline Hill and learn about the space that Michelangelo designed. Take a minute to drink in the views here, as the hill offers stunning views in almost every direction, especially nice sight-lines of the Roman Forum.
After being dazzled by Capitoline Hill, hop back on the bus and cruise the streets of Aventine Hill, one of Rome's famed seven hills, and go by the Circus Maximus, the spot where chariot races were once held. Learn about the history of the venue and how it was big enough to hold a quarter of the city's population.
Next stop: jump up a few centuries and head to the Church of St. Peter in Chains, also known as San Pietro in Vincoli, an ancient church in the Monti neighborhood that was built to house the chains that bound St. Peter in Jerusalem. Most people today visit the church to see Michelangelo's masterpiece sculpture of Moses, which was originally meant to be a huge project: the tomb of Pope Julius II. The project was never completed but Michelangelo did complete the Moses statue and half-completed some sculptures of slaves which are on display in the church as well.
After spending some time marveling at the church interior, head over to the nearby Colosseum where you'll get skip-the-line access. Home to brutal gladiator battles, this structure is one of the most dazzling sites in Rome and from antiquity. Learn from your guide about the history of the building and how so much marble from the Colosseum was stripped to help make St. Peter's Basilica in the Vatican.
Exit the Colosseum and then the tour ends in the late afternoon.
March 2016
Giorgio was an amazing tour guide. He clearly loves the subject matter and is extremely knowledgeable! He took wonderful care of the group.

January 2016
The tour was outstanding! And to top it off...Giorgio was fantastic. To have a tour guide who was actually part of the archeological team from 25 years ago was absolutely amazing! He was able to offer great insights into our tour from a hands on perspective. We decided we want to be like him when IF we ever grow up. Meanwhile, we will continue to seek out more tours!!! Great job...another bucket item on our list checked off!!!
December 2015
We enjoyed this tour very much. Excellent guide.
December 2015
Loved it! Our guide was informative and entertaining.

steveinSD United States of ...
November 2015
Excellent tour. Visiting these places would not be as good without the tour guide to educate you on the history and the locations.
November 2015
Max the tour guide was fun, knowledgeable and laid back. No rushing at all, so he made the tour enjoyable.
He gave us time to take pictures, patiently answered questions. Highly recommended.
September 2015
We had a great time with this overview tour. Got to catch some highlights and our tour guide was very knowledgeable.
August 2015
This tour was very well organized. The guide was informative and engaging with group.
August 2015
Highly recommend this tour to anyone visiting Rome. Provides a good overview of historical events and Roman history.
July 2015
Advertisement
Advertisement