Intrigued by the sights of Italy's south? Take a day trip from Rome to Naples and Pompeii, and discover their sights as you listen to tales of Bourbon kings and ancient volcanic eruptions. Travel around Naples by coach to see Castel dell'Ovo, Piazza del Plebiscito and Naples Royal Palace. Then, enjoy lunch and finish with a tour of Pompeii's UNESCO-listed archaeological ruins to see the monuments that lay buried for centuries.

Highlights
Naples and Pompeii day trip from Rome with an expert guide
Travel through Castelli Romani on the way south to the Campania region
Pass through Santa Lucia and stop for photos in front of Castel dell'Ovo on the seafront
See top Naples attractions from the comfort of your coach: Piazza del Plebiscito, San Carlo Opera House and Castel Nuovo
Explore Pompeii's UNESCO-listed ruins and learn about Mount Vesuvius' eruption of AD 79
Why Our Insiders Chose This Tour
It's a journey loaded with arresting sights, including the enchanting medieval villages of Castelli Romani and the distinctive outline of Mt Vesuvius. Your guide gives you a thorough overview of ancient Pompeii.
Recent Photos of This Tour
Naples and Pompeii Day Trip from Rome
What You Can Expect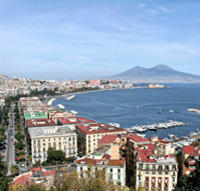 Begin your Rome to Naples day trip with a pickup from your hotel. Or, simply meet your guide near Rome Termini station. Once aboard your coach, relax on the journey south to the Campania region and look out for sights such as the Abbey of Montecassino. The Benedictine monastery is a dramatic sight, perched on top of a hill in the rocky Castelli Romani area.
After three hours on the road, arrive in the Campania capital of Naples, and see its sights from the comfort of your coach. Take in views of the coast as you pass along the road from Mergellina Port to the fishing district of Santa Lucia. Then, stretch your legs with a photo stop by the medieval seaside fort of Castel dell'Ovo.
Work your way into Naples' historic center for a look at Piazza del Plebiscito and its fine collection of monuments. Hear snippets of history about Naples Royal Palace (aka Palacio Real), the three Bourbon palaces and the Basilica of San Francesco di Paola — a church with attention-grabbing colonnades. Other Naples attractions seen include Castel Nuovo, Galleria Umberto I and Teatro di San Carlo.
Leave the city by coach and travel further south toward Mt Vesuvius. Pass towns such as Ercolano — home to the ancient site of Herculaneum — as well as Torre del Greco and Torre Annunziata. Stop in Pompeii for lunch at a local restaurant, and then visit Pompeii's UNESCO-listed ruins on a 2-hour tour.
Hear how the city lay buried under a sea of volcanic ash from Mt Vesuvius as you admire the excavations of monuments such as the 5,000-seater Teatro Grande.
Finally, return to your coach and relax on your journey back to Rome. Your tour finishes with a drop-off in Rome.
May 2016
This was a great tour and wonderful guides! Also the lunch was amazing!! Would definitely recommend to all!

maryna South Africa
May 2016
We stopped in Napels before we went to Pompeii..I wish we could have had at least an hour to explore the surrounding area...would love to comeback here one day .
On this tour we also stopped at a Jewelry making factory that produces jewelry made from shells...beautiful craftmenship.
The restaurant that we had lunch at BEFORE our tour was also very good...we had Good beerPieroni and the 2 hosts were amazing we were allowed a second portion if we wanted to have it..situated on the main road.
AWESOME ABSOLUTELY AWESOME TOUR GUIDE !!!!!She pulled us into the story of Pompeii and she made the ancient seem real to us...She was extremely informative and gave us many good laughs..her English was very understandable and I thank her from the bottom of my heart!!
The restaurant that we had lunch at BEFORE our tour was also very good...we had Good beerPieroni and the 2 hosts were amazing we were allowed a second portion if we wanted to have it..situated on the main road.
Thank you very much for a magnificent time !!!!
May 2016
Pompeii was one of my favorite tours!
April 2016
Fabulous -- not to be missed. You learn so much about this city -- how sophisticated it was as well as its dark side. You can almost feel what it must have been like when terror struck and then everything was frozen in time. Note: the people casts are not among the ruins but rather are preserved in a glass house. Still riveting nonetheless.
March 2016
Very pleasant trip even with some light drizzle.
March 2016
This was one of the best tours we have been on. The bus driver and the two guilds were excellent they were very friendly, helpful and knowledgeable. The only thing we were not so happy about was the meal we feel it would be better to have found our own lunch as there were plenty of places to eat.
March 2016

February 2016
Everything was well organised. Although it rained while we were in Naples, but still It was good. We saw Naples from the tour bus, and then stopped for photos by the sea shore. We could see the Capri Island from there. Beautiful views. The lunch that was included in the trip was also good. I had special needs as I am a vegetarian and that was also catered too. It was a great trip. The Pompeii ruins tour was very informative. The guide made history interesting for me while I have never been interested in history at all.
February 2016
We had a wonderful day visiting Naples and Pompeii. Trip was very enjoyable and made so interesting by Sylvia our guide from Rome to Pompeii and then by the gentleman who joined us sorry forgot his name and then took us around Pompeii. This is only a brief visit to Pompeii but gives you a good insight into the ancient ruins and was so absorbing . I really wanted it to go on longer, We had lunch included and that was so lovely and on our way to Naples we stopped off at a cameo making factory which was very interesting as we watched a lady making a cameo. All in all a wonderful trip that I would recommend to anyone . Thanks Viator
January 2016
My favorite tour! Loved everything about it.
Advertisement
Advertisement