The Panoramic Electric Bike Tour of Rome offers you the best panoramic views of the city from Aventine Hill, the Janiculum Hill, the Capitoline Hill and more. You will see the most important domes and monuments of Rome and enjoy them from a fabulous perspective. As you pedal higher, your legs may become weary, but the effort is worth it when you reach the top of a hill and your breath stops at the sight of the beautiful views. The tour route will also take you by Rome's top sights like the Colosseum and the Roman Forum. This small-group Rome bike tour is limited to twelve people, ensuring you receive personalized attention from your Dutch-speaking guide.
Highlights
Panoramic Bike Tour of Rome
The most enjoyable way to discover Rome's best panoramic views
4.5 hours of cycling around Rome's most famous sights, including the Colosseum and Roman Forum
27-gear trekking bike (helmet included)
Knowledgeable and professional local guide
Small groups up to 12 people for a more personalized experience

What You Can Expect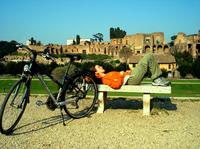 On the Panoramic Electric Bike Tour of Rome, an expert local guide will take you around the city, showing you some breathtaking panoramic views that make excellent photo opportunities. Your guide will do everything to make sure you have an unforgettable experience and get the most out of Rome's historical monuments and beautiful landscapes.
Far from the chaotic city traffic, the tour route takes you through gardens and up a few hills so you can get the best views in town. Your arms and legs may be quite worn out by the end of the tour, but you'll find that it is all worth it for the perfect Roman view. You'll pedal through and around many exceptional places including:
Trajan's Thermal Baths
Circus Maximus (panoramic view of the Palatine Hill)
Aventino Hill and the Garden of the Oranges (the romantic view of Rome)
Bocca della Verita' Square
Trastevere
Santa Maria in Trastevere
Janiculum (the main view of Rome)
St Peter's Square and Basilica
Castel Sant'Angelo (Mauseleum of Hadrian)
Via de' Coronari
Navona Square
Pantheon
Largo di Torre Argentina
Jewish Ghetto
Theater of Marcellus
Capitoline Hill (panoramic view of the Roman Forum)
The tour should be enjoyed in relaxation – when you need a break, you'll have chances to stop for a coffee or gelato (not included in the price). The tour provides heaps of useful information and fascinating stories about Rome, as well as the opportunity to meet other travelers and snap some wonderful photos.
You will cover an area of approximately 12 miles (18 kilometers). The ride is leisurely, but will go uphill, so a medium level of fitness is recommended.
June 2016
top experience would doit again in other cities
August 2011
Really enjoyed this biketour!!! Consider it as one of my highlights of visiting Rome. Such a great way to see the city, many beautiful views and Emanuele made us a lot wiser about the interesting sights that Rome has to offer. So you also learn something about the history that is all over this town. Love to do the city by bike that's for sure, less tiresome than walking and you can see more. We saw a lot off highlights! The traffic was ok, no troubles at all, probably because the itinerary was well chosen. It felt so relaxing.
And I did like the little climbing (Rome is build on 7 hills), nice and sportive and afterwards enjoy the awesome views. Worth the energy, for sure. The biketour was not hard at all, just a view nice hills to conquer, but for the rest really relaxing and calm (which is quite impressive for a city like Rome). Can recommend this tour to anyone, you are active, get to know something about Rome and see the most beautiful sceneries along the way.
September 2011
this tour was awesome. HOWEVER, if you are not in physical shape of any kind then this is NOT the tour for you. we biked up several steep hills and if i had known i would be doing that in 90 degree weather i wouldve passed. it's a great tour but very exhausting if you dont work out reguarly. this is not a leisure ride and i run 5mi 2-3x a wk.
Advertisement
Advertisement