Take a day out of your Rome vacation to get acquainted with Mt Vesuvius and Pompeii. This exciting day trip to Pompeii includes a steady-paced hike up Mt Vesuvius (summer only) or a visit to the National Archaeological Museum of Pompeii, plus a pizza in Naples and a tour of the UNESCO-listed digs at Pompeii. Hear the history from a local guide and admire artifacts that date back to the infamous Mt Vesuvius eruption of AD 79.
Highlights
Day trip to Mount Vesuvius and Pompeii from Rome with an expert guide
Hike up the side of the volcano and walk along its ridge, gazing into the crater
Drink in dramatic views over the Bay of Naples
Experience the world-famous Napolitan pizza
Explore the National Archeological Museum of Pompeii in place of Mount Vesuvius (November 16 - March 31)
Why Our Insiders Chose This Tour
The hike to the crater of Mt Vesuvius is rewarded by phenomenal views and the guide for the Pompeii tour really brings the ruins to life. Stopping for a pizza is a wonderful break from an active day.
Recent Photos of This Tour
Pompeii Day Trip from Rome
What You Can Expect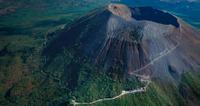 Hop aboard your coach at Piazza del Popolo in Rome, and travel south in air-conditioned comfort to Italy's Campania region. As you travel, listen to tales about the colorful southern Italian area and Mt Vesuvius.
After the volcano's infamous AD 79 eruption, lava and volcanic ash destroyed the cities of Herculaneum and Pompeii. Evidence of those ancient streams of lava is still evident in the area, and your guide will show them as you travel.
Step out of your coach for a steady-paced, 20-minute walk to Mt Vesuvius' summit, from where the most breathtaking views await. Make your way over trails covered in pumice rock and ash, before some free time to gaze down into the caldera and across the Bay of Naples.
Walk back down with your guide, and then head into Naples for a lunch of traditional pizza. From Naples, journey further south to complete your day trip from Rome to Pompeii. Once a thriving Roman city; today the town is best known for its UNESCO-listed archaeological digs, which are home to a wealth of relics. See incredibly preserved fossils and other ruins, plus plaster imprints of the town's victims who were buried for years.
See the remains of the Forum and Teatro Grande, were some 5,000 people could once be seated. From your Pompeii tour guide, hear about day-to-day life for the Pompeii locals as you wander streets where ancient shops, cafes and even brothels could be found.
Finally, head back to Rome by coach and finish with a drop-off at the start point.
Please note: Mt Vesuvius is inaccessible from November 16 – March 31. During this time, the hike is replaced with a walking tour of the National Archaeological Museum of Pompeii. The site is home to an array of relics, excavations and art from Pompeii.

May 2016
We started off with tour guide, Anna. She was great, giving us heaps of information the whole day. The coffee break on the way was very timely. Fausto our driver did a good job in negotiating the road on Mt Vesuvius. The walk up the Mt was well worth the effort. We looked into the crater, saw the lava flow and had a fantastic view of the bay of Naples. Lunch of Pizza was really tasty and gave us an opportunity to meet others on the tour. We then proceeded on to Pompeii and met up with a local guide Guiseppi. He was really passionate about Pompeii.Our tour coincided with a few cruise ships in Naples and so the crowds were a bit heavy at times. However Guiseppi so full of information and good at negotiating the worst of the crowd we still managed to have a wonderful time there. The time flew and the entire day was well worth the effort.
May 2016
it was fantastic. the guide was over the top exceptional. she really made the trip the best experience. I would recommend this tour to everyone.
May 2016
This full day trip to Pompeii and Mt. Vesuvius was fabulous. Two guides were with us all day, and kept things organized and entertaining. They allowed quiet time on the bus for snoozing, but also keep us well informed about the days activities. Specific local guides at Pompeii were excellent as well. Would recommend this tour to anyone - it was a highlight of our 2 week trip to Italy.
May 2016
This tour is so amazing especially our tour guide, Melanie. Melanie is so knowledgeable and fun. She made this trip so entertaining. I highly recommend this tour to everyone.

Anna P Netherlands
May 2016
Excellent tour with Alessandra and Andy in the lead. It's a full on day with six hours in the bus total so be prepared to be a bit knackered by the time you get back. I thought they did such an excellent job in spreading out the information provided and I really appreciated that our guides took the time in the last hour on the bus to go over a of the touristy and perhaps off the beaten tracks elements of Rome. Please tell Andy his Gelato recommendation La Romana was spot on and we went five times in three days!!! These guys really know their stuff and handled a large group really well. You only get a two hour guided tour of Pompeii but that's actually enough as it all becomes a bit information overload actually! Lunch was a tasty Napoli pizza with first drink included and we were very happy with everything.
May 2016
A lovely, happy, cheery lady was our guide.Very friendly and full of information. Meeting point was easy to find, the coach was very nice. The walk around Pompeii was absolutely astounding and our guide there was very informative. I could have spent all day just at Pompeii! The lunch we had was great - the pizza was better than the Roman pizza! Then we drove up Mount Vesuvius and we had enough time to walk to point 3 which was amazing. Such a magnificent view and wonderful history surrounding it. We were back on time and we stopped on the way back at the same place we stopped at in the morning, so we were able to buy coffee and souvenirs and try limoncello! Great value for such an amazing trip. Everyone on the trip was lovely and our guide sorry I've forgotten her name! even suggested where we could go for dinner when we were back in Rome - I ended up having the best stir fry I've ever tasted! Highly recommended.
May 2016
We had a wonderful day despite rain and hail on Mount Vesuvius in the afternoon. The Pompeii trip was very well done - the site is amazing and the guide was very informative. She was happy to answer all our questions. The views from the bus on the way up Mount Vesuvius were worth the trip even though we couldn't see anything when we walked to the top.
May 2016
We had an amazing trip and would definitely recommend it!! The guides were all wonderful and very well informed. They were also very outgoing and with great personalities that made it all even better. A memorable experience!!
May 2016
I loved this tour. Our tour guide Melanie was entertaining and knowledgeable. I felt we had plenty of time on Mount Vesuvius and in Pompeii. The only thing I found underwhelming was the lunch. Other than that 5 stars!
May 2016
Advertisement
Advertisement