Take a day out of your Rome vacation to get acquainted with Mt Vesuvius and Pompeii. This exciting day trip to Pompeii includes a steady-paced hike up Mt Vesuvius (summer only) or a visit to the National Archaeological Museum of Pompeii, plus a pizza in Naples and a tour of the UNESCO-listed digs at Pompeii. Hear the history from a local guide and admire artifacts that date back to the infamous Mt Vesuvius eruption of AD 79.
Highlights
Day trip to Mount Vesuvius and Pompeii from Rome with an expert guide
Hike up the side of the volcano and walk along its ridge, gazing into the crater
Drink in dramatic views over the Bay of Naples
Experience the world-famous Napolitan pizza
Explore the National Archeological Museum of Pompeii in place of Mount Vesuvius (November 16 - March 31)
Why Our Insiders Chose This Tour
The hike to the crater of Mt Vesuvius is rewarded by phenomenal views and the guide for the Pompeii tour really brings the ruins to life. Stopping for a pizza is a wonderful break from an active day.
Recent Photos of This Tour
Pompeii Day Trip from Rome
What You Can Expect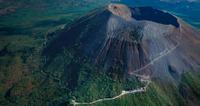 Hop aboard your coach at Piazza del Popolo in Rome, and travel south in air-conditioned comfort to Italy's Campania region. As you travel, listen to tales about the colorful southern Italian area and Mt Vesuvius.
After the volcano's infamous AD 79 eruption, lava and volcanic ash destroyed the cities of Herculaneum and Pompeii. Evidence of those ancient streams of lava is still evident in the area, and your guide will show them as you travel.
Step out of your coach for a steady-paced, 20-minute walk to Mt Vesuvius' summit, from where the most breathtaking views await. Make your way over trails covered in pumice rock and ash, before some free time to gaze down into the caldera and across the Bay of Naples.
Walk back down with your guide, and then head into Naples for a lunch of traditional pizza. From Naples, journey further south to complete your day trip from Rome to Pompeii. Once a thriving Roman city; today the town is best known for its UNESCO-listed archaeological digs, which are home to a wealth of relics. See incredibly preserved fossils and other ruins, plus plaster imprints of the town's victims who were buried for years.
See the remains of the Forum and Teatro Grande, were some 5,000 people could once be seated. From your Pompeii tour guide, hear about day-to-day life for the Pompeii locals as you wander streets where ancient shops, cafes and even brothels could be found.
Finally, head back to Rome by coach and finish with a drop-off at the start point.
Please note: Mt Vesuvius is inaccessible from November 16 – March 31. During this time, the hike is replaced with a walking tour of the National Archaeological Museum of Pompeii. The site is home to an array of relics, excavations and art from Pompeii.
June 2016
Excellent trip the highlight of our holiday.
Our guides Andy and Antionia were brilliant they were very knowledgeable the information was flowing out of them .
Best history lesson we have ever had.
Great value for money .
Bus driver was a lovely man and a great driver.
Linda Gerry Eoghan.
June 2016
I would have liked to have seen the Pompeii nation museum as well. Guides were great and knowledgeable.

June 2016
It will be nice to have less time at the restaurant in order to have more time in Pompeii
June 2016
We were lead by Melony with a shared bus - two tour groups both doing the same tour. Well organized pick-up with a small walk to the bus. Melony was awesome, lovely, and extremely passionate about sharing her knowledge. A few laugh along the way, we had an awesome day-trip.
The day was awesome. Perfect weather all the way. The two tour leads shared the commentary through Rome to the comfort-stop at Cassino. The bus driver showed the world how to go up the single-lane Vesuvius 'goat track' and we were in very safe hands.
Off at the top and we had 1 1/4 hours to climb up to the top - ample time for most fitness levels.
After Vesuvius was lunch - pizza and drink. Perfect. Then off to Pompeii for a guided-tour by the local expert. Very informative and a good speed - not too slow!
A nice drive home through the beautiful countryside and we even got restaurant tips before arriving back in Rome around 20:15.
So so so recommended! Thanks Mel.
June 2016
What a fantastic experience! Our guides Claudia and Robert had so much passion for Pompeii and Mt Vesuvius that it made our group even more excited about the trip. I was amazed at how big Pompeii actually is and how much has survived for so long. You could be there a whole day and still not get to see everything. The walk up Mt Vesuvius was no walk in the park, but the beautiful views of the crater as well as the land and sea below make it totally worth while. It was an enjoyable day from start to finish.
June 2016
Great tour. My wife and I learned a lot during the day.
June 2016
It was very entertaining - funny and informative. Andy was a star of a day with funtastic sense of humor put thru everything he was talking about. I liked that both guiedes were very attentive to your needs, ie answering questions about Rome not really related to our tour. Definitly worth it and will use City Wanders again next time in Rome. Oh, will never forget Antonio - the driver, 5 starts for him too lol
June 2016
We thoroughly enjoyed the day. The guides - Rick and Andy - were informative and fun to be with. Our Pompeii guide Carla was also very good. I would highly recommend this trip if you have an extra day while in Rome. We were leary of the long bus ride but it wasn't bad and we learned lots of tips and interesting information along the way. We'd read that the hike was strenuous and while it was, it was worth it for the beautiful view.
June 2016
My tour guide was AMAZING!
June 2016
If a review is required I am going to stop reviewing for you. For this time the trip was 5 star but Viator is 2 star because of the continuing harassment to write reviews. I go on a trip for my own reasons. If a review is required I should be paid for it.
Advertisement
Advertisement