2313 Reviews
Location:

Rome, Italy

Duration:

13 hours

(approx.)
Take a day out of your Rome vacation to get acquainted with Mt Vesuvius and Pompeii. This exciting day trip to Pompeii includes a steady-paced hike up Mt Vesuvius (summer only) or a visit to the National Archaeological Museum of Pompeii, plus a pizza in Naples and a tour of the UNESCO-listed digs at Pompeii. Hear the history from a local guide and admire artifacts that date back to the infamous Mt Vesuvius eruption of AD 79.
Highlights
Day trip to Mount Vesuvius and Pompeii from Rome with an expert guide
Hike up the side of the volcano and walk along its ridge, gazing into the crater
Drink in dramatic views over the Bay of Naples
Experience the world-famous Napolitan pizza
Explore the National Archeological Museum of Pompeii in place of Mount Vesuvius (November 16 - March 31)
Why Our Insiders Chose This Tour
The hike to the crater of Mt Vesuvius is rewarded by phenomenal views and the guide for the Pompeii tour really brings the ruins to life. Stopping for a pizza is a wonderful break from an active day.
Recent Photos of This Tour
Pompeii Day Trip from Rome
What You Can Expect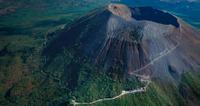 Hop aboard your coach at Piazza del Popolo in Rome, and travel south in air-conditioned comfort to Italy's Campania region. As you travel, listen to tales about the colorful southern Italian area and Mt Vesuvius.
After the volcano's infamous AD 79 eruption, lava and volcanic ash destroyed the cities of Herculaneum and Pompeii. Evidence of those ancient streams of lava is still evident in the area, and your guide will show them as you travel.
Step out of your coach for a steady-paced, 20-minute walk to Mt Vesuvius' summit, from where the most breathtaking views await. Make your way over trails covered in pumice rock and ash, before some free time to gaze down into the caldera and across the Bay of Naples.
Walk back down with your guide, and then head into Naples for a lunch of traditional pizza. From Naples, journey further south to complete your day trip from Rome to Pompeii. Once a thriving Roman city; today the town is best known for its UNESCO-listed archaeological digs, which are home to a wealth of relics. See incredibly preserved fossils and other ruins, plus plaster imprints of the town's victims who were buried for years.
See the remains of the Forum and Teatro Grande, were some 5,000 people could once be seated. From your Pompeii tour guide, hear about day-to-day life for the Pompeii locals as you wander streets where ancient shops, cafes and even brothels could be found.
Finally, head back to Rome by coach and finish with a drop-off at the start point.
Please note: Mt Vesuvius is inaccessible from November 16 – March 31. During this time, the hike is replaced with a walking tour of the National Archaeological Museum of Pompeii. The site is home to an array of relics, excavations and art from Pompeii.

alan g United Kingdom
February 2016
What a fantastic tour! The guides were very knowledgeable and could answer every question asked. The trip lasted 13 hours but felt like about 1 hour. I would highly recommend this trip to anybody!
February 2016
It was very well organized and the two guides were so pleasant and extremely knowledgeable!!!
February 2016
While I am usually reluctant to book and take tours when traveling abroad, I was impressed with our tour guide, Luca, and I really enjoyed exploring the Naples National Archaeological Museum and Pompeii. It's a long and full day trip from Rome, but it's completely worth it!
Luv2TravlAmy United States of ...
February 2016
Well - I crossed off going to Pompeii from my bucket list! This was a wonderful trip! Our guide, Monica, was so helpful and informative. She gave a lot of information to us prior to arriving in Pompeii. Our local guide was also very funny and was just a wealth of knowledge - filling in all of the details of the city and answering all of the questions we had. Our trip took us to the archeological museum rather than climbing Vesuvius as it was in the winter, but seeing the artifacts was so interesting and really gave perspective as to what life was like in Pompeii. I was not impressed with lunch - it just seemed very un-Italian. The pizza was good, but the atmosphere was less than authentic. They did make a stop on the way to Pompeii and on they way back for restroom breaks no toilet seats in the ladies rooms...just beware. Great day - it is a LONG day, so be prepared for that. Highly recommended!
February 2016
My trip to Rome was a surprise gift for my Grandson who will be graduating from Sam Houston State University here in Huntsville. He is a history major and this tour just about blew his mind. I was also fortunate to go to Mt. Vesuvius and climbed to the top with him. You could say we conquered the world on that excursion. Thank you for such an awesome time and a lifetime of memories for us both.
January 2016
This tour was absolutely amazing. The Archaeological Museum was fun to visit. Then the tour takes you to a remote site to have lunch. Some of the best pizza I have ever tasted. After lunch, that moment you realize that you're about to visit one of the most historical sites in the history of the world, Pompeii. Just amazing to actually be on site, and breathtaking to know that Mt. Vesuvius is in the backdrop. Our tour guides Massimo and Roberto were the best ever. They had our group so into the tour. They were informative, outspoken, intelligent, so friendly, down to earth, funny at times. They were simply amazing. They made the tour even that much better of an experience. A to the tour guides! A to Pompeii!
January 2016
Both our tour guide and Pompeii guide were very knowledgeable and interesting. The day was very well planned and ran smoothly. We enjoyed seeing the Archaeological Museum before visiting the site as it helped us imagine the city as it once would have been. We recommend this trip for anyone visiting Rome.
January 2016
This was fantastic in every way. A must see. Great and wonderfully entertaining guides.
January 2016
LOVE LOVE LOVE it. I was on a work trip in Milan and decided to skip town to Rome. I was lucky enough to get on a tour guided by Roberto which I read many positive feedback on. He has kept the trip light i.e. not all boring stuffs, but he talked us through the history of Pompeii on our bus ride there..and kept us entertain throughout. It will always be a trip I highly spoke about besides being there in Pompeii myself but also guided by a great tour guide. It was well worth the 12-13 hours of the day. I am pretty sure you will not know how time passes so quickly on this trip!
January 2016
Amazing Tour Guides / Beautiful Coach for Transportation / Tour was A
Advertisement
Advertisement