2275 Reviews
Location:

Rome, Italy

Duration:

13 hours

(approx.)
Take a day out of your Rome vacation to get acquainted with Mt Vesuvius and Pompeii. This exciting day trip to Pompeii includes a steady-paced hike up Mt Vesuvius (summer only) or a visit to the National Archaeological Museum of Pompeii, plus a pizza in Naples and a tour of the UNESCO-listed digs at Pompeii. Hear the history from a local guide and admire artifacts that date back to the infamous Mt Vesuvius eruption of AD 79.
Highlights
Day trip to Mount Vesuvius and Pompeii from Rome with an expert guide
Hike up the side of the volcano and walk along its ridge, gazing into the crater
Drink in dramatic views over the Bay of Naples
Experience the world-famous Napolitan pizza
Explore the National Archeological Museum of Pompeii in place of Mount Vesuvius (November 16 - March 31)
Why Our Insiders Chose This Tour
The hike to the crater of Mt Vesuvius is rewarded by phenomenal views and the guide for the Pompeii tour really brings the ruins to life. Stopping for a pizza is a wonderful break from an active day.
Recent Photos of This Tour
Pompeii Day Trip from Rome
What You Can Expect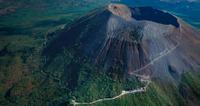 Hop aboard your coach at Piazza del Popolo in Rome, and travel south in air-conditioned comfort to Italy's Campania region. As you travel, listen to tales about the colorful southern Italian area and Mt Vesuvius.
After the volcano's infamous AD 79 eruption, lava and volcanic ash destroyed the cities of Herculaneum and Pompeii. Evidence of those ancient streams of lava is still evident in the area, and your guide will show them as you travel.
Step out of your coach for a steady-paced, 20-minute walk to Mt Vesuvius' summit, from where the most breathtaking views await. Make your way over trails covered in pumice rock and ash, before some free time to gaze down into the caldera and across the Bay of Naples.
Walk back down with your guide, and then head into Naples for a lunch of traditional pizza. From Naples, journey further south to complete your day trip from Rome to Pompeii. Once a thriving Roman city; today the town is best known for its UNESCO-listed archaeological digs, which are home to a wealth of relics. See incredibly preserved fossils and other ruins, plus plaster imprints of the town's victims who were buried for years.
See the remains of the Forum and Teatro Grande, were some 5,000 people could once be seated. From your Pompeii tour guide, hear about day-to-day life for the Pompeii locals as you wander streets where ancient shops, cafes and even brothels could be found.
Finally, head back to Rome by coach and finish with a drop-off at the start point.
Please note: Mt Vesuvius is inaccessible from November 16 – March 31. During this time, the hike is replaced with a walking tour of the National Archaeological Museum of Pompeii. The site is home to an array of relics, excavations and art from Pompeii.
November 2015
Very organized and followed time schedule well. Our tour guide was Sara and she and fellow guide Elena provided helpful facts and education about Rome, Pompeii, Naples and sites on the bus ride. We stopped after 1.5 hours for a break then went on to the museum in Naples. We were given 1.5 hours to explore the museum in Naples on our own. It was an appropriate amount of time. Next was a pizza lunch and then on to Pompei. Enzo was our guide and was great! Lots of knowledge as he is local to the area and his ancestors worked the excavation. I think we spent 2 hours touring the highlights of Pompei and then back to the bus for the ride home. After 1.5 hours we stopped again for a break, limencello tasting and gift shop. We had a great time.
November 2015
I took this tour on the 28/11/15. This was an excellent and well organised tour. If you're going to do a tour from Rome do this tour and you really need the whole day so I wouldn't go for a half day option.
Our tour guides were fantastic and I loved the way they kept feeding us with snippets of history. I hope these guys get paid well for their efforts. 10 out of 10 to our 2 guides and the driver!
I didn't realise but lunch was included and it was Pizza with salad and a drink. We spent 1 hour in the Museum and 2 hours at Pompeii. After chatting with some other people on the tour we recommend
To spend longer at Pompeii and maybe less time at lunch or not have that lunch break and give people the option to grab a quick lunch at the site. I personally would have liked to see more and maybe at a quicker pace but I understand the tour needs to cater for everyone's needs.
There are toilet breaks and the guides check to make sure you are ok on the bus. Our group was very nice too which helps when you're on a tour all day.
I feel confident to go back by myself now.
November 2015
One of the highlights of my entire holiday and it was my first day in Europe!! We did not get to visit the Volcano due to bad weather but got to see so much in the museum. The guides Alessandra and Robert were awesome! Pompeii is so beautiful still and must have been incredible in its original state.
November 2015
the view from the Vulcano was great, and so was Pompeii
November 2015
Excellent ! Guides were wonderful, very knowledgeable. Would highly recommend!
November 2015
Pompeii tour was enjoyable.
November 2015
AWESOME experience with the best tour guides! We had a wonderful day touring the ancient city of Pompeii, and the hike of Mount Vesuvius. Travels with motion sickness, be warned. The bus ride to Vesuvius can be definitely tricky. Overall, though, a FANTASTIC experience!
November 2015
Robert and Stephanie were great tour guides - lots of knowledge about Rome and the sights. Incredibly funny too!
November 2015
brilliant day out, well worth the money, trips reps amazingly knowledgeable
and enthusiastic.
November 2015
long day but worth the effort excellent guides lots of fun would love a day out with them next time I am in rome
Advertisement
Advertisement