Explore Rome's ancient art history in style on a private walking tour with an art expert. Accompanied by your own private guide who specializes in art history, you'll enjoy personalized attention on your special private tour of ancient Rome's cultural highlights. You'll come away with a full understanding of ancient Rome and its artworks, from its origins to the collapse of the Roman Empire.
Highlights
Private walking tour of Rome's ancient artworks
Guided tour of the famous collections held in the Capitoline Museums
Choice of morning, afternoon or evening three-hour tours
English-speaking guide specializing in art history
Departs from Piazza del Campidoglio on the Capitoline Hill and concludes at Piazza Venezia
Enjoy privileged, personalized attention from your guide on this special private art tour
Customize the tour to suit your own interests
What You Can Expect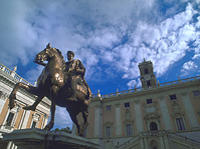 Your tour of ancient Rome's artworks begins on the Capitoline Hill by the equestrian statue of Marcus Aurelius, with a visit to the famous Capitoline Museums. The renowned collection is displayed in wonderful halls decorated with 16th-century frescoes. Highlights include ancient monumental statues, vases and important monuments like the original statue of Marcus Aurelius, the ruins of the 6th century BC temple of Jupiter on the Capitol and the Tabularium. From here it is possible to have a wonderful view over the Roman Forum, which your private tour guide will describe in detail.

Descending from the Piazza del Campidoglio toward the Forum, you will view Trajan Markets, Trajan's Forum and his marvelously sculpted column, which will also be discussed by your guide.

This in-depth private tour of the artworks of ancient Rome is hosted by a professional guide specializing in art history. Please list any special interests you have (art, architecture, history, culture) at the time of booking to alert your guide, so they can prepare for your private tour.
October 2015
Gianluca was FANTASTIC, such an ambassador for Rome. His knowledge and enthusiasm for for the art of ancient Rome was with out a doubt the highlight of this trip to Europe. We would gladly engage him for anything Rome.
July 2010
Not worth the money. We probably should have told the guide exactly what we wanted in advance.
Advertisement
Advertisement