For an in-depth experience of baroque Rome, treat yourself to a private art history tour led by an experienced historian-guide. Visit the Borghese Gallery (Galleria Borghese) to see its renowned collection of art and statues, and then wander through the gardens of Villa Borghese, down to Piazza del Popolo for a tour of Santa Maria del Popolo, a 15th-century church home to two works by Caravaggio. Throughout this experience, you'll enjoy the personalized attention that comes with a private guide.
Highlights
Private walking tour of Baroque Rome and the Galleria Borghese
Guided tour of the Galleria Borghese
Guided tour of Santa Maria del Popolo
Choice of morning or afternoon three-hour tours
English-speaking guide specializing in art history
Departs from the Borghese Gallery and concludes at Piazza del Popolo
Enjoy privileged, personalized attention from your guide on this special private art tour
Customize the tour to suit your own interests
Recent Photos of This Tour
What You Can Expect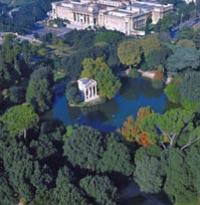 Meet your guide at the Borghese Gallery, housed in the Villa Borghese, to begin your private walking tour of Rome's baroque art and architecture. Head inside to tour the gallery with your guide, an art historian with much knowledge to share about the history and art of the villa, which dates back to Cardinal Scipione Borghese, who filled his home with an impressive collection of works.

Admire several statues by Gian Lorenzo Bernini, including Apollo and Daphne, David and Rape of Proserpine, and see a Canova sculpture of Pauline Bonaparte Borghese. Don't miss paintings by Caravaggio, Titian and Raphael before leaving the gallery to walk through the lovely Villa Borghese gardens down to Piazza del Popolo, a busy Rome square.

Head inside the Basilica of Santa Maria del Popolo with your guide to see two of Caravaggio's famous works—Crucifixion of St Peter and Conversion on the Way to Damascus; with your guide's artistic help, compare these baroque paintings with Raphael's Renaissance-style Chigi Chapel. Your tour then ends at Piazza del Popolo, a central location from where you can continue exploring the city on your own.

Note: This private tour can be customized to your interests by your professional guide; please list any particular interests you have, such as architecture, history or culture, at the time of booking so your guide can prepare.

June 2016
Guide was fantastic and we learned a ton.
June 2016
Great tour with Luca. He was really funny, informative, and kept our 18 year old niece interested throughout the tour.
June 2016
Best of the best. Our guide was an expert and got us to all the best pieces just as our time expired. A must-see.
June 2016
We were met on time by Isabela. She was exceptional with her art descriptions and explanations. Be for warned that Gallery permits you only two hours, then it allows additional people in to view everything. Wonderful experience
Josepha S USA
March 2016
Our tour guide Maria Ludovica Candrilli was absolutely fantastic. She has advanced degree in art history and I highly recommend anybody that takes art seriously ask for her if you are visiting the Borghese. As the daughter of an artist, I cannot say enough wonderfull things about her
November 2015
very competent, well prepared and knowledgeable guide who shared her enthusiasm and love for the subject matter
October 2015
Excellent tour. Our guide was charming and very informative....and the works of art are breathtaking.
October 2015
excellent ! our tour guide could and was able to answer all our question. He even gave us tips to make our trip even better.
August 2015
This was one of the highlights of our trip. Luca, our guide, was extremely knowledgeable and also friendly and entertaining. The gallery has extraordinary art and his explanations helped us appreciate the art all the more. He made the most of our time. It was a pleasure spending time with him and the art. We would happily do it again.
March 2015
I had a private tour which, while pricey, was worth every penny to me. The guide was extremely knowledgable about art, history, and the classical and religious subjects of the art. He showed me differences in the artists' styles and techniques, and I learned a great deal about Carrivagio whose astounding works are on display at the Borghese. This was a highlight of my four days in Rome.
Advertisement
Advertisement