516 Reviews
Location:

Rome, Italy

Duration:

2 hours

(approx.)
Master the basics of hand-to-hand combat at a genuine gladiator school on the ancient Appian Way. You'll discover the secrets of Imperial Rome's gladiator games, get hands-on with ancient Roman history and have the best fun you can imagine!
Highlights
Two-hour Roman gladiator training
Lessons led by members of the Historic Group of Rome
Hire of gladiator clothing and weapons
Free drink included
Free entrance to the Gladiator School of Rome Museum
Choice of lesson times throughout the day
Recent Photos of This Tour
Roman Gladiator School: Learn How to Become a Gladiator
What You Can Expect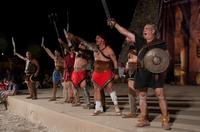 During your two-hour lesson, your gladiator instructor will teach you how to fight with authentic weapons used by the gladiators of ancient Rome. Lessons are organized and led by members of the Historic Group of Rome who specialize in the re-enactment of Roman life and gladiatorial combat.

Don't miss this opportunity to re-create Roman history and life as a gladiator. Dressed in a traditional gladiator tunic, belt, leather protective glove and rudis (training sword), you can let your imagination run wild as you play like Spartacus for a day, fighting off ferocious lions and sword-wielding warriors!

Next, learn the basic techniques of gladiatorial sword fighting and take part in an optional gladiatorial tournament, with the winner receiving a victory prize. All participants receive a certificate of accomplishment.

If you're fascinated by Roman Gladiators but not sure if you're up for it, you can choose to watch friends or family free of charge. There's a great viewing platform.

Are you up to the challenge of this truly Roman experience combining culture, sport and ancient legends!
September 2015
August 2015
We're not usually big on guided tours or experiences, but this one was a winner. It's a bit out of the way, geographically, but worth the trip. The instructor had a great, dry sense of humor. Showed us the traditional gladiator garb/weapons, involving kids in guessing the uses and reasons for different things, putting the garb on them, etc. Then we went through training, a boot camp obstacle course before learning the fighting moves and testing them against each other. Excellent program - highly recommend!
August 2015
Really enjoyed our time here with great memories made with my 12 year old!
August 2015
Our 16 and 18 year old really enjoyed the Roman Gladiator School and appreciated the enthusiasm, wit and knowledge of the instructors. We would definitely recommend it!
August 2015
Gladiator school was great! The instructor was informative and dynamic. My only suggestion is to have better directions to the venue, as the taxi dropped us off at the main road, and we didn't know that we had to come up the alley. Thanks for a wonderful experience!
August 2015
This was a fantastic experience for my 12 year old son and me. Paolo spoke English very well, explained everything in detail, had a great sense of humor, and was very knowledgable about Roman military history. There is a small museum of military history and gladiatorial items that is charming and very interesting. Importantly, Paolo called a cab for us at the end of the session and we only had a short 10 minute wait. The school provided plenty of water. The school was a short 15 minute cab ride from our hotel in the center of Rome. I highly recommend this for a great experience with kids. Thanks Paolo. We'll be back on our next trip to Rome!
August 2015
So much fun! A nice break from the bustle of the city.
July 2015
We had a great time! I would highly recommend this for both adults if you are fit and children. They were great during the event and helpful with getting transportation back to hotel.
July 2015
If you have kids under the age of 12, I highly recommend this. It was the highlight of my 9 yr old's whole trip to Rome. The instructor's were great and spoke passable English but the kids didn't seem to mind. They did a great lesson about gladiator and Roman history before they took the kids out to the sand pit to train them to be gladiators. They did get to spar with each other and with the parents which was the highlight. Even my 14 yr old enjoyed the sparring part and fought her younger sister. They had a different training area for younger kids and then another one for older kids and adults.
July 2015
OK, off the beaten path, take a taxi to get here, and they will call for one at the end to take you back. Strange, kitschy entrance, with a fun little museum. The gladiator trainer/tour guide gave great historical perspective of gladiators in Rome, and the the fun began. Gladiator school was both fun for observers and participants. Great for ages 10-50. Highly recommended in Rome, if you are tired of Museums and Churches, this is for you, simple half day fun.
Advertisement
Advertisement