Find out what it takes to be an ancient Roman gladiator at the Gladiator School of Rome. During a hands-on lesson with instructors from the Historic Group of Rome, learn how to fight with authentic weapons of the time while wearing a traditional gladiator tunic and belt. Located on the Appian Way not far from the Colosseum, this class is a unique and interactive way to learn about ancient Roman history, sports and culture. Select a lesson time when booking.
Highlights
2-hour Roman gladiator training
Learn gladiator fighting techniques from members of the Historic Group of Rome
Wear and use traditional clothing and weapons
Includes entrance to the Gladiator School of Rome Museum
Choice of lesson times throughout the day
Recent Photos of This Tour
Roman Gladiator School: Learn How to Become a Gladiator
What You Can Expect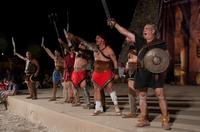 Your gladiator lesson takes place at the Gladiator School of Rome, located near the Colosseum on the historic Appian Way. Specializing in the re-enactment of ancient Roman life and gladiator fighting, your instructors are members of the Historic Group of Rome and will begin your class by providing you with your costume: a traditional belt, tunic, leather gloves and a training sword known as a rudis.

Learn the basic skills of gladiator sword fighting before summoning your imagination and channeling your inner ancient Roman as you fight off ferocious lions and battle other sword-wielding gladiators. If you wish, you can participate in an optional gladiator tournament, complete with a prize for the victor; either way, all participants receive a certificate of accomplishment at the end of your lesson.

Friends and family are allowed to watch your class from the viewing platform. Admission to the Gladiator School of Rome Museum is also included so you can check out gladiator weapons and other artifacts.


May 2016
We loved gladiator school, so much fun for both the kids and adults! Highly recommended

May 2016
Very interesting for children and adults alike!
May 2016
we had big fun at the gladiatorschool! It was very interesting for kids and parents. they had a very sportive and active way of experiencing the live of a gladiator. the teacher spoke english very well and made it very special for the kids. It was one of the highligts of Rome, especially for the kids!
May 2016
This was a highlight of our Italian trip!! Our 9 year old boys loved learning how to fight like a gladiator and we really enjoyed all the information in the museum tour portion of the trip. So much incredible information!
We were glad we took a taxi to get there because it could've been a bit tricky to find on foot.
May 2016
My 12 and 18 year old sons considered this the highlight of our European trip. The very informative guide provided an excellent explanation of how gladiators lived in ancient times, the types of weapons they used and their battle tactics. The gladiator training served to reinforce this and was fun as well. It was certainly a worthwhile experience.
May 2016
Gladiator training was marvellous, my son and husband really enjoyed the training and I loved watching. The short talk in the museum was also interesting. The 'gladiatrix' who hosted us was great.
May 2016
My two boys 9 and 7 years old totally LOVED their gladiator class! The 2 hours flew like the wind: the trainer was very knowledgeable and really lived his part he showed us around the museum and took the boys through their paces they finished exhausted but 100 happy. A most enjoyable experience for the whole family, excellent value for money and the stuff memories are made of. Not to be missed! We have actually repeated :-

April 2016
We all enjoyed the tour and the kids loved Paolo, Highly recommended.
April 2016
This was the highlight of our son's 8th Birthday on our last day in Rome. We had a great time. Young and older can enjoy the fun and challenge of the Gladiator School. Awesome.Thank you again, the Walker family.

April 2016
A terrific way for the kids to understand a piece of Roman history and get out some of their wiggles after a day of sightseeing.
Advertisement
Advertisement