540 Reviews
Location:

Rome, Italy

Duration:

2 hours

(approx.)
Master the basics of hand-to-hand combat at a genuine gladiator school on the ancient Appian Way. You'll discover the secrets of Imperial Rome's gladiator games, get hands-on with ancient Roman history and have the best fun you can imagine!
Highlights
Two-hour Roman gladiator training
Lessons led by members of the Historic Group of Rome
Hire of gladiator clothing and weapons
Free drink included
Free entrance to the Gladiator School of Rome Museum
Choice of lesson times throughout the day
Recent Photos of This Tour
Roman Gladiator School: Learn How to Become a Gladiator
What You Can Expect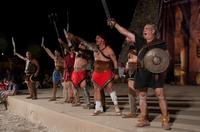 During your two-hour lesson, your gladiator instructor will teach you how to fight with authentic weapons used by the gladiators of ancient Rome. Lessons are organized and led by members of the Historic Group of Rome who specialize in the re-enactment of Roman life and gladiatorial combat.

Don't miss this opportunity to re-create Roman history and life as a gladiator. Dressed in a traditional gladiator tunic, belt, leather protective glove and rudis (training sword), you can let your imagination run wild as you play like Spartacus for a day, fighting off ferocious lions and sword-wielding warriors!

Next, learn the basic techniques of gladiatorial sword fighting and take part in an optional gladiatorial tournament, with the winner receiving a victory prize. All participants receive a certificate of accomplishment.

If you're fascinated by Roman Gladiators but not sure if you're up for it, you can choose to watch friends or family free of charge. There's a great viewing platform.

Are you up to the challenge of this truly Roman experience combining culture, sport and ancient legends!
January 2016
I had so much fun with the gladiator training. The trainer was knowledgeable and hilarious.
January 2016
My 10-year-old son did this and loved it. He already said that when we go back to Italy we put coins in Trevi Fountain to ensure that we do come back that he wants to do this again. The guides were very helpful and informative. To get there, we took the metro to the Colosseo metro stop and then took a taxi to the school. The school called taxis at the end for anyone that needed one. Afterward, we visited the Colosseum. I think it really helped my son enjoy the wonder of the Colosseum having just finished gladiator training at the school.
January 2016
Our boys aged 11 and 8 really loved their morning at Gladiator school. An extremely informative and highly interactive learning experience. Both teachers were excellent in their knowledge and really bought things to life for the participants. A highly recommended experience.
November 2015
We booked the Gladiator school after good friends recommended it to us. It was our third day in Rome and was by far and away our 6 year old son's favorite part of the trip. Paolo our trainer was amazing with the kids in our group giving them just enough history along with the training that they really wanted. If you have kids 5 they will love this.
November 2015
This was so much fun for our whole family. We learned a lot and even got to try on gladiator gear. Then we were instructed in the art of being a gladiator. Finally, we were put to the test. We will remember this always.
November 2015
This was totally awesome. The kids and adults loved it. Cannot recommend this school highly enough. We took my 4 year old with his big brothers and they welcomed him and made him feel included as well great idea and well run
November 2015
A living history lesson- so much fun and highly recommended!
November 2015
Awesome tour. We did this tour as a family of 4 as our son really wanted to attend but not on his own. Our gladiator was Emanuel Tiny-mind you there was nothing tiny about him he was fantastic and we enjoyed his knowledge and history of the roman era. I cannot speak highly enough of Tiny he made this tour very memorable. In fact a highlight of our time in Rome ...... Thank-you Tiny and I'm sure I was your best mama Gladiator you have ever trained !!!!!!!
November 2015
My grandson absolutely loved this experience he is into TaeKwondo so is used to fighting but was completely enthralled by the instructor. A complete success
November 2015
This could have been silly or cheesy, but it was great. The place is really neat, outside the wall and down a dirt road. Roosters crowing, very authentic. They don't push merchandise but give good historical info too. Our kids LOVED it ages 6-11 and were sweaty and got a good workout too with the obstacle course, fighting drills and matches. It was one of the most fun things we did in Rome and I wouldn't miss it if I had kids. My daughter was a great warrior and surprised our gladiator with her ferocity as she took down boy after bigger boy! All in all, an excellent experience!!
Advertisement
Advertisement