Dive into the Rome of Dan Brown's bestselling novel on this 'Angels and Demons' tour. Inspired by the book, the tour takes you on a journey through the Eternal City as you search for messages from the secret society known as the Illuminati. Along the way, admire Rome's beautiful art and attractions like St Peter's Square, Piazza Navona and Castel Sant'Angelo. This walking tour is limited to 25 people.
Highlights
4-hour Rome walking tour based on Dan Brown's novel 'Angels and Demons'
Explores sites mentioned in the book, including Bernini's beautiful statues and ancient churches
Be entertained and informed by an exceptionally knowledgeable guide
Receive a map of the Illuminati
Entry to Castel Sant'Angelo

Recent Photos of This Tour
Rome Angels and Demons Half-Day Tour
What You Can Expect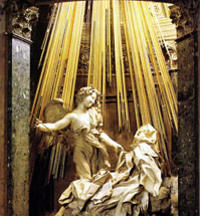 A unique and interesting way to go sightseeing in Rome, this 'Angels and Demons' tour is inspired by Dan Brown's novel, but there is no requirement for having it read it or being a fan of Brown's (although it may help!). It's a memorable way to explore the city's lovely squares, fountains, architecture and churches, made interesting with the twist of visiting lesser-known sites where pagan and Christian symbolism intertwine.

Following your guide, who is knowledgeable about both Roman history and the details of the novel, walk along Rome's hallowed streets, stopping to discover sights like a hidden passageway that dates back centuries. As you hunt for secrets left around the city by Bernini and Galileo, the two heads of the Illuminati, visit locations mentioned in the book and hear about the Four Altars of Science, which represent the four elements of water, air, fire and earth.

Sights you'll see include the Church of Santa Maria del Popolo, St Peter's Square, the Church of Santa Maria della Vittoria and Ecstasy of St Teresa, Piazza Navona and the Church of Illumination, where you'll glimpse the secret passageway that links the Vatican to Castel Sant'Angelo.

By the time the tour ends, you'll have a new appreciation for Rome's air of intrigue.
April 2016
Our guide Michael was great. At every stop he related book plot, Roman history, and church history.
April 2016
Brilliant, would highly recommend this tour, we learnt so much from our guide Roberto who has pure talent.
December 2015
We really enjoyed our tour, seeing the places referred to in the book and movie. Our guide spoke English clearly and knew his stuff!
December 2015
My wife and I had read the book and saw the Angels and Demons movie before coming to Rome and were so happy with this wonderful tour of churches, statues, fountains, bridges, castles, and other sites in the Eternal City. Our tour guide Michael provided a thorough overview of the book pointing all of the historical inaccuracies due to artistic license taken by Dan Brown and Hollywood in presenting the story. Michaels extensive knowledge of Italian art history and his sense of humor provided an enjoyable experience. A visit to the magnificent Castel Sant'Angelo with one of the most spectacular views of Rome and the Vatican was an excellent way of concluding the tour.
November 2015
Our guide was amazing. He was perfectly fluent in both English and Italian and sorry but that was a MASSIVE help. Most locals in Rome can't speak English this clearly so it was so nice to have someone actually fluent in both. He knew the book like the back of his hand and all of the history of Rome to go with it. Very highly recommended.
November 2015
Brilliant. Great Guide - Roberto - learnt so much, not just about the book, but the locations. highly recommended.

November 2015
A very interesting tour that allowed us to visit some Rome churches that we wouldn't have seen otherwise. I feel that tour attendees should be somewhat familiar with the Dan Brown book or movie to be able to better follow the discussions. The guide was extremely knowledgeable and gave life to what we were viewing. A most enjoyable way to spend a morning in Rome.
sethccls United States of ...
November 2015
An amazing tour, our tour guide Robert was very knowledgeable and he spoke English very well. It was a great way to see some unique sites in Rome.
November 2015
This was a fabulous tour. Our guide was Roberto who managed the difficult task of blending a novel with the history of Rome in a fun and very entertaining way. We learned a great deal about Rome following the steps of Robert and Vittoria. We will never read the book in the same way again! Thanks Roberto - the best tour we've ever been on.
November 2015
Amazingly informative experience - best tour we did in Rome - Worth every Euro!
The chaps that guided us were excellent
Advertisement
Advertisement