888 Reviews
Location:

Rome, Italy

Duration:

4 hours

(approx.)
Unravel Rome's secrets on the 'Angels and Demons' morning tour, inspired by the novel by Dan Brown. You'll take an incredible journey into the heart of the Eternal City to decode the secret messages of the Illuminati, one of the most influential secret societies in history. Numbers are limited to a maximum of 25 people on this small group walking tour, ensuring you'll receive personalized attention from your guide.
Highlights
Four-hour morning walking tour based on Dan Brown's novel Angels and Demons
Explores sites mentioned in the book, including Bernini's beautiful statues and ancient churches
Entertaining and informative tours led by exceptionally knowledgeable guides
Personalized small group and commentary (maximum 25 people)
Free map of the Illuminati
Entry to Castel Sant' Angelo
Tour departs from Santa Maria del Popolo in Piazza del Popolo and concludes at Castel Sant'Angelo
Recent Photos of This Tour
Rome Angels and Demons Half-Day Tour
What You Can Expect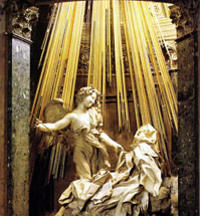 Not just for fans of Dan Brown, this unique tour takes you to some of the most beautiful piazzas in Rome, as well as lesser known sites away from the tourist trail where pagan symbolism and Christianity intermingle.
Fueled by a shared passion for Rome, history and Dan Brown's famous novel Angels and Demons, your talented tour guide will take you to the enigmatic sights mentioned in the novel, and reveal so much more about the mesmerizing city of Rome. You'll discover a hidden passage unused for centuries, and learn the secrets of the Illuminati and the Four Altars of Science, representing the four elements of earth, air, fire and water.
As you search for the secrets scattered throughout Rome by the twin heads of the Illuminati, Bernini and Galileo, you'll visit some of Rome's most beautiful sites to breathe the air of intrigue, mystery and revelation.
Highlights on the morning tour include:
St Maria del Popolo Church
St Peter's Square
St Maria della Vittoria Church and Ecstasy of St. Teresa
Piazza Navona
Castel Sant'Angelo
Church of Illumination to glimpse the secret passage connecting the Vatican to notorious Castel Sant' Angelo
August 2015
Brilliant. Extremely interesting and informative. Very well done.
August 2015
Great tour guides which definitely shared their enthusiasm with the group. Also, much side information was given, so not only about the book or movie, but also relevant information about the churches and places we were about to visit. The guides also told us what was right about the books and about what Dan Brown was sometimes very wrong. Highly entertaining if you are a fan of either the book or the movie!
August 2015
It was the BEST. The tour included bits about history as well as about Angels and Demons. Loved it. Loved it. Loved it.
August 2015
If you are a fan of the book this is a must do.
August 2015
Excellent tour! I recommend this tour to anyone interested in having fun and seeing some of the sights you may not normally see. Roberto and Massimo were fantastic guides! Very knowledgeable and entertaining! Thanks for making our first day in Rome a very memorable one!
August 2015
Everything positive the other reviewers said - I agree completely! We had Roberto as our guide on 7/24/2015, and he is THE BEST! He made the tour extremely exciting, engaging, and captivating. Even if you haven't read the book, or it's been awhile, he summed it up at every location we went to. The bus ride and soda break were added bonuses. There was quite a bit of walking, especially at the end, but he gave us ample breaks. Most everyone on the tour said it was the best tour they had taken - not just of Rome but even in Europe. Can't recommend this one enough - especially if it's with Roberto!
July 2015
This was a very interesting tour that walked you through the art and history in the fictional world of Dan Brown. Our tour guide was amazing and so engaging! My only suggestion would be to bring a snack this is a long tour.
July 2015
Very good tour with a very knowledgeable and fun guide.
July 2015
Definitely one of the highlights of our trip to Italy - Roberto was very passionate and entertaining and made it an experience and not just a tour. Best tour of our trip, closely followed by the tour we took run by another local tour company.
July 2015
Excellent guide and tour! Learned a lot!
Advertisement
Advertisement