At a wine bar near Campo de' Fiori, enjoy a Rome wine-tasting session and light meal, hosted by the bar owner and sommelier. You'll sample six wines from the Lazio region, plus enjoy bread, fresh pasta and dessert as you hear about the regional cuisine of Rome and greater Lazio. For more food, upgrade when booking to include an extra hour at the bar, during which you can enjoy light platters of cheese, salami, ham and smoked fish. This small-group activity is limited to eight people for a more personalized experience.
Highlights
Wine tasting and food session at a gourmet enoteca in Rome, near Campo de' Fiori
Meet the bar owner, and learn about Lazio's regional cuisine
Sample up to six different red and white Lazio wines, and learn about their characteristics from a sommelier

Pair the wine with delights like fresh pasta, artisan bread, salmon and dessert

Upgrade to enjoy cured meats, smoked fish and cheeses, too

Small-group activity with a maximum of eight people ensures a more intimate experience
What You Can Expect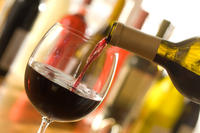 Your Rome culinary experience takes place at one of the city's popular enotecas (wine bars), located near Campo de' Fiori. Meet the bar owner and sommelier, and take a seat at your table to learn about the wines and cuisine of Italy's Lazio region.

During your wine tasting, compare the flavors and aromas of six different Lazio wines, accompanied by a typical Roman pasta dish such as cannelloni or lasagna in a white wine sauce (it's customary in Italy to eat something when drinking alcohol). Of course, Italian bread will also be served, as well as dessert, which you'll enjoy with recioto di amarone della Valpolicella, a dessert wine.

If the upgrade option is selected when booking, your experience continues with more food. This is a chance to enjoy even more Italian delights as you're served platters that include six regional cheeses, six salamis and hams, cold meat and smoked fish. You'll leave with a full belly and a new appreciation for Italy's celebrated food and wine.
September 2015
This was the best experience we had in Rome for wine tasting, dinner and for an amazing wine sommelier, his name is Massimo and we had a great time in the wine bar. We actually had a private tasting because the other party didn't show up and that was great for us! The tasting included 6 wines and a desert wine, and the servings were full glasses, this was supposed to last 2.50 hours but we were there until midnight!! I recommended this amazing night out in Rome to everybody that loves wine! You get lots of good information about wineries in Italy.
April 2015
WONDERFUL!!! Massimo was great! He gave the perfect amount of teaching with the perfect amount of great wine and food. This was the perfect ending to our whole trip.

December 2013
Great wines paired with fantastic food! Learnt a lot about Italian wine in such a short time.
October 2013
Awesome! The food and wine were incredible.
September 2013
What an evening! Our party consisted of our son and his girlfriend, private wine tasting. A table was set up by the window and we could see all the local patrons having wine and enjoying this special wine bar as we were about to experience. The knowledge of Masimo, 5th generation, and he was also the chief, made this a cultural experience we were looking for. The wine was from local vineyards, fabulous selection, and the food was just as fabulous, home cooking. This was an experience not to be missed and it complemented our day of tours. It was a great way to end our day and one we will never forget.
April 2015
Everything was wonderful, we actually had our Wedding in this little place. Small but great time.
January 2014
The wine was delicious and the owner was incredibly friendly and knowledgable. However, the upgrade was either inaccurately described or simply not worth it. I received pasta, a small amount of cheese and prosciutto and that was it for the food. The price of the regular tasting would be worth it but the upgrade is certainly overpriced.
January 2014
Too much talking about non relevant stuff. Venue very noisy and we could hardly hear the guide. Food and wine were good but not really enough of either.

January 2015
The wine bar did not know i was coming and never got my salami/cheese plate. The place was nice, but i expected something more personable for the amount of money i paid.
November 2013
The host was very knowledgeable lots of wine information.The food and quantity was very poor
very overpriced
Advertisement
Advertisement