Want to see the Italian capital at your own pace? Take a Rome hop-on hop-off tour by open-top bus, and spend time city sightseeing as you travel past attractions such as the Colosseum and Vatican City. Relax aboard the double-decker Rome tour bus, listen to the audio commentary and hop on and off at any of the stops. Select a sightseeing ticket that's valid for 24 or 48 hours, or pick an upgrade option to include entry to the Vatican, Sistine Chapel, Roman Forum and more.
Highlights
Hop-on hop-off bus sightseeing tour of Rome
Create a personalized sightseeing itinerary and explore Rome at leisure
See attractions such as Vatican City, the Colosseum and Trevi Fountain
Hop on and off as many times as you wish at any of the eight stops
Listen to interesting onboard audio commentary as you travel
Upgrade a 48-hour ticket to include entrance to the Colosseum and Roman Forum, the Vatican Museums and Sistine Chapel, or entrance to all four
Recent Photos of This Tour
Rome Hop-On Hop-Off Sightseeing Tour
What You Can Expect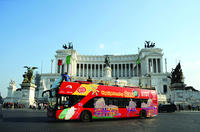 Rome has a bounty of things to see and the mix of its architecture is testament to its past; Roman ruins, baroque squares and Renaissance gardens combine to give the city its enticing edge. See it all on a Rome hop-on hop-off bus tour, and learn about the Italian capital as you go.
Show your ticket as you board your Rome tour bus, and then hop on and off at any of the eight stops around town. Gawp at the Colosseum where gory gladiatorial battles once took place, and have your camera ready for Piazza Venezia, home to the Vittorio Emanuele II Monument. Throw a coin into the Trevi Fountain for luck, or stretch your legs on an amble through Vatican City.
The full loops lasts between 1.5 and 2 hours, and audio commentary is provided about each sight you pass. Make use on the free onboard Wi-Fi to share pictures, tweet or blog about your travels as you go.
48-Hour Pass with Skip-the-Line Tickets to Palatine Hill, the Roman Forum and Colosseum:
Upgrade to include fast-track admission to three of Rome's top attractions. The Colosseum ticket includes access to the ancient arena's first and second tiers. The Roman Forum, with its timeworn temples and ruins, and Palatine Hill are both within walking distance of the Colosseum.
48-Hour Pass with Entry to the Sistine Chapel and Vatican Museums:
Book this option to include entry to these world-famous Vatican City sights. Explore the vast museum complex, with its unrivalled hoard of artwork, at your leisure. Then step inside the sacred Sistine Chapel to see the frescoes of Michelangelo.
48-Hour Pass with Entry to the Sistine Chapel, Vatican Museums, Palatine Hill, Roman Forum and Colosseum:
Maximize your time sightseeing Rome and upgrade to include entry to all these top Rome attractions.
Please note: Click on the 'View Additional Info' button to see a map of the stops on this Rome bus tour.
Itinerary
Rome Hop-On Hop-Off Tour Stops:
Via Marsala (Termini station)
Santa Maria Maggiore (Basilica of Santa Maria Maggiore)
Colosseo (Colosseum and Ancient Rome)
Circo Massimo (Circus Maximus)
Piazza Venezia (Monument to Vittorio Emanuele II)
Vaticano (Vatican City)
Fontana di Trevi (Trevi Fountain)
Piazza di Spagna
Piazza Barberini (historic center and Villa Borghese)
Please note: For a map of stops on the Rome Hop-On Hop-Off Tour, click 'View Additional Info'.
May 2016
There are several HOHO tour companies but I couldn't fault this company. They had a very regular service with informative staff. Overall a good experience I would recommend.
May 2016
The staff on the busses was friendly and efficient. The busses are in good condition. Overall a good experience and one of the best buys that we made on our trip to Roma. Recommend going to the bus directly with your voucher. Going to the Visitor Center at the Vatican was a waste of time if you have a voucher. Great time in Roma. Do not try to drive in Roma, Too many vehicles and too small streets.
May 2016
We love the tour. Everything were clearly explained from the very beggining. All the equipment functioning well as well as the wifi. Highly recommended.
May 2016
Excellent tour! Nice, roomy bus with audio, great driver and on board rep who was very
friendly and helpful.
May 2016
Be sure to sit on the top tier of the bus it is difficult to see much from inside. We enjoyed our tour and this enabled us to see much of what Rome, Italy has to offer. We are older and not able to walk long distances.
May 2016
Excellent way to see all the major sights of Roome.
May 2016
Was a brilliant way in which to see Rome and exactly what we required and the Skip-the-Line vouchers are a must. At the same time be aware that the bus routes can change and we couldn't find Stop 6 on the Vatican side of the river as it had been moved over to the other side, this wasn't mentioned in any of our documentation. Also your e.mail voucher only gets you further vouchers on the bus which then have to be exchanged for Entrance Tickets to the venues which you require to visit and some of these can be a distance from the bus stop. Overall though, using the Hop-on/Hop-Off is something we would definatley do again.
May 2016
The people on the Roma hop on hop off tour were very friendly, and they announced their stops. We took a different hop on hop off tour the first day and they never said anything, you had to make sure you knew what stop you got on and how many stops you had before the one you were getting off it was the green line. The Roma hop on hop off was also very considerate, it was raining, and they did everything they could to keep the seats on top dry for their passengers. They were on time. I would recommend to everyone to take the complete loop first so you can see all of Rome and decide what all you want to see. It was great seeing the city on top of the bus. The hop on hop off bus tour Roma also has a good website to tell you all the stops and what you will see there and they also give you a map when you first get on as well. The only problem with the tour buses is they don't start until 9:00 a.m. and if you have tours before that you have to find a different way of getting there and they stop early evening, so you don't get a night ride, which would have been nice. I would highly recommend the Roma hop on hop off bus tours.
May 2016
I asked to change our voucher on the bus. Good way to see the sights.
May 2016
Great way to see the city
Advertisement
Advertisement