On this baroque-themed walking tour of Rome's historical center, visit the city's classical squares and fountains with a knowledgeable guide. You'll discover some of the most beloved landmarks in the Eternal City, including the Spanish Steps, Pantheon and Trevi Fountain. Visit the lovely Piazza Navona, home to the 17th-century Fountain of the Four Rivers by Gian Lorenzo Bernini, and check out the Church of St Louis of the French to see three masterpieces by Caravaggio.
Highlights
Walking tour of Rome's squares and fountains

With a guide, visit some of Rome's most famous historical monuments

Discover the history and legends of the Pantheon, the Spanish Steps and the Trevi Fountain
Admire baroque works by Bernini and Caravaggio at Piazza Navona and the Church of St Louis of the French

Recent Photos of This Tour
What You Can Expect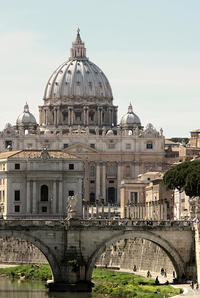 Meet your guide at the bottom of the Spanish Steps to start your walking tour through the streets of Rome to see baroque architecture, sculpture and paintings amid the Eternal City's fountains and squares.

As you stand at the bottom of one of the world's most popular stairways, hear about its legends and its place in various Hollywood movies, and take in the 18th-century design of the steps from your position in the Piazza di Spagna, where you can also admire the Barcaccia fountain, designed by Pietro Bernini and his more famous son, Gian Lorenzo Bernini. Then head to the Trevi Fountain, another famed Rome landmark that has made appearances in films, including the Oscar-winning movie by Fellini, La Dolce Vita, an icon of 1960s Italy. Make sure to throw a coin into the water to ensure a future visit to Rome.

Continue your tour at the Pantheon, one of the most precious ancient Roman monuments. Once a temple dedicated to 'all the gods' and converted later in a Catholic church, this is an important example of ancient architecture, known for its original dome with its 'oculum' and its overwhelming interior. Your next stop is the Church of St Louis of the French (San Luigi dei Francesi), where you can see three Caravaggio paintings in the Contarelli Chapel about the life of St Matthew: The Calling of St Matthew, The Inspiration of St Matthew and The Martyrdom of St Matthew.

Your tour ends in one of the most beautiful squares in Rome, Piazza Navona. Admire its two baroque attractions, the ornate Fountain of the Four Rivers (Fontana dei Quattro Fiumi) by Bernini and Sant'Agnese in Agone church by Borromini. From here, you are perfectly placed to continue exploring Rome's historical center on your own.
Mary B USA
November 2015
Loved this tour, but missed the opening of the Trevi Fountain by just days! I had my coins all ready to throw.
September 2013
This was a fantastic tour!! The tour guide spoke amazing English and she was great fun! Can't believe the amount we learnt on this tour! Very good! It is a lot of walking do be prepared and please listen to info- cover knees and shoulders for the Basilica- they won't let you in we witnessed this!
August 2013
Great trip with a very knowledgeable guide. All guides seem to be so passionate about the history of Rome and are able to transfer this to the group. We were given extensive and interesting information and shown places we otherwise would not have experienced! Well worth it!
July 2013
Perfect pace, so much relevant information and I got to know so much. Rome means much more to me because of this trip.
July 2012
A good introduction to some of the must sees on a visit to Rome. The Trevi Fountain and the Pantheon were real highlights.
Douglas M United Kingdom
September 2011
Excellent tour, giving history around these squares and fountains. Would recoment this tour.
August 2011
A nice introduction to Rome for those who haven't been before, the guide was interesting and informative.
March 2011
Just enough guidance and time at each piazza and fountain to give us ideas about what to do upon our return. Our favorite spot is the Piazza Navono, where we spent several hours over two days enjoying the weather, meals, artists and other tourists. Another wonderful photo op.
September 2014
Good tour a little fast paced due to the distance and the effort needed to keep a party of people together, well worth the money if only to allow you to skip the queue for St Peter's in the Vatican city.
October 2014
Very nice places, loved them.
The tourist guide had not enough knowledge of anything, everything she said was very vague. She was not Italian and couldn't give any advice on anything about the city, like other nice places to go or where to have dinner or shop.
you could tell she memorized a book and told everything she remembered about the places we visited.
Advertisement
Advertisement