14 Reviews
Location:

Rome, Italy

Duration:

2 days

(approx.)
Special Offer
Save more than 14% on two popular tours with this combo.
Discover the highlights of Rome on an action-packed Super Saver tour, spread over two days, that combines four top sightseeing experiences at a discount of more than 15%! After seeing classic top Rome attractions such as Piazza Navona, Trevi Fountain and Rome Pantheon by morning, discover the sites of Imperial Rome in the afternoon, and enjoy a skip-the-line Colosseum tour, too. Admire illuminated St Peter's Basilica and other incredible monuments on a relaxing night tour by coach, and then spend the following day visiting the island of Capri.
Highlights
Combine four best-selling Rome tours over four days and enjoy a discounted price
Spend the morning seeing classic Rome sights, like Piazza Navona and Rome Pantheon
Get to know Imperial Rome in the afternoon and enjoy a skip-the-line Colosseum tour
Relax on a nighttime sightseeing tour and see illuminated attractions such as St Peter's Basilica and Trevi Fountain
Visit the island of Capri on a day trip and enjoy a boat ride to the Blue Grotto, if you wish
Enjoy a saving of more than 15% compared to buying the four tours separately
What You Can Expect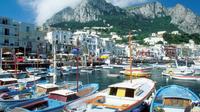 Your Classical Rome City Tour starts in the morning of Day 1 with a pickup from your central Rome hotel, or at a meeting point in town. During this tour, your guide will arrange meeting and drop-off points for your afternoon and night tour as well as your Capri day trip on Day 2.

Day 1: Classical Rome City Tour (3 hours)
See the classic sights of Rome on a sightseeing tour by both foot and coach, admiring the top attractions of Rome's centro storico (historical center). Visit the Fountain of the Nyadds (Fontana delle Naiadi) in Piazza della Repubblica, and then walk around the center's pretty cobblestone streets, lined by Baroque and Renaissance buildings. Travel to Trevi Fountain to stop for photos and, of course, to throw a coin in for luck! Then, visit Rome Pantheon and explore both the inside and outside of the city's best-preserved ancient monument with your guide. Finally, admire the lavish Bernini fountains in Piazza Navona. Finish this tour at 1pm and enjoy approximately 1.5 hours at leisure for lunch (own expense).

Day 1: Imperial Rome Afternoon Tour (3 hours)
Meet your guide at 2:30pm close to Termini Station and get ready to discover the history of Imperial Rome on your 3-hour afternoon tour by coach and foot! As the capital of the Roman Empire, Rome boasts an array of ancient monuments and piazzas that teem with tales of times gone by. Learn of Rome's Imperial past on visits to Piazza de Campidoglio on Capitoline Hill, Circus Maximus and the fascinating Church of St Peter in Chains. See Michelangelo's 'Moses' sculpture, and then finish with a skip-the-line Colosseum tour. Finish this tour at 6pm and you can spend 1.5 hours at leisure before starting your night tour.

Day 1: Rome by Night Tour (2 hours)
Start your last tour of the day at 8pm close to Termini Station. Sit back and relax on a night sightseeing tour of Rome by air-conditioned coach around Rome's. Having seen the sights of the centro storico by day, see them by night, too, when its gorgeous buildings are lit up. Ride around Ancient Rome and Vatican City and admire the city's finest illuminated monuments like the Colosseum, St Peter's Basilica and more. The comprehensive sightseeing tour also includes stops at Piazza Navona and the Trevi Fountain. Finish with a drop off at your central Rome hotel or another central Rome location.

Day 2: Capri Day Trip from Rome (13 hours):
Start your day with a pickup from your central Rome hotel or alternatively, start your tour at a meeting point in town, near Rome Termini Station. Travel to Naples and board a hydrofoil boat to the chic island of Capri! Once on the island, hop aboard a sightseeing boat and visit the famous Blue Grotto (own expense) or enjoy free time to sightsee, and then enjoy a relaxing lunch in the hilltop village of Anacapri. Explore Capri's main town at leisure in the afternoon, and then leave the island for your journey back to Rome.
May 2015
This package of tours is an excellent choice, and was overall, the highlight of our trip. The first tour compromises of an easy going walk through the old part of Rome, with stops at the Trevi Fountain, the Pantheon, and Piazza Navona. The tour guide provided a good amount of information, and it was easy to understand her. The group size was adequate. The second tour compromises of a Skip the Line tour of the Colosseum. However, prior to the Colosseum, the group is led to a small basilica just near the Colosseum. While this basilica is nice, I would have rather had more time to explore the Colosseum, and the area surrounding it. The tour inside the Colosseum was great, but a bit more time to explore the Colosseum area would have been nice. We decided to skip the third tour, the Rome Night Tour, as we were far too tired to even consider going on it, and due to the fact that it is necessary to wake up around 5 or 6AM in order to be well rested to go on the Capri Trip, which starts around 7:45AM. The Capri Trip was easily our favorite of this package. The Capri Trip was very well organized, and all tour guides were a pleasure to have due to their personality, being clear and easy to understand, and the amount of great information they provided. The boat ride to Capri is average, but in order to exit the boat more quickly, sit in the back of the boat the seats closest to where you enter the boat in Naples. Lunch is included on this tour, so it is better to avoid buying a large meal at the stop the bus makes around one hour into the trip, or anywhere in Capri in order to take advantage of this included lunch. One of the best parts of the Capri Trip was the chair lift ride 10 euros per person to the top of Anacapri. Once at the top, you are treated to an unbelievable view of the Gulf of Naples, and the Tyrrhenian Sea. While it would be great to have an extra hour to explore Capri, the bus brings you to your hotel past dark, between 9:15PM - 10:00PM.
October 2014
The morning Tour was really great, Max (our tour guide) was very knowledgeable and patient. He gave us a lot of free time to explore and take pictures while having the mics on to listen to his explanation.
The afternoon tour was so rushed, we barely had any time to stop and admire the monuments and ancient buildings, the tour guide gave us the option to stay at the Colosseum and then walk back and explore at our own time.
Skipped the night tour, I was exhausted and had to be ready at 7am for Capri.
Capri trip was very long, the buses were not equipped with Wifi like most of the other coaches I've been on. we were luck to arrive on time for the water taxi... The scenery is amazing and made every minute we waited worth it! don't skip the blue grotto... because that's the whole point of the trip.You will have a good 2.5 hours of free time after lunch which is more than enough!
Special Offer
$311.28 Save $50.57
Advertisement
Advertisement