Travel from Rome to Pompeii on this independent day trip that provides you with convenient transportation so you don't have to worry about how to get there. When you arrive at the UNESCO World Heritage site, you are free to explore the ruins of the city at your own pace. You also have the option to upgrade to include access to the excavations and a 2-hour tour with a knowledgeable guide. There's no easier way to visit Pompeii from Rome.
Highlights
12-hour independent day-trip to Pompeii from Rome
Travel in air-conditioned comfort then tour Pompeii at your leisure
Enjoy hassle-free round-trip travel
Learn about the site and plan your visit from the books and leaflets on board your coach
Upgrade to access Pompeii's excavations and enjoy a 2-hour guided tour
Recent Photos of This Tour
Rome to Pompeii Shuttle Bus & Independent Day Trip
What You Can Expect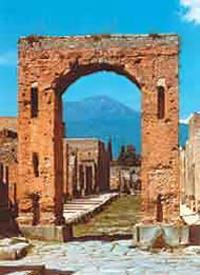 Your day trip starts as you board your coach or minibus in central Rome for the 3.5-hour drive to Pompeii, one of the world's most fascinating archaeological sites—a city frozen in a time capsule. An onboard host is available to answer any questions during the journey, and you can look through provided books and brochures to learn about Pompeii, which was destroyed by heavy volcanic ash in 79 AD when Mt Vesuvius erupted, killing the residents of the city.

When you arrive, you are free to explore own your own until it's time to return to Rome. Stroll down the ancient lanes, imagining what life was like here 2,000 years ago. Pass the limestone columns still standing along Via degli Augustali, and check out artifacts and ruins from the forum, thermal baths, temple, theater and homes. All walking paths are marked with frescoes that depict scenes from daily life in Pompeii, which give context to what you're seeing and help you find your way around.

Head back to your tour vehicle in the mid-afternoon for the drive back to Rome, where your day trip ends.

Optional excavations and tour upgrade:
When booking, you have the option to include access to the excavations of Pompeii and a 2-hour tour with an informative guide. This tour is limited to 25 people.
November 2015
It rained the entire day but the guide in the bus was wonderful and our English guide at Pompeii was vibrant and knowledgable
November 2015
Excellent trip and guide. Everything went according to schedule. Comfortable bus and beautiful views.
October 2015
Pompeii, WOW.
The bus trip with EnjoyRome was very comfortable and our host and driver were great.
Our guide at Pompeii, Dario, was also fantastic and delivered the tour with humor and a great amount of knowledge.
Must do.
October 2015
Great and easy bus transfer to the sight- would recommend. Great guide too
October 2015
Awesome, awesome, awesome! Did I say awesome?
October 2015
We did the add-on guided tour, in addition to the bus. They were both beautifully organized and informative. Definitely the way to do it.
September 2015
Perfect! Everything is really outstanding. Patricia, the guide on the bus, was fantastic.. Moreover, we also had a guided tour on site and, there also, our guide also named Patricia, was very knowledgeable.
September 2015
we had a great relaxing drive down from Rome and a great day. Patricia our tour hostess was excellent. Vincenzo our guide through the ruins was very knowledgeable and clear and very entertaining! recommend the guided tour
August 2015
The bus was comfortable, and the tour guide and driver were both friendly and thorough. Pompeii is a bit overwhelming to tour on your own in a half day, but they give you enough guidance to make the trip worth your while. I highly recommend this for people who are comfortable traveling independently and who don't mind not seeing all of Pompeii during their trip. Take a book with you it's a long enough drive!
August 2015
Great experience. Would do again. Get the guided option. Our English speaking guide was knowledgeable and personable. Patricia our tour escort was punctual, precise and professional. She was always smiling on a very hot day. If you want a positive stress free trip to Pompeii from Rome this is it.
Advertisement
Advertisement