Enjoy the Borghese Gallery and Villa Borghese Gardens in Rome with skip-the-line admission and a guided walking tour limited to 20 people. This popular attraction often sells out in advance, so by pre-booking your ticket, you can ensure you won't miss the chance to see art by Caravaggio, Bernini, Titian and other Italian masters, plus you'll jump the queue. After exploring the gallery, stroll through the tranquil gardens with a view of the city from the Pincian terrace.
Highlights
Skip-the-line tour of the Borghese Gallery and Gardens in Rome

See the Borghese Gallery's famous collection of sculptures and paintings with a knowledgeable guide

Enjoy a guided walking tour of the Villa Borghese Gardens
No waiting in the queue with skip-the-line entry
Tour limited to 20 people

Recent Photos of This Tour
Skip the Line: Borghese Gallery and Gardens Walking Tour
What You Can Expect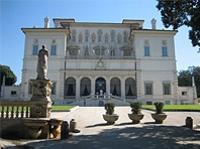 Meet your guide at the Borghese Gallery to begin your tour of one of Rome's most beautiful art galleries. As you wander through the collection of masterpieces by Italian artists like Caravaggio, Bernini, Canova and Titian, your guide will tell you about the stories, techniques and even some secrets behind the paintings and sculptures.

After your gallery tour, head outside into the Villa Borghese Gardens for a walk around the peaceful park, perched above Rome's busy Piazza del Popolo. Admire the monuments, fountains and diverse plant life, and end your tour at the Pincian (Pincio) terrace for a view of Rome's rooftops and plazas spread before you.

Read the Itinerary section for a list of what you can expect to see during your tour of the gallery and gardens.
Itinerary
Borghese Gallery and Gardens tour includes but is not limited to:
The Caravaggio Room (St Jerome, David with the Head of Goliath)
Bernini sculptures (Apollo and Daphne, David)
Canova sculpture (Pauline Bonaparte)
Works by Raphael (The Deposition, Lady with Unicorn)
Perugino (Madonna and Child)
Rubens (The Deposition)
Titian (Sacred and Profane Love)
Villa Borghese Gardens: Casino dell'Uccelliera, Fontana dei Puppazzi, Piazza di Siena, Tempietto di Diana, Obelisco di Antonio and stunning view over Piazza del Popolo
May 2016
A wonderful experience . For those lovers of art this is not to be missed. The guide Andy was very knowledgable and shared lots of useful information about the pictures and sculptures . The walking tour around the gardens was a treat too. Highly recommended . I actually preferred this to the Vatican as much less crowded!
April 2016
The tour guide for this was fantastic! Funny, witty, personable, a great story-teller, willing to give information/suggestions on everything and anything both on the tour and off the tour excited to share information and provide us with the experience, and knowledgeable. She spent a lot of time with us and, in fact, I think it was more than what was initially scheduled, which was definitely ok by me. She had a degree in Symbolology if you read the Davinci Code, it's the same thing Robert Langdon studied which is crazy cool, too! I just wish I could remember her name I was in the afternoon tour on 4/19, if that helps the company figure it out. The villa and garden were great, and completely worthwhile. It was all very beautiful, and there were lots of interesting and beautiful things to see. The cost of this tour is very reasonable, and most definitely worth the money.
Vinay N Australia
April 2016
Excellent tour. Highly recommended. Tour guide was very informative, interesting and friendly. Learned a lot more about the various artworks than if we had toured the gallery personally. Tour guide had a detailed knowledge had postgraduate knowledge in art history.
April 2016
Fantastic place, brilliantly brought to life by our tour guide
April 2016
This was among the best tours I have ever taken primarily due to our guide, Rebecca. She made this museum tour come alive with her vast knowledge of the pieces, her passion for the works and helped us to focus on these artists in a way that helped me develop a whole new appreciation for them. This will be remembered as a highlight of this trip to Rome and a reason to return to learn more. If and when I am able to return, I will seek out Rebecca again for another tour. It was that compelling!

April 2016
Fabulous! It helped we had a glorious day for the gardens. Guide was very knowledgeable. The two hour time limit did not allow much time for us to see much aside from what our guide explained, but still great. Would be even better if more time was permitted.
April 2016
The guide was awesome Jon.
April 2016
Our American guide Peter had american jokes ... very funny for Americans coming from Utah, Montana, Ohio, etc. For us, it was the less interesting tour even if the gallery as such was interesting.
April 2016
after literally dragging the husband to do this tour, we both very much enjoyed it. First off the building itself is amazing and learning about the works of art was interesting too. afterwards you go outside and learn about the gardens. It was a beautiful day and all of Rome locals were out enjoying themselves. Our guide was very very knowledgable on history and what we were looking at. A lovely way to spend the afternoon.
April 2016
Advertisement
Advertisement