Skip the lengthy lines and enjoy VIP access to the Vatican Museum's many works of art on this private, guided, 3.5-hour tour. Hear the stories that bring the art to life. Visit the Vatican Pinacoteca art gallery; the Chiaramonti Museum, a collection of Roman busts and statues and the spiral Bramante Staircase. Also, see Raphael's Rooms, four interconnected rooms with frescoes painted by Renaissance artist Raphael and the Gallery of Tapestries. Visit the Sistine Chapel to see Michelangelo's famous "Creation of Adam" painting, plus St. Peter's Basilica and more.
Highlights
Private walking tour of the Vatican Museums and St Peter's Basilica
Prioritized Skip the Line entry to the Vatican Museums (price includes entry fees)
Guided tour of the Vatican Museums
Michelangelo's Sistine Chapel with magnificent Last Judgment fresco
Choice of morning, afternoon and evening three-hour tours
English-speaking guide specializing in art history
Departs from the entrance to the Vatican Museums and concludes at St Peter's Basilica
Enjoy privileged, personalized attention from your guide on this special private art tour
Customize the tour to suit your own interests
Recent Photos of This Tour
What You Can Expect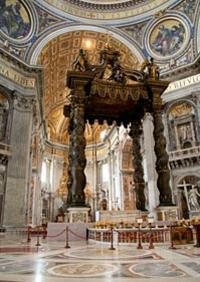 Meet and greet the tour guide outside the main entrance of the Vatican Museums, a collection of galleries of classical and Renaissance art masterpieces, including the Sistine Chapel frescoes. Walk inside through a special reserved door without any waiting. This access is even faster than the priority lines.
Once inside, there are more than nine miles of art, so follow along with the guide who will point out the highlights and explain the story behind each work of art.
Stop at the Vatican Pinacoteca art gallery, featuring some of the most influential paintings in the world like Caravaggio's Deposition from the Cross, Da Vinci's unfinished St. Jermone and Raphael's Transfiguration.
See the hundreds of Roman busts and statues inside the Chiaramonti Museum, then roam the Octagonal Courtyard to see Apollo Belvedere, a celebrated marble sculpture and the Laocoon, one of the most famous ancient sculptures in the world.
One of the biggest thrills of the tour is a visit to the Bramante Staircase. It was once used by the popes and Vatican staff, but it is now rarely visited. Take the opportunity to get a photo of this beautiful spiral staircase. Then exit directly into the Gregorian Etruscan Museum to see the many bronze figurines and Etruscan tombs.
Finally, visit Raphael's Rooms, four interconnected rooms with frescoes painted by Renaissance artist Raphael; the six-sectioned Gallery of Candelabra, with Roman copies of Hellenistic originals and some great second century candelabra, from Otricoli; the Gallery of Tapestries, featuring the drawings from many of Raphael's pupils; and Gallery of Maps, on the west side of the Belvedere Courtyard featuring a series of painted topographical maps of Italy.
Go to the Sistine Chapel to see Michelangelo's Creation of Adam and the Last Judgement and St. Peter's Basilica to see Pietà, one of Michelangelo's earlier sculptures depicting the body of Jesus on the lap of his mother Mary after the Crucifixion.
The tour ends just outside St. Peter's Basilica.
Allison z Canada
June 2016
We had an amazing tour!!!
Were lucky to have one of the best tour guides!!!
Thank You.

April 2016
Excellent tour, an extremely knowledgeable and pleasant guide Alicia, we enjoyed it a lot. Highly recommended.
March 2016
November 2015
Again we used the tour with an art historian.I cannot express enough how much this benefited our group. Our guide was so knowledgeable and easy to understand.I know I would not have gotten as much out of this tour without the art historian. The. Vatican is very crowded,do not go on the free museum day.
October 2015
Maria, was superb with explanations and photos provided before the tour that enhanced our learning and experience. She was patient and answered our questions we expertise. Truly wonderful.
October 2015
We appreciated our expert guide. She helped us navigate our way through wonderful art and the incredible crowds.
September 2015
This was so wonderful tour , it started a little early which gave us more time . And our tour guide was full of information , she spoke great English . I would rate this tour a 5 .
August 2015
To have an art historian accompany us on this tour was truly amazing. Blanche was very knowledgeable and knew all the very interesting points in the Vaticam.
August 2015
Skipping any line to see anything is a great idea. Having your own private guide to bring you to what you want to see is the only way to see The Vatican. Our guide Maria was fabulous. She met us on time, procured our tickets and off we went, no time wasted. She took the time to ask us what we were interested in seeing. We advised her we were having a private tour the next day of the Secret Rooms and Sistine Chapel and she was delighted, now knowing what she could show us so as not to waste time doubling up. Maria was lovely, intelligent, an Art Historian, and no question asked went unanswered. She knew where to stand to view the art and attractions, and told wonderful side stories and tales of past popes, sculptors and artists. We ended up with enough time to walk to St. Peters, and again, she excelled. She seemed to know the security personnel and was able to bring one to the best exact location to take pictures. stars and worth every dime!
July 2015
Blanch is fabulous--we highly recommend this private tour with the local company/Viator. We were in Rome with my 70 year old mom who has had knee surgeries and my 6 year old kid who refuses to walk over two miles daily. I was really worried about the Vatican tour. Our Louvre experience was poor when were in Paris. My mom had a wheel chair there but my husband kept lifting it over 100s of steps so she decided that she would do the Vatican without the wheelchair. I was nervous but fortunately it was a private tour and Blanch seemed very accommodating. She initially changed the time of the tour from morning to evening but it turned out to be more pleasant as there was not AC in the museum. Fortunately, to our surprise the elevators were functionally and my mom did not have to climb more than one little staircase. She walked slowly but Blanch was very patient and my 6 year old kid quickly bonded with her, holding her finger through the tour. The tour itself was fantastic and the Sistine Chapel was practically empty. We all stayed there for over 40 minutes and we found a place to sit down on the side benches--enjoying the beautiful ceiling and walls. Later Blanch waited for us and found a taxi that would take us back to our hotel--at that time of the day --taxi was not easy to find.
Advertisement
Advertisement