65 Reviews
Location:

Rome, Italy

Duration:

3 - 3.5 hours
Explore the art history of the Vatican Museums and St Peter's Basilica in style on a private walking tour with an art expert - and skip the queues. Accompanied by your own private guide who specializes in art history, you'll enjoy personalized attention on your special private tour of the Vatican Museums, without wasting time waiting in line.
Highlights
Private walking tour of the Vatican Museums and St Peter's Basilica
Prioritized Skip the Line entry to the Vatican Museums (price includes entry fees)
Guided tour of the Vatican Museums
Michelangelo's Sistine Chapel with magnificent Last Judgment fresco
Choice of morning, afternoon and evening three-hour tours
English-speaking guide specializing in art history
Departs from the entrance to the Vatican Museums and concludes at St Peter's Basilica
Enjoy privileged, personalized attention from your guide on this special private art tour
Customize the tour to suit your own interests
Recent Photos of This Tour
What You Can Expect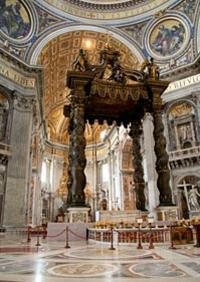 Your fascinating private walking tour starts at the Vatican Museums, where you will take a journey of discovery to the Gallery of Maps, Raphael's Rooms and Michelangelo's Sistine Chapel. Best of all, when you book your Vatican Museums Art History Walking Tour with your own private art historian, you can skip the line when you reach the Vatican Museums. There's no need to waste time waiting in lines when you're on vacation!
Next, you'll visit St Peter's Basilica to admire the famous artworks by Michelangelo and Bernini, where your private walking tour concludes.
This in-depth private tour of the Vatican Museums and St Peter's Basilica is hosted by an English-speaking guide specializing in art history. Please list any special interests you have (art, architecture, history, culture) at the time of booking to alert your guide, so they can prepare for your private tour.
November 2015
Again we used the tour with an art historian.I cannot express enough how much this benefited our group. Our guide was so knowledgeable and easy to understand.I know I would not have gotten as much out of this tour without the art historian. The. Vatican is very crowded,do not go on the free museum day.
October 2015
Maria, was superb with explanations and photos provided before the tour that enhanced our learning and experience. She was patient and answered our questions we expertise. Truly wonderful.
October 2015
We appreciated our expert guide. She helped us navigate our way through wonderful art and the incredible crowds.
September 2015
This was so wonderful tour , it started a little early which gave us more time . And our tour guide was full of information , she spoke great English . I would rate this tour a 5 .
August 2015
To have an art historian accompany us on this tour was truly amazing. Blanche was very knowledgeable and knew all the very interesting points in the Vaticam.
August 2015
Skipping any line to see anything is a great idea. Having your own private guide to bring you to what you want to see is the only way to see The Vatican. Our guide Maria was fabulous. She met us on time, procured our tickets and off we went, no time wasted. She took the time to ask us what we were interested in seeing. We advised her we were having a private tour the next day of the Secret Rooms and Sistine Chapel and she was delighted, now knowing what she could show us so as not to waste time doubling up. Maria was lovely, intelligent, an Art Historian, and no question asked went unanswered. She knew where to stand to view the art and attractions, and told wonderful side stories and tales of past popes, sculptors and artists. We ended up with enough time to walk to St. Peters, and again, she excelled. She seemed to know the security personnel and was able to bring one to the best exact location to take pictures. stars and worth every dime!
July 2015
Blanch is fabulous--we highly recommend this private tour with the local company/Viator. We were in Rome with my 70 year old mom who has had knee surgeries and my 6 year old kid who refuses to walk over two miles daily. I was really worried about the Vatican tour. Our Louvre experience was poor when were in Paris. My mom had a wheel chair there but my husband kept lifting it over 100s of steps so she decided that she would do the Vatican without the wheelchair. I was nervous but fortunately it was a private tour and Blanch seemed very accommodating. She initially changed the time of the tour from morning to evening but it turned out to be more pleasant as there was not AC in the museum. Fortunately, to our surprise the elevators were functionally and my mom did not have to climb more than one little staircase. She walked slowly but Blanch was very patient and my 6 year old kid quickly bonded with her, holding her finger through the tour. The tour itself was fantastic and the Sistine Chapel was practically empty. We all stayed there for over 40 minutes and we found a place to sit down on the side benches--enjoying the beautiful ceiling and walls. Later Blanch waited for us and found a taxi that would take us back to our hotel--at that time of the day --taxi was not easy to find.
June 2015
April 2015
Our private tour of the Vatican Museums and St. Peter's was well worth every penny that our family group of six spent! We were lucky to have Maria Ludovica as our guide! She was so knowledgeable as she has a doctorate from the Vatican! A wonderful tour!
February 2015
Simply stunning tour. We had our guide, Maria, all to ourselves and she really brought to life the art and the history. She was incredibly knowledgeable she had studied in the Vatican and had a PHD, enthusiastic about the subject and brilliant at drawing out all the small details you never get from a guide book or a big tour. Really made our trip and will worth the cost !
Advertisement
Advertisement