This 3-hour Vatican walking tour with a Portuguese-speaking guide provides VIP access through a reserved door, allowing you to skip all the lines — even the priority lines. Stroll through the Sistine Chapel, St Peter's Basilica and the Vatican Museum complex, which boasts some 12,000 rooms spanning nearly 4,000 years of history. Listen to your guide's expert commentary as you marvel at Raphael's Rooms, the Gallery of the Maps and Michelangelo's fresco 'The Creation of Adam.' Upgrade to a private tour and customize the itinerary with personalized narration from your own private guide.

Highlights
Skip-the-line Vatican tour with a Portuguese-speaking guide
Visit the Vatican Museums, Sistine Chapel and St Peter's Basilica
Gain exclusive access through a reserved entranceway without waiting in any long lines!
Pass through captivating sites like Raphael's Rooms, Gallery of the Maps and Bramante's Pinecone Courtyard
Visit the Sistine Chapel to see Michelangelo's The Creation of Adam ceiling fresco – considered one of the greatest masterpieces of Western art
Explore St Peter's Basilica on a Vatican walking tour and see the famous La Pieta sculpture
Upgrade for a private tour with personalized commentary
Recent Photos of This Tour
Skip the Line Vatican Museums Walking Tour with Portuguese-Speaking Guide: Sistine Chapel and St Peters Basilica
What You Can Expect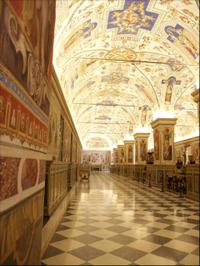 Skip-the-line Vatican tours are so popular, even the priority lines are long! But this tour includes exclusive access through a reserved entranceway, ensuring that you will not wait in any long lines. Head straight inside with your guide and enter the world's most extensive private collections of art.

Hear the stories and secrets of the intriguing Vatican while following your guide through incredible rooms like the Gallery of Tapestries and the Gallery of Maps, a seemingly never-ending corridor adorned with intricately detailed Italian maps. Pass through the Gallery of Candelabras, seeing ancient sculptures and opulent candelabras from Imperial villas, and wander through Bramante's Pinecone Courtyard to pose for pictures in front of the bronze Pigna statue.

Amble through Raphael's Rooms, marveling at the interconnecting galleries that showcase the artistic genius of Raphael, and then enter the awe-inspiring Sistine Chapel – the crowning glory of any visit to the Vatican. Gaze up at Michelangelo's famous The Creation of Adam ceiling fresco, see The Last Judgement on the chapel's back wall and absorb the sacred ambiance of the pope's private chapel.

Your tour finishes with a visit to St Peter's Basilica, the home of the Catholic Church, where more artistic masterpieces await. See La Pieta, a stunning Michelangelo sculpture created by the artist when he was just 24, and admire Bernini's Baldachino – the ornate bronze canopy that sits above St Peter's high altar. Bid your guide farewell and take a stroll through St Peter's Square if you wish.

Private Tour:
Upgrade to the private tour and see the sights of the Vatican Museums (as detailed above) with your very own private guide! If you have a special interest in certain pieces of art, or different historical or religious events, simply let your guide know! Your itinerary is flexible and can be tailored to your interests.
June 2016
The tour was amazing, Vasco, our guide, was exceptional! He taught us the history of Vatican in an easy understanding way! I am glad I had this tour with Vasco! I strongly recommend it!
June 2016
Excelente para se conhecer os museus do Vaticano, a Capela Sistina e a basílica de São Pedro. A guia Barbara que é italiana e fala português muito bem, foi muito simpática além de demonstrar ter muito conhecimento.
November 2015
Ms. Aurelia Di Simone was cordial and she is very competent. I sent my congratulations and thanks. The tour was very informative
September 2015
Very good. Guide prepared and knowledgeable of the subject. I recommend
Tom Nak Brazil
January 2014
The guide (Giulia) was very helpful pointing the main things in the museum as it is impossible to focus on everything. We skiped the lines ! The Capella Sistinna is the highest point of the trip. I highly recommend going with a GUIDE otherwise you will loose many important information to understand the museum attractions. Thanks Viator !
May 2012
A really informative tour where Dara, our guide, brought the Vatican to life through the stories behind the art and exhibits. It helped to make sense of what we seeing and gave the human element. He was both humourous and informative. We both agreed it was money well spent as it both saved time and gave us the historical input we needed.
May 2012
Excellent, if tiring, tour. The joining instructions were easy to follow and the tour started promptly. Our guide was extremely knowledgeable, enthusiastic and pointed out many items during the tour that would have escaped us. The audio system worked well, despite the backgrond hubbub. For the tour guide herdelf, she combined humour with challenging questions for us, making sure that we got the very most out of the 3 hours, despite the crowds of similarly minded tourists who all wanted to see what we wanted to see. I certainly recommend using this tour operator.
May 2012
Excellent guide with much knowledge of the Vatican and used humor as well it make this a truly enjoyable tour. We were so happy not to stand in the long lines to see the Vatican and all the individual pieces. Our guide was from California and it was apparent to us that he truly enjoys his job. Very happy we took this tour.
May 2012
We had a great guide for this tour. He was humorous but informative, and he was very attentive to the group.
May 2012
Our guide was Nicholas, who is a local and speaks excellent english. We were fortunate to be in a small group and the pace of the tour is good, despite it being very crowded. This was our first time to the Vatican and the three hours went quickly as there is just so much to see. I don't think we would have seen anywhere near as much without the tour. We had our 15 and 12 year old girls with us and whilst it was not a highlight of their trip there were no major complaints about the length. Nicholas also gave us some interesting insights into Rome and Italy. We don't normally take tours, but I would highly recommend this.
Advertisement
Advertisement