This 3-hour Vatican walking tour with a Spanish-speaking guide provides VIP access through a reserved door, allowing you to skip all the lines — even the priority lines. Stroll through the Sistine Chapel, St Peter's Basilica and the Vatican Museum complex, which boasts some 12,000 rooms spanning nearly 4,000 years of history. Listen to your guide's expert commentary as you marvel at Raphael's Rooms, the Gallery of the Maps and Michelangelo's fresco 'The Creation of Adam.' Upgrade to a private tour and customize the itinerary with personalized narration from your own private guide.
Highlights
Skip-the-line Vatican tour with a Spanish-speaking guide
Visit the Vatican Museums, Sistine Chapel and St Peter's Basilica
Gain exclusive access through a reserved entranceway without waiting in any long lines!
Pass through captivating sites like Raphael's Rooms, Gallery of the Maps and Bramante's Pinecone Courtyard
Visit the Sistine Chapel to see Michelangelo's The Creation of Adam ceiling fresco – considered one of the greatest masterpieces of Western art
Explore St Peter's Basilica on a Vatican walking tour and see the famous La Pieta sculpture
Upgrade for a private tour with personalized commentary
Recent Photos of This Tour
Skip the Line Vatican Museums Walking Tour with Spanish-Speaking Guide: Sistine Chapel and St Peters Basilica
What You Can Expect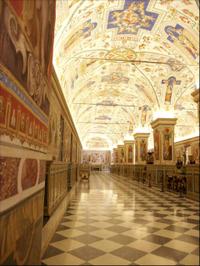 Skip-the-line Vatican tours are so popular, even the priority lines are long! But this tour includes exclusive access through a reserved entranceway, ensuring that you will not wait in any long lines. Head straight inside with your guide and enter the world's most extensive private collections of art.

Hear the stories and secrets of the intriguing Vatican while following your guide through incredible rooms like the Gallery of Tapestries and the Gallery of Maps, a seemingly never-ending corridor adorned with intricately detailed Italian maps. Pass through the Gallery of Candelabras, seeing ancient sculptures and opulent candelabras from Imperial villas, and wander through Bramante's Pinecone Courtyard to pose for pictures in front of the bronze Pigna statue.

Amble through Raphael's Rooms, marveling at the interconnecting galleries that showcase the artistic genius of Raphael, and then enter the awe-inspiring Sistine Chapel – the crowning glory of any visit to the Vatican. Gaze up at Michelangelo's famous The Creation of Adam ceiling fresco, see The Last Judgement on the chapel's back wall and absorb the sacred ambiance of the pope's private chapel.

Your tour finishes with a visit to St Peter's Basilica, the home of the Catholic Church, where more artistic masterpieces await. See La Pieta, a stunning Michelangelo sculpture created by the artist when he was just 24, and admire Bernini's Baldachino – the ornate bronze canopy that sits above St Peter's high altar. Bid your guide farewell and take a stroll through St Peter's Square if you wish.

Private Tour:
Upgrade to the private tour and see the sights of the Vatican Museums (as detailed above) with your very own private guide! If you have a special interest in certain pieces of art, or different historical or religious events, simply let your guide know! Your itinerary is flexible and can be tailored to your interests.
June 2016
June 2016
Excelente nuestra guia Valentina, muy simpatica y entretenida para explicarnos todo acerca del vaticano y la Capilla Sixtina, se tomaba el tiempo para esperarnos a todos para dar la explicacion y comentar acerca de cada lugar donde entrabamos, Super recomendable! gracias Valentina
February 2016

September 2015
The tour was excellent and the guide very knowledable. I will remember this trip forecver

vhbedoya Ecuador
June 2015
Knowing the place where are the rests of Saint Peter Jesus apostol and Juan Pablo II and where the Pope Francisco lives is very excited and full of art and history. Excellent tour.
June 2015
Muy bien todo, puntualidad, organización, amabilidad de Valentina. A todo caso esperábamos un contenido con más explicaciones sobre el arte.

MatiNacho Costa Rica
January 2015
Our guide was excellent, she explained all the important things in great detail. The tour itself is very good, hitting all the highlights in Vatican City that we were interested in.
October 2014
Of course!!!!!!! Wonderful !!!!!!!!
June 2013
excellent 5-star experience
November 2012
Muy bueno el tour en general y 10 puntos para el guía que lo hizo muy entretenido!
Advertisement
Advertisement