Escape Rome for a day in the countryside learning how to cook authentic Italian dishes. You'll travel from the city to the ancient village of Mazzano Romano, where your experience starts by shopping for ingredients at the local market. Then help to prepare and cook a traditional 4-course meal under the guidance of an experienced instructor before sitting down to enjoy your creations with Italian wine. The class is limited to 12 people to provide an intimate, small-group experience.
Highlights
Small-group Italian cooking class in the Roman countryside
Purchase cooking ingredients and experience local life in the market
Prepare and enjoy a 4-course Italian meal
Learn how to match each dish to local wines
Maximum of 12 participants ensures a highly personalized experience

Recent Photos of This Tour
Small-Group Cooking Lesson in Roman Countryside
What You Can Expect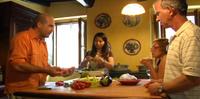 Spend an idyllic day in the Roman countryside, where you can immerse yourself in the glorious Italian tradition of cooking. After hotel pickup in Rome, depart the city with your guide for the village of Mazzano Romano.

When you arrive, visit the local market to shop for ingredients for your cooking class. As you browse the food stalls, learn how to spot the freshest vegetables, eggs, spices and meat. Then head to a fully equipped kitchen, where your chef provides step-by-step instructions for preparing and cooking traditional Italian dishes.

The small-group class ensures you'll receive personalized attention as you help to make a 4-course meal, from appetizer to dessert. You'll work with three different types of homemade pasta, and you'll learn how to pair dishes with the right varietal of wine to bring out the fullest flavors. When the cooking is over, sit down with your group to enjoy your meal with wine.

With a full stomach and newfound skills, your culinary experience ends with the drive back to Rome.
May 2016
This was a first class tour. Our host and chef , Francesco, drove us to Mazzano Romano a 1500 year old castle north of Rome. He was very friendly and informative. We stopped to shop at a butcher shop and vegetable shop before heading to a villa in the old fort. What a great experience. The class was informative and fun. We chatted , cooked and ate in the charming villa. It was a first class day.
March 2016
wonderful, wonderful, wonderful. would suggest anyone interesting in Italian cooking take this course

January 2016
this was such a unique experience, highly recommended!! i would book this experience again in a heartbeat
January 2016
Fabulous day! This was the highlight of my trip to Rome.
January 2016
This was everything we had hoped for, and then some. Chef Marinella Gatta and her sous chef Francesco were very down to earth and attentive in imparting their expert knowledge of the craft and tradition of the Cucina Romana. We headed out of Rome to a small working village with an ancient quarter. On the way to a restored rustic villa in this ancient quarter we grabbed a coffee amidst gathering ingredients from a vegetable stand, a butcher, and a small market with a delicatessen. We then settled into our quaint villa's cozy kitchen for a day of preparing a 6-course meal. Our appetizers were six different types of bruschetta and sliced aged Romano cheese with black peppercorns accompanied by a very well matched regional white wine Vermentino di Sardegna Doc. Then we made 3 different fresh pastas from scratch with different ingredients: ravioli, fettuccine and gnocchi. We also prepared veal for saltimbocca with prosciutto and sage and a scratch sauce. The ravioli were stuffed with a mild regional ricotta with spinach and lemon zest, and in a sauce of similar ingredients. The fettuccine was in a made from scratch with fresh tomatoes sauce and rendered pork cheek. The gnocchi was in a sauce made with sausage and veronica romanesco, with pecorino romano cheese. White wine accompanied the meal through to the ravioli, then we went to a regional red blend Sangiovese-Merlot from Puglia. Dessert was a kicked up use of fresh pears, cinnamon and panettone baked and topped off with fresh whipped cream and cocoa accents. We cannot recommend this excursion enough. All this and door-to-door service. We were picked up and dropped off at our hotel. This was having an expert visiting chef in a friends well-equipped kitchen on a laid back weekend day. Very, very nice!
December 2015
This was so awesome! It was really one of our favorite outings in Rome. The medieval village was postcard perfect. The best part was getting to visit with and learn from Marinella and Francesco. Marinella is an excellent teacher and chef. She tailored her menu and approach to suit our tastes and level of experience. Francesco is an excellent sous chef and teacher. Both were so welcoming and fun! I would love to go back soon.
November 2015
I'd give this 10 stars if it were an option!!! Our chef, Mari not sure of spelling and her assistant Francisco were great. We learned so much in a very warm and inviting setting not to mention beautiful and it felt like spending the day in the kitchen with old friends. Do not miss this one!!!
November 2015
This was without a doubt the best experience I had while in Rome. The chef, Marinella, was wonderful, and the small size of the group 7 meant we got lots of hands-on experience. Highly recommend this tour!
November 2015
What a wonderful experience. Learnt lots and location was amazing. Instructor was great and whole trip was informative and fun

October 2015
My wife and enjoyed this very much. The staff was amazing and the food was delicious. I would definitely recommend this cooking class to everyone. Not only was the food amazing but the view from the home was so beautiful.
Advertisement
Advertisement