192 Reviews
Location:

Rome, Italy

Duration:

5 hours

(approx.)
Learn how to cook a four-course Italian meal in a private kitchen in the heart of Rome! You know the saying. When in Rome, do as the Romans do – and the Romans do delicious food. Learn how to cook your own so you can continue eating Italian food long after your vacation ends. In a group of no more than eight people, you'll receive highly personalized cooking instruction from a knowledgeable food expert, and then enjoy your Italian creations paired with local wine.
Highlights
Small-group cooking lesson in Rome
Learn to cook an Italian meal with an expert chef
Cook in the private kitchen of an English-speaking Italian
Purchase ingredients in the Rome Central Market
Small-group class limited to 8 people, ensuring a more personalized experience
Recent Photos of This Tour
Small-Group Cooking Lesson in Rome
What You Can Expect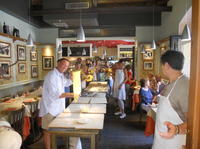 Whether you're a culinary enthusiast or a cooking novice, this Italian cooking class in central Rome promises to be a fun, entertaining experience you'll never forget. You'll start with a trip to Rome's Central Market, where your guide will help you shop for the best produce. You'll meet butchers, bakers and farmers selling meat, bread and fresh-picked vegetables, and you'll learn how to distinguish high-quality ingredients. Plus, learn how to barter for the best price.

Then, head to a private kitchen in Rome, where your exclusive Italian cooking class begins! During this hands-on experience, you will learn how to prepare three different kinds of fresh, homemade pasta and a main course; your dishes will be accompanied with a selection of fine local wines.

Finally, after you've picked, prepped and cooked, you'll dine on the sumptuous Italian meal you've created. This small-group Italian cooking class is a great way to make your trip to Rome extra special; it's a must for foodies and cooking fans.
October 2015
It was a truly wonderful cooking class! It ended up being just myself and one other woman in the class besides the chef, and it made for a really fun time! We shopped for our ingredients, cooked, drank wine, and talked. I think having a small class made for a more relaxed environment, and gave us additional time to talk, laugh, and drink vino... I've taken three prior cooking classes in Italy, and this one, and the one in Mazzano were the best ones. The pasta we made was INCREDIBLE, and the BEST I've ever tasted! I don't know why, but every bite was like a symphony in my mouth!! Maybe it was the truffle oil drizzled on top, but whatever it was, it was truly great! Thanks so much for a wonderful day in Rome!
October 2015
The description of this tour didn't do it justice. Our cooking adventured started at a local restaurant where I thought after our shopping we would cook, but not so it was simply a meeting place to start our adventure. Paulo collected us and took us on an Italian cooking adventure. Our first stop was the vegetable stall at Campo de Fiori. We learned about the different Italian vegetables and fruits. Then it was over to the cheese and meat store with a little of everything else and then finally over to the baker for a square of roman pizza to snack on. Then we walked to the cooking studio. This walk was as good as many a guided tour I've been on. Here a historic thing, there a historic place. I think the most poignant moment is when we went through the Jewish ghetto and he showed us the medallions set into the streets at the doors of the people who were taken to Auschwitz and Dachau,
The cooking studio was actually on Tiberina island in the middle of the Tiber river. We had over 3 hours of slicing, dicing, and fun learning how to properly cook vegetables I now know why my eggplant was never right and my tomato sauce runny as well as make 2 types of pasta dough. I can now make a reasonable ravioli, pappardelle, and cavatelli pastas. We had 4 courses plus a lovely dessert. All created by our group. I would do this again in a heart beat.
September 2015
Shop, cook, eat and drink your way through Rome I great surroundings and with good company. What more can you ask of a tour? Paulo and Nicolette were wonderful. I am an Italian chef
September 2015
It was an awesome day of cooking five different dishes with a great chef! I booked this cooking class just a few days before, as I was looking for something to do other than museums and sights for a day. I'm so glad I did! It was just myself and another solo traveller in the class with chef Paolo, and it was perfect! The studio is gorgeous and the food was amazing! I definitely recommend booking this cooking experience for a day of awesome food and great company in Rome!
September 2015
This was probably one of my favorite things we did! I would highly recommend this cooking lesson. The chef and his assistant were very nice and the food was awesome! They answered all of our questions and made the experience enjoyable. I would recommend wearing comfortable clothing and shoes as you are standing and walking a lot.
September 2015
Alfonso first brought us to the market where we bought fresh ingredients...then we all went to a studio to learn to cook the Italian dishes. AMAZING. He had us focus on the ART of cooking rather than just following a recipe. The atmosphere was beautiful and the experience was fantastic!
September 2015
I have been fortunate enough to have visited Rome several times, so this trip I was looking for a new experience. A fabulous cooking day indeed. We met in the morning at a café for coffee and then walked to the Campo di Fiore market where we bought everything for our meal. Fresh vegetables, fruit, cheese, meat, we purchased it all. From there a quick walk to the penthouse where we began to make 3 different types of pasta, chicken, potatoes and vegetables. Every dish was phenomenal. I left needing a nap! Our instructors, Paulo and Melissa were fantastic! This was such a fun and delicious day, I would highly recommend this to anyone who loves Italian cuisine.
September 2015
this cooking class was truly a joy. The chef Paulo and his sous chef Nicoletta were fantastic! Highly recommend! The food was delectable, I learned lots and had fun, and we all left happy and satiated. Would definitely do it again!
September 2015
Went shopping for the food in various markets and then went to Fabios apartment to cook. It was a wonderful experience for someone who likes to cook and someone who is just interested in how to make certain dishes. We cooked a big meal and then sat down to eat.
August 2015
I highly recommend this activity if you love to cook, hate crowds, have seen all the sights of Rome already, and want to experience something different. This class gave me the chance to take home a little bit of Rome that will last forever.
Length: 5.5 hours
Difficulty: Easy, but does involve a bit of walking from market to kitchen. Be prepared to walk about 15 minutes. Stairs are involved.
Included: Food and wine. Can cater to vegetarians too! Take notes!
Max participants: 8
Fulfilled by: Fabiolous Cooking Day
Our chef was Chef Federico Alessandri and his assistant Nicoletta. We started the morning by going to the market in Campo de' Fiori. Federico taught us how to pick the best vegetables and tomatoes. We then went to a cheese shop and butcher shop for more ingredients, then headed off to a private kitchen on Tibur Island.
Once in the heavenly air-conditioned apartment, we donned our aprons and started chopping. He gave us so many tips and tricks about cooking including how to prepare tomatoes, cook garlic properly, and blanch vegetables. We created two kinds of pasta -- semolina/water and flour/egg. We created and kneaded the dough ourselves including stuffing and rolling the pasta. Chef Federico and Nicoletta did all the actual cooking, but Federico taught us how to do it all ourselves.
In the end, we dined on 5 amazing courses -- Spaghettini with tomato sauce over seared tomatoes, topped with fresh mozzarella and basil Cappelletti pasta filled with zucchini, ricotta, and lemon zest, finished with a parmesan white sauce and red wine reduction Strozzapreti in a creamy broccoli and cheese I think pecorino, can't remember sauce
Advertisement
Advertisement