Experience Rome to the fullest by including an Italian cooking class into your sightseeing itinerary. In a private kitchen in central Rome, you'll learn how to make a 4-course meal under the watchful eye of an instructor. Plus, visit Rome's Central Market to shop for ingredients and chat with local farmers and other vendors. You'll receive personalized attention while you cook in a group limited to eight people. Then sit down to enjoy your meal with wine.
Highlights
Small-group cooking lesson in Rome
Learn to cook an Italian meal with an expert chef
Cook in the private kitchen of an English-speaking Italian
Purchase ingredients in the Rome Central Market
Small-group class limited to 8 people, ensuring a more personalized experience
Recent Photos of This Tour
Small-Group Cooking Lesson in Rome
What You Can Expect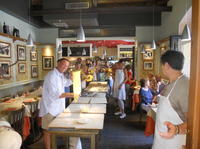 No matter what your level of skill in the kitchen, this Rome cooking class is an entertaining and educational experience that allows you to gain insight into a very important piece of Italian culture—food.

Begin with a visit to Rome's Central Market, where you'll follow your guide past stalls where farmers, bakers and butchers sell their fresh goods. Select produce for your class, and learn how to spot the best ingredients.

Then make your way to the private kitchen where your cooking class takes place. With personal guidance from your expert instructor, learn how to prepare and cook three different varieties of homemade pasta plus a main course. When the cooking is over, sit down with your group to enjoy your creations, accompanied by a selection of regional wines.
April 2016
Our chef Paulo is clearly a talented chef and was a great teacher. The three experienced cooks in our group all picked up many new skills and ideas and the meal we helped to prepare was among the best I have had in my month in Rome.

April 2016
This was so much fun!!! I had way too much wine while we were cooking so I don't remember everything but from what I do remember and from watching my videos later and looking at my photos I can tell you that I had a great time!!! We met our chef Martina in the morning and went to the farmers market to do our shopping. There were just four of us in the class and I think that is a perfect size. We walked to the house where we had our cooking lesson. I had read a review where someone said it took 45 minutes. It actually took about 10 minutes. The home was lovely and really well equipped for our class. We started drinking and cooking. They keep the wine coming. : We made three different types of pasta from scratch. We made a meat dish and we made dessert. It was all wonderful but you are absolutely stuffed by the time you get leave. There is no way you could possibly eat everything you make. After you leave there you can go to the owner's restaurant and pick up your little board that you use to make one of the pastas that we made. I have to admit I don't remember much about this at all. : We took a cab there with our new best friends Matt and Charlotte who were in the class with us. We met at 9:15 in the morning and we were done around 2:00. I wish I could emphasize more what a great time this class was. There is no pressure to do anything just right. It is very laid back and they do all of the cleaning up. : Later in the week I took a tour to the Amalfi Coast and I met 5 other people who had also taken this class and they agreed that it was one of the best times they had in Rome also. So, it isn't just the wine talking. :

April 2016
April 2016
Fabulous tour with hosts, Martina and Nicoletta! They greeted us promptly at 9am and took us to the market while providing us background of the sites and culture. Martina is an expert Michelin 3 chef who gave us direction on the best foods to choose for our lesson. Martina and Nicoletta work well together while exchanging humor and instructions to the group. We made 3 types of homemade pasta that were beyond delicious and a veal entree too. If only they were in my kitchen now to guide me with their skill! The day past quickly as we had so much enjoyment in the 5 hours with them. Sincerely thank you for a spectacular cooking day, the chef Martina and Nicoletta! Buon appetito!
April 2016
This was a great tour to take while in Rome. Nicolina and Martina were fantastic hosts and I learned a lot throughout the day. We started by going to the market and we learned a little about the food we'd be using. Then, we went to a beautiful apartment to cook. We made 3 different kinds of pasta, a veal dish they accommodated for vegetarians and a dessert, which was absolutely delicious. It was definitely worth the money and a good morning spent in Rome.

March 2016
Best part of our entire trip!! Paulo was amazing, and the food was even better!
March 2016
This was one of the highlights of my trip to Rome!
March 2016
A fantastic day, filled with information, experience, and great food. Our host was entertaining, friendly, and knowledgeable, the day well organized, and the location was great. Thoroughly recommended!
March 2016
I can't say enough about this experience. From the shopping at the market to the cooking of the food it was the best experience I had in Rome. Martina and Nicolette were the best and I got to meet Chef Fabio. If you go to Rome you must experience this cooking lesson. I learned so much and had a great time doing it.

Phil D USA
March 2016
This was the second time I took this tour and it did not disappoint. Although somewhat different from the first time I took this same tour, it was just as much fun and enjoyable.
Advertisement
Advertisement