Indulge in some of Rome's most famous culinary treats on this small-group espresso and gelato walking tour of the Eternal City. Learn the secrets of coffee-roasting at legendary Roman cafes Tazza d'Oro, Saint'Eustachio and Caffè Greco, and satisfy your sweet tooth with samples of world-class gelato and tiramisu. Group size is limited to 12 to ensure personalized attention from your guide.
Highlights
2.5-hour, small-group espresso and gelato walking tour in Rome
Visit the famous coffee shop Sant'Eustachio and learn about the coffee-roasting process
Stop at well-known gelaterie (gelato parlors) and one of the most popular tiramisu shops in the city

Taste delicious samples of espresso, gelato and tiramisu
Enjoy interesting and informative commentary from your enthusiastic foodie guide
Small-group tour ensures personalized attention from your guide
Recent Photos of This Tour
Small-Group Food Tour in Rome: Espresso, Gelato and Tiramisu
What You Can Expect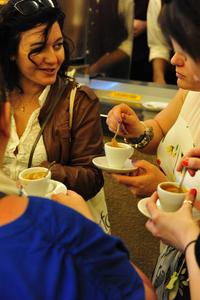 Meet your guide near the Pantheon and dive right into your Roman culinary education.

Get caffeinated at some of Rome's most famous cafes such as Sant'Eustachio, Tazza d'Oro and the legendary Caffè Greco,which has been serving customers since 1760. Learn how the coffee-roasting process makes all the difference in producing these beloved brews as you sip fresh espresso made right before your eyes.

Next, head for the gelaterie to curb your craving for sweets. Sample gelato made in some of Rome's most famous gelato shops, and find out what makes Italian gelato different from ice cream.

Combine sweet with caffeine at the last stop, a popular tiramisu shop in Rome. Learn a bit about the history of this famous dessert and find out what it takes to make a perfect tiramisu.

Your tour of Rome's treats ends in the city center, where you can continue exploring on your own.

June 2016
This tour took us to the very best places for authentic espresso, gelato, and tiramisu. We learned what real gelato is and tastes like with very generous portions. We also got introduced to The Place to go to for espresso, and I learned that granita di caffe con panna is my new favorite food in the whole world. You don't really know this food until you've had it in Rome under the guidance of an expert. The experience from top to bottom was so worth it.
May 2016
We highly recommend this tour in Rome. Antonia was amazing and immediately made us feel comfortable and welcome in her city. We loved weaving our way through some parts of Rome we would not have seen on our own and learned so much about the coffee culture in Italy. We were both pleasantly stuffed at the end! Thank you for such a great experience!
March 2016
Recently enjoyed this tour with my parents on 3/6/2016. My parents and I had a very short time in Rome 3 days so we were incredibly grateful to find a tour on a Sunday.
Federica was waiting at the square, very easy to see with her sign and red umbrella. We've experienced tours with radios and big buses, but it is always the smaller tours like this that are the most enjoyable. What was even better is that its was affordable too! Federica was amazing, full of knowlege, and truly passionate about the food we were eating. Other food tours may only let you taste or look at the food, but with Gourmetaly you learn and get a real scoop at the gelaterias, best cups of espresso, and a wonderful portion for tiramisu.
The tour was perfectly paced, not rushed, and even if you have a hard time walking as my dad does with bad knees its a pleasant stroll so you can enjoy the food. Ends near the Spanish Steps and Federica was helpful with showing us how to get back to our hotel, whether is be taxi or metro. I would book again with Gourmetaly.
Cheryl Australia
February 2016
Loved this tour. Great guide, really enjoyed the various places we visited and the tastings the granita!, the pine gelato...!!. A nice easy pace and had a good walk around the city centre. Recommended.
February 2016
Great tour we thoroughly enjoyed our three hour walk and information obtained about Expresso, Gelato and Tiramisu. Our guide was very informative about historical sites we passed.
January 2016
This was our favorite tour on our honeymoon!!! I cannot say enough good things about our espresso/gelato tour. Antonia ? our guide was incredibly friendly and knowledgeable. We were lucky, in that, even though its a small group tour--we were the only ones who booked that day, which basically turned it into a private tour!! We visited Casa D'oro, and Sant Eustacchio. Of the two famous competing espresso joints, Eustacchio was by far our favorite. The gelateria across the street was amazing too! At this point in our tour, it started to DOWN POUR. So here we were three young adults running through the flooded streets of Rome. We had such a great time. When we left our second gelateria the ran had slowed down enough for us to make it to the tiramisu shop. A very yummy tour and a great way too see Rome like a local. Thank you so much for the amazing memories we will never forget!!
Timothy T USA
October 2015
Daniella is a foodie's dream tour guide! She's not only knowledgeable about the foods you sample and their histories, she is also very knowledgeable about the city and its history. She's fun, sweet and very interesting. She loves food and is happy to discuss it with you throughout the tour and she'll even send you a list of her favorite restaurants and shops in Rome as well as personal recipes. Every sample that we tried was delicious and we were grateful that it was a walking tour as we were stuffed by the end. We cannot express how much we loved Daniella and this tour. It was certainly a highlight of our trip.

September 2015
Fab little tour - brilliantly knowledgeable and friendly guide.
September 2015
You must try the Granita and the Buffalo Gelato with tomatoes if available, really interesting.
August 2015
We did this on the afternoon we arrived which was fantastic timing to learn about the best coffee and the best ice cream. We happened to be the only ones on the tour so this was great! our lovely tour guild was a young lady who was so nice and we had a great time.
Advertisement
Advertisement