Learn about ancient Rome in 3-D at Time Elevator Rome, a multisensory experience that combines video, moving platforms and surround sound. You'll travel through time, from Romulus and Remus to Julius Caesar to the Renaissance. Then enter the modern age as you cover 20th-century events up to the present day. This is a quick, unique way to start your Rome trip by diving into its long, action-filled history.
Highlights
3D ride on the Time Elevator Rome

Multi-sensory simulated time travel from the birth of Rome to today
Meet Romulus and Remus, Brutus and Caesar, Michelangelo and the Popes
Panoramic screens, moving platforms and individual headsets
What You Can Expect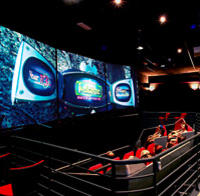 Time Elevator Rome is located in Rome's historical center, just off Via del Corso. As you take your seat, prepare for your 3-D movie experience that whisks you through 3,000 years of Roman history in just 45 minutes.

Your seat is part of a moving platform that together with special effects and surround sound creates a multisensory journey from 773 BC to today. Travel to the glory days of the Roman Empire; eavesdrop on Brutus as he plots to kill Julius Caesar; learn about Romulus and Remus and the legend of the foundation of Rome; and stop by the Renaissance with its art and architecture icons. Move into the 20th century, and then finish with an aerial view of present-day Rome.

Personal headsets for this experience are provided in English, German, Spanish, French, Italian and Russian.

February 2016

November 2015
Great way to start a trip by learning a little bit about the city. I recommend doing this as one of your first activities when you arrive.
September 2015
definitely worth seeing. only 45 mins so wont take up too much time and gives a good history of rome esp for the kidd.
August 2015
wasn't sure about this experience considering the price, but was really worth it! Enjoyable hour and fun way to learn
June 2015
This was a fun and educational experience, loved it.
June 2015
Very interesting and fun. Worthwhile doing if you are in Rome. Looks at the history in a snapshot and take you through the stages of the roman empires.
April 2015
Funny and fun. My 12 year old boy enjoyed it greatly and so did I! Great inteoduction to the amazing history of Rome!
January 2015
Highly recommended for families. Great introduction to Rome for kids, animated and interesting. I did it straight away on the first day and it gave children taste for what they would like to see and do.
August 2014
Very fun to do. We took our three kids 11 9 and 8 as the very first thing to do in rome. It was a great idea as they understood the sites we visited during our stay.
April 2014
Took our 8 yo son to this and he loved it! It's a great way to introduce yourself to the history of Rome in a fun way.
Advertisement
Advertisement