318 Reviews
Location:

Rome, Italy

Duration:

3 hours 45 minutes

(approx.)
Enjoy a VIP experience at the Vatican with this morning tour that includes breakfast on site. You'll explore the Vatican Museums before they open to the general public so you can admire famous sights like the Sistine Chapel and Raphael's Rooms in a more intimate atmosphere before finishing with skip-the-line access to St Peter's Basilica through a reserved entrance. When booking, select from two options: breakfast in the Pinecone Courtyard with a Vatican tour limited to 16 people or breakfast in the Vatican cafeteria with a Vatican tour plus a coach tour of surrounding Vatican City and the Vatican gardens, limited to 25 people.
Highlights
Early-morning Vatican Museums tour with breakfast

Explore the Vatican before members of the general public set foot inside
Enjoy an Italian-American breakfast buffet in the Pinecone Courtyard or Vatican cafeteria

See top Vatican sights like Raphael's Rooms, Gallery of Maps and the Gallery of Tapestries with a guide
Enter the Sistine Chapel to see Michelangelo's The Last Judgment, and visit St Peter's Basilica through a fast-track entrance
Tour Vatican City and the Vatican Gardens on an exclusive coach tour, if option selected when booking

Small-group tour with a maximum of 16 or 25 people ensures a more personalized experience
Why Our Insiders Chose This Tour
Visiting the Vatican is a must-do experience in Rome, and this tour is a unique way to do it. Beat the crowds and start your tour with a breakfast right in the heart of the Vatican Museums complex.
Recent Photos of This Tour
Vatican VIP Experience: Exclusive Breakfast at the Vatican with Early Access to Vatican Museum and Sistine Chapel
What You Can Expect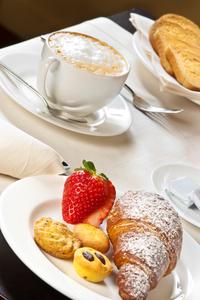 In the early morning, meet your guide at the Vatican Museums before the site opens to the public. Depending on the option selected when booking, you'll be escorted to either the Pinecone Courtyard or the Vatican cafeteria for breakfast, followed by your exclusive tour of the Vatican's many iconic attractions, from the Sistine Chapel to the Gallery of Maps to the Renaissance artwork inside Raphael's Rooms.

Both tour options end at St Peter's Basilica, which you have access to via a VIP entrance. Inside, prepare to be wowed by art like Michelangelo's Pieta sculpture and Bernini's Baldacchino canopy. When your tour ends and you say goodbye to your guide, you are welcome to stay inside St Peter's Basilica.

See the Itinerary section below for details about the two tour options.
Itinerary
Tour with Pinecone Courtyard breakfast:
Take a seat for your outdoor buffet breakfast, which includes Italian and American items such as pastries, meats, cheese, eggs and pancakes made right in front of you. Sip coffee and fresh orange juice while you enjoy the tranquil setting of a quiet Vatican, before the crowds arrive.

After eating, follow your guide into the Vatican Museums complex, which is still closed to the general public at this point (there will probably be a few other pre-booked tour groups inside with you). In your small group limited to 16 people, let your guide show you the highlights of this vast landmark during your 2.5-hour tour. Visit the Gallery of Maps, Gallery of Tapestries and Raphael's Rooms before making your way to the Sistine Chapel, the pope's private place of worship where you can gaze in awe at Michelangelo's The Creation of Adam and The Last Judgment frescoes.

Finish up inside St Peter's Basilica, where you'll hear about the history of the artwork here before your tour ends.

Tour with breakfast and Vatican Gardens:
Enjoy a hearty American breakfast buffet in the Vatican cafeteria, where you can fill up on croissants, muffins, pancakes, fruit, cereal, cookies and made-to-order eggs, accompanied by espresso, American-style coffee and fresh juice.

After breakfast, hop on an open-air coach for a 45-minute tour through the Vatican City State, listening to historical stories and interesting facts from your guide during the ride. Pass by sights very rarely seen by members of the public, such as the Vatican railway station, the Great Jubilee bell, the meditation gardens used by popes since the 1200s and the pope's private heliport. The Vatican Gardens are only accessible on select guided tours, so this is a unique way to see more of Vatican City than the typical visitor.

When the coach tour ends, your experience continues back at the Vatican Museums, where you'll follow your historian guide through the galleries' many artistic masterpieces, finishing up at St Peter's Basilica (same Vatican Museums tour as described above).
This product is part of the following categories :
January 2016
incredible and awesome. if you want to do vatican and cistene chapel this is the one to do. worth every penny. if you get to the meeting place early, go down the stairs to get some coffee. 6:30 is early but they will find you. only about 10 people per guide so very personal. only negative, if you can't do stairs then this isn't for you. i managed by going up one at a time. cistine chapel is accessible
January 2016
Unbelievable opportunity to view the Vatican in a unique way. Very early entry tour starts at 6:30. Great tour guides. We went with my sister-in-law and her husband who had previously visited the Vatican. They feel like they were seeing something for the first time. Awesome!!
December 2015
Meeting up was easy albeit early. Entry was quick and breakfast was fabulous! Great and plentiful choices, perfectly cooked, delicious coffee and time to stroll in the PineCone Coutyard. Rachel was fantastic, very informative I am an art historian!, humorous, interesting, helpful and fun. Great to get in before the crowds and enjoy looking at great building and great art in an easy uncrowded way. Rachel answered every question we asked and was delightful. Highly recommend and, actually we would do it again!!! The best!!
Joe Luis United States of ...
December 2015
Wow, Wow, Wow, this was a great Tour, the breakfast at the Vatican Couryard was excellent. We met there and had a nice breakfast and then our tour started. You get to tour before the crowds start, excellent tour, excellent tour guide. Learned a lot, got to see a lot, there were maybe 20 people on this tour, and it's worth getting up early. Great! Can't say anything bad about this!
December 2015
We were on a tight time schedule so this tour was perfect for us ... In and out before the major crowds swamped inside. Loved that we beat the crowds with the early morning entry crowds were there at the end part of the tour. Would recommend this tour.

November 2015
This was definitely one of the highlights of my holiday. I enjoyed the Vatican more that Rome itself. The breakfast was excellent and watching the sunrise shining into the courtyard and onto the Vatican was magical.
November 2015
Had an early start for this trip but well worth it. Great breakfast with eggs, pancakes and even Holy Milk. Great to get into the Vatican before the crowds. Excellent guide.
November 2015
Very interesting experience. Very knowledgable guide.
November 2015
The breakfast itself was pretty bad - e.g., things that should have been hot were cold. However, the guided tour of the Vatican museums was outstanding. This would not have been possible without the personalized attention of our guide with the small group.
November 2015
This is a must tour when visiting the Vatican...the Breakfast was delicious and skipping the lines was GREAT!!! The tour guide was very knowledgeable and gave a great presentation! Thanks.
Highly recommended!!!
Nick and Pam
Advertisement
Advertisement