Tour code:
3731COLOSSEUMVIP
Treat yourself to an exclusive evening out in Rome that combines a dinner fit for a Roman emperor with an intimate nighttime tour of the Colosseum. This Viator VIP experience starts at the rooftop restaurant of the Hotel Forum, which overlooks the ruins of Ancient Rome. Sip prosecco and dine on a 4-course gourmet meal on the terrace, and then walk over to the Colosseum to explore the arena and its restricted underground chambers without the usual crowds. This tour is limited to 15 people to provide a small-group experience.
Highlights
3.5-hour Viator VIP with 4-course dinner at the Hotel Forum rooftop restaurant and small-group night Colosseum tour
Sip on a glass of prosecco at a glamorous rooftop restaurant while gazing at the ruins of Ancient Rome
Take a seat at an intimate private table on the terrace and dine on a 4-course, gourmet meal
Savor a variety of famous Roman specialties such as rigatoncini alla carbonara

Tour the Colosseum at night without the daytime crowds, and visit the first tier, arena floor and underground chambers
This combination of dinner and night tour cannot be booked anywhere else — don't miss out on this unforgettable experience!
Small-group tour with a maximum of 15 people ensures an intimate experience
Recent Photos of This Tour
Viator VIP: Exclusive Rome Rooftop Dinner and Colosseum Night Tour Including Underground Chambers
What You Can Expect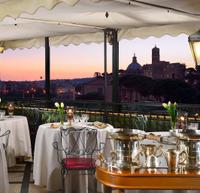 Your evening starts at the Hotel Forum, where you'll sip a glass of prosecco while enjoying views from the hotel's rooftop restaurant. From the terrace, you can gaze out at the ruins of Ancient Rome and spot landmarks like Trajan's Forum.

Your guide will provide some commentary about Rome's long history before you sit down at your private table, reserved for your party. Your 4-course meal of fine cuisine starts with an appetizer, followed by the first course (pasta), second course (meat or fish) and dessert. See the Itinerary for a sample menu, which includes Roman dishes such as saltimbocca alla Romana (prosciutto-wrapped veal). In typical Italian fashion, dinner ends with espresso.

After dinner, exit the restaurant with your guide, and walk through the Roman Forum on your way to the Colosseum, which looks even more imposing than usual under the cover of darkness. Go inside to explore the ancient amphitheater in near emptiness, soaking up the atmosphere of mysterious shadows instead of daytime crowds. You'll walk around the first tier and the reconstructed floor of the arena, where brutal battles between gladiators and wild animals once took place.

The highlight of your tour starts as you head underground to see the chambers where animals were kept and where gladiators prepared for their fights. This section of the Colosseum is only open to a limited number of people each day, so enjoy this rare opportunity to stand where very few visitors get to stand during the day, let alone at night.

After returning to ground level, your tour ends outside the Colosseum.
Itinerary
Sample dinner menu (subject to change):
Appetizer (choice of one):
Selection of finely sliced cured meats (such as salami and prosciutto) with olives
Beef carpaccio with shavings of Parmesan
Insalata caprese (fresh basil, mozzarella and tomato salad)
First course (choice of one):
Bucatini all'amatriciana (long pasta noodles with a pancetta and tomato sauce)
Rigatoncini alla carbonara (short, ridged pasta tubes with egg, pancetta, and pecorino cheese)
Spinach and ricotta ravioli in a rich tomato sauce
Second course (choice of one):

Saltimbocca alla Romana (prosciutto-wrapped veal cooked in Marsala)
Tagliata al balsamico (premium sliced steak with a balsamic vinegar reduction)
Swordfish with capers, olives and tomatoes
Dessert (choice of one):
Mille-feuille (fine puff pastry layered with a sweet pastry cream)
Tiramisu
Fresh fruit salad
May 2016
This was an awesome tour! Anna did a Super job as uour tour leader . The guide who took us around the Colosseum was very Good Also. I would recommend this tour to anyone who wants to see the Colosseum . dinner was outstanding and the view from the roof top was amazing. !

October 2015
This trip was the bomb! We had a really nice dinner first at the Hotel Forum. Had a bit of a view, but not awe-inspiring. Food was delicious. Then we walked over to the Colosseum and met our night guide. This fellow knew it all. We went from the bottom to the top, and I learned something at every stop. It is really expensive, but the group is small and there are few people in there at night, so you felt like the VIP's they say your are.
October 2015
Outstanding food, great guide, and getting to see areas of the Colosseum that no one else sees, was truly a highlight.
October 2015
Excellent value. The evening's dinner was not only enjoyable, but, the setting was as well. With appetizing entree choices, the rooftop venue provide an atmosphere perfect for couples. The Colosseum night tour was excellently done by Francesca, and the tour's contact point, was very helpful, and informative as well, going out of her way to make sure all participants were comfortable, and enjoying the evening.
October 2015
Incredible experience facilitated beautifully by our guide Massimo. The dinner at the forum was beautiful, classic italian with outstanding service and stunning views over the Italian Forum. The tour itself at night is breathtaking taking this tour and avoiding the crowds is the way to go. Our guide inside was outstanding and I hung on every word she said. take this tour if you want a truly unique experience.
October 2015
Dinner at the Forum was amazing. The food and service were impeccable. Our guide was very informative and entertaining. He recommended a great place for dinner the next night and other sights to see. Once we got to the Colosseum it was beautiful. The guide there gave us lots of information and the tour was great because we pretty much had the place to ourselves and didn't have to deal with the day time crowds.
September 2015
Dinner was fabulous! Interesting seeing the Colosseum at night, guide very informative.
September 2015
So glad that we did this. The colosseum at night is beautiful. The day tours are so crowded and this was a very nice, small group with a personalized tour. Dinner was lovely and delicious.
August 2015
We were not sure about this tour as the reviews appeared mixed. First off...We found the food at The Hotel Forumn to be very good. Yes, the restaurant is a bit dated but that only added to the charm for us. We had a view of the forumn from our table and we were able to have our own table, not forced to sit with others we did not know on the tour.
What a lovely way to start a tour! The waiters were super attentive, and as it started to get dark and dinner and dessert, was over btw I am gluten free and they served a fabulous gluten free pasta we took a brief walk to The Forumn. There were about 16 people in our tour and that was not too many. There was no line, and with a full moon rising we entered the Colosseum. This was our first night in Rome and what a fabulous way to begin!!! The Colosseum at night is NOT brightly lit. It is just right to give you the wonderful feel that you are walking on sacred ground. I wish I could recall the name of the young lady leading the tour...She was simply delightful and told the compelling story and history of The Colosseum. The underground access was amazing. We chatted later in the week with tourists who had just visited the Colosseum during the day and it was hot and very crowded. We maybe saw one other tour group ahead of us but it was timed to make you feel like we were there by ourselves. There is quite a bit of walking but if one asks, there are elevators and the Viator tour guides go above and beyond to accomodate one's needs We were not rushed at all. Just be prepared to do a bit of walking and to have to look for a taxi after. There is no taxi line at the exit. Make sure to ask your guide where to pick up a cab, a bunch of us got lost.
August 2015
This tour was fabulous. Starting from our rooftop dinner at the Hotel Forum to our private tour of the Colosseum, everything was perfect! Our tour guide was entertaining and very knowledgeable! The food was absolutely delicious and the views were magnificent!
Advertisement
Advertisement