323 Reviews
Location:

Rome, Italy

Duration:

3 hours

(approx.)
This isn't just any private tour of the Vatican and Sistine Chapel—on this Viator VIP tour, you'll have permission to visit rooms of the Vatican Museums that are typically closed to the public, plus you'll go inside the Sistine Chapel after hours, when it's only open for your small group limited to 15 people. This unprecedented opportunity to gaze in wonder at Michelangelo's famous ceiling fresco without the usual crowds is the ultimate way to experience this iconic site. In addition to secret sites like the Room of Gold, you'll also visit public galleries like Raphael's Rooms.
Highlights
3-hour small-group VIP tour of the Vatican Museums including skip-the-line entry
Enjoy exclusive access through a reserved entranceway to skip all the lines
Visit hidden corridors and secret Vatican rooms such as the Niccoline Chapel or the Bramante Staircase
See top Vatican attractions like the Apollo Belvedere statue, Raphael's Rooms and Gallery of the Candelabra
Take a rare, private tour of the Sistine Chapel after its doors are closed to the public
Hear commentary from your guide inside the Sistine Chapel, which is normally forbidden
Experience the Vatican as a VIP insider with this Viator exclusive tour
Recent Photos of This Tour
Viator VIP: Sistine Chapel Private Viewing and Small-Group Tour of the Vatican's Secret Rooms
What You Can Expect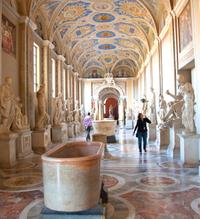 Vatican skip-the-line tours are in such demand that even the priority-access lines are long. To truly ensure you won't spend time waiting in queues, book this Viator VIP tour that provides admission through a reserved entrance, plus gives you access to secret rooms unlocked by the Vatican guard who accompanies you. It's a once-in-a-lifetime chance to see the hallowed halls of the Vatican the way that only dignitaries and royalty typically do.

The nature of this exclusive tour means that the itinerary changes each time based on the availability of the secret rooms, but most tours include the Bramante Staircase (Scala del Bramante) on the corner of the Pope's Palace. You'll probably also see the lavish Room of Gold (Sala degli Ori), home to a wow-inducing collection of papal jewelry and precious Etruscan jewels, and the Niccoline Chapel (Cappella Niccolina), a room that compares to the Sistine Chapel with its gold brought back from the travels of Christopher Columbus and its frescoes by Fra Angelico, a Renaissance painter who pre-dates Michelangelo.

Additionally, your tour includes artwork like the Apollo Belvedere statue and rooms seen on regular Vatican Museums tours such as Raphael's Rooms, the Pinecone Courtyard and the public area of the pope's apartments. As you explore, listen to stories from your guide about the Vatican's renowned art collection and scandalous history of power and treachery.

Finally, arrive at the Sistine Chapel, where you have private access after the chapel closes to the general public. Talking in the chapel is typically prohibited, but during your rare 30 minutes inside, your guide is allowed to tell you about Michelangelo's two famous works as you look at them—his wall fresco The Last Judgment and his legendary ceiling fresco, The Creation of Adam, which depicts scenes from the Book of Genesis.

See the Itinerary for a full list of the Vatican rooms and sights you can expect to see.
Itinerary
Classic Vatican sites:
Apollo Belvedere

Chiaramonti Museum

Sistine Chapel, home to artwork by Michelangelo including The Creation of Adam and The Last Judgment

Gallery of Maps

Gallery of the Candelabra

Gallery of the Tapestries

Lacoon

Pinecone Courtyard

Raphael's Rooms
Secret rooms (subject to change):
Bramante Staircase (Scala del Bramante)

Niccoline Chapel (Cappella Niccolina)

Room of Gold (Sala degli Ori)

This product is part of the following categories :
January 2016
It was an amazing experience. Be able to appreciate SIstine Chapel in a small group is an incredible experience. Have been to SIstine Chapel over five times. This was no comparison. The guide was knowledgeable and very professional. Thumbs up for sure. Would do this one all over again.
January 2016

January 2016
All I can say is WOW! This was worth every penny. To be able to walk into the Sistine Chapel with 7 other people and be able to take pictures makes this worth it. We also got to visit an old apartment of a former pope and Leonardo da Vinci's apartment. This is definitely worth doing!
December 2015
The trip was better than I'd hoped. Our guide, Laura, was great. There were twelve of us in the group and we did get access to a lot of interesting spaces that wouldn't ordinarily be accessible.
The main event, of course, was the Sistine Chapel and yes, we were there alone except for one guard. I think we had it to ourselves for 45 minutes. It was a great value!
November 2015
Astonishing, stunning... This was well worth every cent. Of course the Sistine was breathtaking, but the art we saw up to that point also was incredibly rich and beautiful. Our guide spoke perfect English and was nothing short of brilliant. He provided insightful comments on art pieces as well as lots of fascinating history. He also answered every question with impressive knowledge. Fantastic!!

November 2015
I'm still have chill bumps from being in the Sistine Chapel practically by ourselves.
November 2015
This private tour was The Highlight of our six week Italian holiday
November 2015
Being in the Sistine Chapel alone was well worth the price we paid. We went into rooms in the Vatican off limits to the public and got to see all of the highlighted items and places without spendin the entire day trying to discover what to do ad where to go

November 2015
Our guide Shannon was a walking knowledge of information. Highly recommend this tour. If you can request Shannon you won't regret it.
November 2015
Mina our guide not sure of spelling was amazing. Very detailed tour, secret areas closed off to the public. We had our own dude opening doors for us. Even parts that were closed off for renovation. We spent time in the Sistine Chapel and even got a picture when no one was looking. HIGHLY recommended! Mina was very passionate about the history and it showed. Very much appreciated!!
Advertisement
Advertisement