Gain admission to your choice of five heart-thumping activities at Agroventures, an adrenaline-packed theme park located just minutes from central Rotorua. Not for the faint-hearted, each extreme ride on offer — such as the Rotorua Bungy and Freefall Xtreme — provides non-stop blood-pumping action. Select a family ticket for a choice of 6, 8 or 10 activities to share. Complimentary round-trip hotel transport is available.
Highlights
Agroventures adventure park near Rotorua

The first purpose-built extreme theme park
Hair-raising, heart-thumping experiences guaranteed
Free hotel pick up and drop off available from Rotorua
What You Can Expect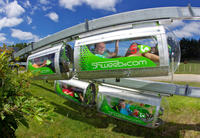 Take your Rotorua adventure to the next level at Agroventures theme park, where you'll find edge-of-your-seat thrills on five adrenaline-charged rides. At booking, choose one of the following activities — The Shweeb, Freefall Xtreme, Rotorua Bungy, Swoop or Aerojet — or select a family value combo package for your choice of 6, 8 or 10 activities to share.
See full descriptions in the Itinerary section below.
Itinerary
The ShweebRace against the clock as you pedal your way around the course, suspended in a pod hanging from a monorail line. With seven gears and the potential to reach speeds of up to 28 mph (45 kph) with 60-degree swings on the bends, it's just like riding a bike — with a difference! You must be at least 3.6 feet (1.1 meters) tall to ride the Shweeb.
Freefall XtremeDefy gravity as you float above a giant column of air as your flight master guides you to heights of up to 13 feet (4 meters). You'll literally be blown away by the experience. This truly is a hair-raising adventure; it feels like skydiving, but without a parachute. Minimum weight requirement is 55 pounds (25 kg).
Rotorua BungyYour pulse will quicken and you will soon forget about the scenery. Feel the tug of the bungy cord as you prepare to take the original leap of faith, from a platform 141 feet (43 meters) high. You need to be at least 10 years of age (legal age limit in NZ) and weigh more than 77 pounds (35 kg). Children 15 years and under must have parental or guardian consent.
SwoopFeel like a superhero as you fly through the air, reaching speeds of up to 80 mph (130 kph) and pulling 3Gs. Your heart will thump loudly as you are lifted 131 feet (40 meters) into the air, suspended from a cable. With the tug of a rip cord, you plunge head-first toward the ground before swinging upwards. Minimum height requirement is 3 feet (1 meter).
AgrojetBuckle up and hold on tight for heart-racing laps on a jet boat through a 0.62-mile (1-km) sprint course. Reaching speeds of up to 62 mph (100 kph), you'll feel the wind rush past you and G-forces pulling as the boat twists and turns around the purpose-built obstacle course, finishing with the famous 360-degree Hamilton Jet Spin. Minimum height requirement 2.95 feet (0.9 meters); two passengers per jet boat.
March 2015
Great Trip and Awsome price.

Kierra Australia
September 2014
Such a great day out and so fantastic! There is something for everyone and the staff really made the day enjoyable. So many options to choose from, I had the best time! The only thing I would suggest is for people to give half a day for here, in case it's busy and you may need to wait, you don't want to miss out on anything! Cannot wait to come back.

October 2013
The guys at this adventure playground are amazing! They are so friendly and easy to chat to it really puts you at ease. I still can't believe I bungy jumped but if it wasn't for the guys being so understanding and friendly I know it wouldn't have happened.
Advertisement
Advertisement