On this 5-hour Rotorua city tour, you'll stroll alongside Pohutu Geyser and boiling mud pools at the Whakarewarewa Thermal Reserve. See Rotorua's key attractions, including the Maori Arts and Crafts Institute and Rainbow Springs nature park. At the Agrodome Sheep Show, you're treated to demonstrations at an authentic New Zealand farm. Book an optional lunch, and upgrade to include a Skyline Rotorua Gondola ride or a tour of the Hobbiton Movie Set featured in 'The Lord of the Rings' and 'The Hobbit' trilogies.
Highlights
Discover Rotorua on this half-day morning city tour

Visit Te Puia and get an insight into Māori culture and traditions
Visit Whakarewarewa Thermal Valley and experience its extraordinary landscape of boiling mud and steam
Get close to a wide range of native and exotic wildlife at Rainbow Springs Nature Park
Watch the shearing demonstrations and learn about the history of farming at the sheep show at Agrodome

Travel on the Skyline Gondola and see stunning panoramic views over Rotorua's main centre
Recent Photos of This Tour
What You Can Expect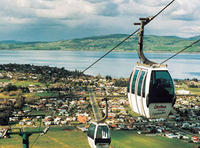 After a convenient hotel pickup in Rotorua, board your coach for the short drive to your first stop: Te Whakarewarewa Thermal Reserve. Here, follow your guide along the footpaths past bubbling mud pools and other geothermal wonders such as the mighty Pohutu Geyser, which erupts 100 feet (30 meters) into the air.
Next, you're taken to the Maori Arts and Crafts Institute for insight into the traditional arts and customs of the Maori people. See wood carving and weaving demonstrations, and discover the cultural significance behind their sacred meeting houses.
Enjoy a stop for lunch (if option selected at booking).
At the award-winning Agrodome Sheep Show, an interactive experience lets you take part in a live sheep auction and see sheep-herding dogs in action. Watch a carding and spinning demonstration, and step inside the century-old Woollen Mill.
Rainbow Springs is your final destination — a unique nature park that showcases New Zealand's flora and fauna. See a variety of birds and other wildlife on display, including New Zealand's national icon at Kiwi Encounter, before return transport to your hotel.
Optional Upgrades
Skyline Rotorua Gondola Ride
Combine your tour with a gentle and scenic Skyline Gondola ride. Each 8-seater cabin provides 180-degree panoramic views of Rotorua, from 1,600 feet (487 meters) above sea level.
Hobbiton Movie Set
Tour the Hobbiton Movie Set — aka The Shire — built on a working New Zealand sheep farm. See some of the last remaining structures from The Hobbit and The Lord of the Rings films., including the hobbit hole of Bilbo Baggins, where the quest for the ring began. A must-do for LOTR fans.
February 2016
This was a great tour. The people were knowledgable and very helpfull. As expected we saw a lot and were on and off the bus. the ability to return for a second look on the same pass was good. Definatly a great way to see everything.

December 2015
Wonderful tour and guide went out of the way to accomodate us
October 2015
Great tour, allowed us to see all the highlights in half a day.
July 2015
October 2014
The tour was very well organised. The bus driver who picked us up from the motel was punctual, very professional and entertaining. There were absolutely no problem with any of the places where we were taken including entry fees (which were included), tour guides who were very good and the actual places of interest. The gondola ride was really good but what was not mentioned in the description of the Morning City tour was the fabulous buffet lunch (with a huge selection of seafood/entrees and mains/delicious sweets etc) on top of the mountains after the gondola ride. The quality of the lunch was superb and of tremendous value (we were only expecting a sandwich and a drink but were pleasantly surprised at the restaurant, quality of food and ambience (great views!). Definitely worthwhile including the gondola ride and lunch with this morning city tour - a very pleasant end to the tour.
February 2014
Our guide was excellent.... personal stories about her Maori family added to the experience.
September 2012
Even though we had a lot of rain on that day, the bus driver /guide was terrific and we were impressed by his knowledge. I highly recommend the tour no matter what the weather is. Catherine from New York
Laura G United Kingdom
September 2012
On reconfirming this I was advised the Full Day Tour was no longer available but we still had the morning tour instead. We turned out to be the only people on it so had our very own personal tour! Absolutely worth doing as so much is packed in that we would not have had time to do otherwise. Our driver/guide was lovely and extremely knowledgeable. A definitely must when in Rotorua.
Anonymous
May 2010
For a beautifully corny introduction to the world of merinos, Drysdales and Romneys, then the Sheep Show is the perfect spot. It's undeniably well done and extremely popular to boot. The handlers make learning about sheep fabulously entertaining. The rams are brought on one by one as the guide explains which are good for wool and which are good for meat, and from there onwards the show hurtles along in a non-stop action frenzy.
Michael E United Kingdom
August 2008
A cool, sunny morning. The geysers were not fully active, but the guides were excellent and the Agrodome sheep show was great.
Advertisement
Advertisement