Fly high over breathtaking volcanic landscapes on an unforgettable 30-minute seaplane flight from Rotorua. See New Zealand's world-famous volcanic scenery as you fly over spectacular Mt. Tarawera, the Blue and Green Lakes, and the gurgling geysers of Whakarewareewa Thermal Reserve. Flying at a time to suit you, this scenic air tour will fit into even the busiest of itineraries.
Highlights
30-minute Mt. Tarawera scenic floatplane flight

Spectacular aerial views of Mt. Tarawera's volcanic rift

Fly over the Blue and Green Lakes, Whakarewarewa Thermal Reserve and the hot lakes of Waimangu Volcanic Valley

Take off and land on Lake Rotorua

Informative commentary from your expert pilot-guide

Hotel pickup and drop off from Rotorua hotels

What You Can Expect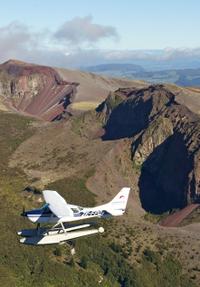 Set amidst a myriad of volcanic crater lakes and steeped in Maori legend, Mt. Tarawera's lunar-like landscape is an awesome sight that can only be fully appreciated from the air. The 1886 eruption of the now dormant Mt Tarawera created an 8km (5-mile) volcanic rift along the summit of the mountain, forming a spectacular landscape of jagged rocks and volcanic lakes.

Your 30-minute scenic flight from Rotorua will take you soaring over Mt. Tarawera's crater rift before flying south to the Steaming Cliffs and hot lakes of Waimangu Volcanic Valley.

Returning to Rotorua you'll fly over the Blue and Green Lakes, and the geysers of Whakarewareewa Thermal Reserve before ending your flight with a landing on Rotorua Lake.

Flights depart throughout the day from dawn to dusk, so simply advise your preferred departure time when booking. A minimum of 2 adults is required per booking.
February 2012
Absolutely beautiful, what an experience we enjoy every minute of this wonderful flight...a really must do in a life time!!!!!
April 2015
The service was extraordinary - loved the communication prior to my trip. Our pilot was a great guide and an excellent pilot. thanks for the experience.
January 2012
trip was postponed 24 hours due to rain following day the trip was dissapointing due to poor weather conditions but given a better day would go again.
Advertisement
Advertisement