Experience the elation of Rangitaiki River white-water rafting over Grade 3 and 4 rapids on this 6-hour adventure for physically active participants. You'll bounce over whirling white water on a thrilling run through the stunning river valley, including a section of flat water where you can relax before lunch and a hot shower. Includes gear, paddling instruction, and hotel pickup and drop-off from Rotorua.
Highlights
Enjoy the scenery around Rangitaiki River as you take on your white water adventure

Includes short 15-20-minute introduction to white water

Wetsuit and safety equipment will be provided
Lunch will be provided

Use of hot showers

Includes hotel pickup and drop off from Rotorua

What You Can Expect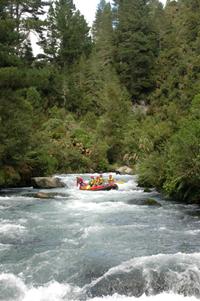 Start your white-water river-rafting adventure with hotel pickup in Rotorua. After transferring to the rafting base and the Rangitaiki River, you're provided with a life jacket, safety helmet and wetsuit along with booties and weather-dependent polar fleece top and spray jacket.
Before launching into the water, you'll receive a 20-minute safety training that includes paddling instruction and commands, as good teamwork is required to run the mostly Grade 3 (and one Grade 4) river rapids — suitable for anyone who is physically active.
Paddle past sheer rock walls surrounded by a plantation forest, and be rewarded with a 15-minute section of flat water around the midpoint of your white-water rafting, where you can relax. Take in the epic New Zealand scenery, chat with your river guide and dip in for a swim if you'd like.
Your white-water expedition includes lunch and a hot shower at the base before you're returned to your Rotorua hotel.
March 2016
We initially booked the grade 3/4 rafting tour but not enough people signed up. We decided to try the grade 5 rafting experience which was shorter but includes a 7 meter falls. Our guide was Cody and he did a great job guiding four people in their late 60's on a fun adventure. We all had a great time and would highly recommend the experience.
Katie W United Kingdom
May 2010
Absolutely fantastic!!! Loved it!! However, we were changed to the Grade 5 Kaituna river because the water level was too low on the trip we booked...I suggest booking the Kaituna river with the 21ft waterfall - you will not regret it!!
Anonymous
March 2010
This was the best! That river can move! We were very disappointed in our lunch. How can you serve juice to paying customers when it has expired?
Michael B USA
January 2010
Fantastic. Guides were wonderful. Best weather we had the entire trip. The rapids were thrilling. Highly recommend this adventure.
Roscoe H S USA
January 2010
The staff were great, but the rafting itself was not what I expected as was the difficultly! There were 2 rapids I would class a 3 but not class 4's. If you want adventure I would go to the class 5 tour!
Advertisement
Advertisement