Experience the thrill of white water rafting on the Rangitaiki River. Rapids are mostly grade 3 with one grade 4 rapid. The trip consists of fun bouncy rapids running through a beautiful river valley featuring stunning views of native and plantation forest.
Highlights
Enjoy the scenery around Rangitaiki River as you take on your white water adventure

Includes short 15-20-minute introduction to white water

Wetsuit and safety equipment will be provided
Lunch will be provided

Use of hot showers

Includes hotel pickup and drop off from Rotorua

What You Can Expect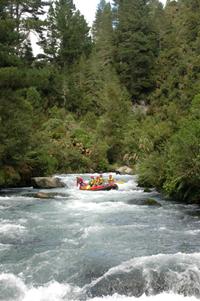 The rapids require good team work from you but 15 - 20 minutes of training is given before the trip teaching all the required paddle and safety commands and practice is undertaken on flat water before launching into the rapids.
The trip is suitable for anyone who is physically active. There is around 15 minutes of flat water at about the mid point on the trip allowing time to relax, enjoy the scenery, chat with your guide and fellow rafters and even have a swim if you wish.
You'll be provided with:
Safety Helmets
Lifejackets
Wetsuits
Polar Fleece Tops (weather dependent)
Spray jackets (weather dependent)
Wetsuit Booties
Food and Drink
Hot Shower
May 2010
Absolutely fantastic!!! Loved it!! However, we were changed to the Grade 5 Kaituna river because the water level was too low on the trip we booked...I suggest booking the Kaituna river with the 21ft waterfall - you will not regret it!!
Anonymous
March 2010
This was the best! That river can move! We were very disappointed in our lunch. How can you serve juice to paying customers when it has expired?
January 2010
Fantastic. Guides were wonderful. Best weather we had the entire trip. The rapids were thrilling. Highly recommend this adventure.
January 2010
The staff were great, but the rafting itself was not what I expected as was the difficultly! There were 2 rapids I would class a 3 but not class 4's. If you want adventure I would go to the class 5 tour!
Advertisement
Advertisement