Get out of your comfort zone on this challenging 45-minute Bush Safari from Rotorua. This self-drive experience by 4-passenger 4WD vehicle takes you over steep climbs and descents, with guided instruction via two-way radio as you navigate waterfalls, lunges and tunnels. Upgrade to include a 4x4 Monster Thrill Ride or Raceline Karting, or do all three! Safety briefing and equipment are provided.
Highlights
The ultimate self drive off road experience
Conquer the challenging trails in a 4WD vehicle
Have access to your full trained instructor via a 2-way radio
What You Can Expect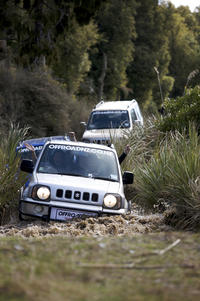 Meet your guide in Rotorua at your selected time to begin the Bush Safari, the ultimate 4WD self-drive adventure. After a safety briefing, climb aboard your 4x4 vehicle and veer off-road over thrilling terrain while under the watchful eye of a fully trained instructor who communicates with you via two-way radio.
Conquer challenging trails as you maneuver the 4-passenger vehicle along native rainforest and dirt paths including steep climbs, descents, tight twists and bends. Total duration is approx. 45 minutes to an hour.
Add on another adventure with optional Raceline Karting, a Monster 4x4 Thrill Ride or both.
Freak of Nature (1.5 Hours)
Combine your 4WD Bush Safari with a 10-minute Monster 4x4 Thrill Ride. Ride with a professional driver at the helm of your monster truck equipped with a roll cage and gigantic tires that power up and down nearly vertical slopes.
Driver's Obsession (1.5 Hours)
Before your 4WD Bush Safari, start with Raceline Karting in Rotorua. Experience kart racing on the longest circuit in New Zealand. Take the driver's seat and steer around hairpin curves at speeds up to 60 mph (100 kph).
The Ultimatum (2 Hours)
Experience the ultimate in adventure with all three activities described above.
January 2016
As newcomers to 4WD, we had a great time on this tour. Our guide was really good at talking us through everything, and making sure we felt confident and secure in what we were doing. We were raving about to all our friends for the next few days.
November 2015
Wow. I got the adrenaline rush on this. My guide, Brendan made it more fun and gave good advice. There was a few of the obstacles I thought oh oh, what have I let myself in for, but was over before I knew it
February 2012
Excellent, tracks for all levels of driver experience, very glad we did this one.
Well guided
August 2008
I've never been quite the adventurous type so I was a little concerned about taking this trip however there was absolutely no need to worry as it looked much more difficult than what it was! I absolutely loved the challenge and felt so proud of myself when I completed it. I would LOVE to take this trip again. Absolute highlight of my trip to Rotorua.
Anonymous
August 2008
It's a great trip to get you out of your comfort zone and it's a real achievement once you cross the finish line. I loved it and had so much fun!
Advertisement
Advertisement