Experience the Rotorua Monster 4x4 Thrill Ride, a 10-minute adventure inside an all-terrain vehicle, purpose-built with a roll cage. With an expert driver at the wheel, you'll climb and descend nearly vertical slopes and tilt over to an angle guaranteed to get your heart racing. Upgrade to include a 4WD Bush Safari or Raceline Karting, or do all three! Safety briefing and gear are provided.
Highlights
Enjoy a 10-minute thrill 4X4 ride over impossible terrain
Climb and descend near vertical slopes, hang on as you tilt over overs
Fun for the whole family
You'll be provided with overalls and safety helmet
What You Can Expect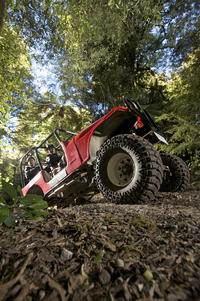 Meet your guide in Rotorua at your selected time for your 10-minute Monster 4x4 Thrill Ride.
Slip on your provided overalls and safety helmet, then hop inside the purpose-built 4WD monster truck equipped with a roll cage, enormous tires, solid suspension and steering at both ends.
After a safety briefing, buckle into the seatbelt harness, then hold tight for a wild ride as your skillful driver powers through native bush, maneuvering up and down nearly vertical slopes and tilting at absurd angles.
Up the ante with optional Raceline Karting, 4WD Bush Safari or both.
Adrenaline Overdose
Before your Monster Thrill Ride, start with Raceline Karting in Rotorua. Test your bravery and skill in the driver's seat while kart racing through a state-of-the-art outdoor circuit. Steer around hairpin turns at speeds up to 60 mph (100 kph). Duration is approx. 30 minutes.
Freak of Nature
Combine your Monster Thrill Ride with a 4WD Bush Safari. Drive into the unknown on a self-drive off-road experience over challenging trails through native bush. You'll be under the watchful eye of a fully trained guide who provides instructions via two-way radio. Duration is approx. 1.5 hours.
The Ultimatum
Experience the ultimate in adventure with all three activities described above. Duration is approx. 2 hours.
Anonymous
August 2008
An adrenalin rush to get you started in the morning. Specially recommended on a rainy day. Our driver kept us on the edge our seats and was very entertaining.
August 2008
This was so much fun! Our driver was very skillful and loved to tease us with his professional driving. This is a great stress reliever as it is such an adrenalin run! Recommended for those who love a little adventure but don't want to drive.
Advertisement
Advertisement