Gain entry to the New Zealand Maori Arts and Crafts Institute at Te Puia on a guided tour of this geothermal hot spot. Take a walking path up to steaming vents, boiling mud pools and erupting Pohutu Geyser at Te Whakarewarewa Thermal Valley; observe the emblematic kiwi bird; and discover Maori traditions at the cultural center. Upgrade to include a 45-minute cultural performance of Maori song and dance, including the warlike 'haka.' Showtimes are available several times a day during admittance.
Highlights
Te Puia Maori Arts and Culture Institute daytime experience

Explore the Te Whakarewarewa Thermal Valley and see boiling mud pools and the world-famous Pohutu Geyser
Learn more about Maori traditions and legends on a guided tour

Upgrade to include a 45-minute Te Puia Maori cultural performance

Why Our Insiders Chose This Tour
There is so much to see and experience at Te Puia – boiling mud pools, spectacular geysers, Maori weaving and carving. This is a fascinating and diverse look into the Maori culture and the region. Be sure to include the cultural performance and make the most of your visit to Te Puia.
Recent Photos of This Tour
Te Puia Maori Arts and Crafts Institute with Optional Cultural Performance
What You Can Expect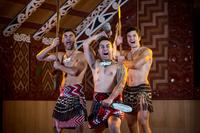 Make your way to Te Puia and meet your Maori guide at the entrance to the New Zealand Maori Arts and Crafts Institute. Hear stories and legends passed down over generations, learn about Maori settlement in Rotorua, and gain insight into this thriving culture as you observe master woodcarvers and artisans trained in the intricate art of weaving flax.
At the nocturnal kiwi house, catch a rare sight of this unusual flightless bird — New Zealand's national emblem.
Then walk past the bubbling mud pools and steaming springs of the Whakarewarewa Thermal Valley, and don't miss the 100-foot (30-meter) Pohutu Geyser, which erupts up to 20 times a day.
Optional Upgrade: Maori Cultural Performance
This 45-minute spectacle of dance and song takes place several times throughout the day. Start with a ceremonial welcome at the marae, or meeting place, including the nose-to-nose Maori greeting known as the hongi. You'll see weaponry displays, poi dances and stick games, and be mesmerized by the haka war dance.
March 2016
The Maori presentation was so interesting. We loved the songs performed and we were excited to see the Haka and the poi ball dance.
Our guide was very knowledgeable and friendly - we were able to see the geyser, the hot mud pools, the weaving school, the carving school and the kiwi birds. Such a fascinating area!
December 2015
I don't think you can go to New Zealand without seeing Rotorua. And Rotorua did not disappoint, particularly the cultural performance which was outstanding. A definite tour for all visitors
October 2015
What an amazing place. The guided tour was fantastic and very informative - a pity the kiwi was asleep!! The Maori Cultural Experience is a must. Excellent introduction to the Maori culture and the stick passing was captivating.
November 2015
We enjoyed walking around and seeing the thermal pools and watching the geyser. We didn't do the Cultural Performance because we were going to another one that evening. What wasn't clear from the booking information was that this is a voucher which you can use at any point during the day while Te Puia is open for general admittance. Without the performance, it was a couple of hours walking around and a gift shop.
March 2015
A joint trip to Taupo , Huka Falls and Rotorua is what I would highly recommend
It is a first rate Nature Experience
Maori culture experience is at its best at Auckland Museum
Advertisement
Advertisement