Gain insight into traditional Maori customs with a 2.5-hour guided tour of the New Zealand Maori Arts and Crafts Institute at Te Puia, followed by a steambox lunch prepared the traditional way: cooked over steam vents at the Te Whakarewarewa Geothermal Valley. Walk past Pohutu Geyser, see a flax-weaving demonstration, and spot the national bird in the nocturnal Kiwi House. This small-group tour near Rotorua is limited to a maximum of 15 people for a personalized experience.
Highlights
Te Puia arts and crafts institute small-group tour with steambox lunch
Take a 2.5-hour guided tour of Te Puia
Watch a flax-weaving workshop
See geothermal activity and the world-famous Pohutu Gesyer
Dine on a steambox lunch, cooked in the steam vents of the geothermal landscape
Enjoy personalized attention on this small-group tour of 15 passengers
Why Our Insiders Chose This Tour
The steambox lunch will give you a taste of the Maori culture. Enjoy food that has been cooked using the geothermal energy, a method that has been used for in the region for centuries and is still used today. Sitting down for lunch with the Pohutu Geyser as your backdrop is a magical experience.
What You Can Expect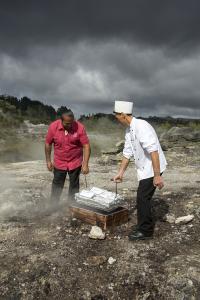 Make your way to the New Zealand Maori Arts and Crafts Institute and Te Whakarewarewa Thermal Valley at Te Puia, located just 5 minutes from central Rotorua. A dozen monumental Maori carvings greet your arrival at the renowned Maori cultural center, where you'll set off on a 2.5-hour guided tour of the grounds.
First, select the raw ingredients for your steambox lunch, prepared over the naturally occurring hot-water steam vents — an ancient Maori cooking technique.
Check out traditional artwork, try your hand at flax-weaving during an expert demonstration, listen to Maori legends told by your guide and explore Maori customs via interactive galleries at the Te Whare Tapere meeting house. Then adjust your eyes in the Kiwi House, a specially lit nocturnal enclosure, for a look at New Zealand's national native bird.
Finally, walk past geothermal springs and bubbling mud pools, and stop at a terrace overlooking the 100-foot (30-meter) Pohutu Geyser to see your lunch emerge from the Nga Wha steam vent. Relax as you enjoy your meal and watch the geyser's daily eruption at the end of your tour.
February 2016
A brilliant tour very informative and an interesting and excellent steambox lunch!
November 2015
Very interesting tour, tasty food. Gift shop also well worth a look. I allowed myself more time at Te Puia to do the hike around the outside and I was glad I had.
April 2015
They dont get much better!
We arrived late due to delays in our hire car and the Puia Maori centre couldn't have been more helpful. The centre is amazing with loads to see and do and the guides were delightful. The steam box lunch was 'unusual' but good fun and we were made to feel very special as it was only available to a limited number of guests. One not to be missed!
March 2014
When I went up to the booth at the entrance to Te Puia Maori arts and Crafts Institute, I was thinking that I was going to have to do some explaining... I said, "I have a small group..." and immediately Carla spoke up and said "And I will be showing your around today". And she proceeded to come out introduce heresulf, ask the names of each of the eight of us, and describe the time we would be spending together. She was charming, knowledgeable, proud of her culture, and eager to share it with us. The steambox lunch was excellent...and the hands on lessons, up close look at carving, and her ability to weave in her family history were excellent. We had dubbed ourselves the "Kiwi Wannabes"...and the welcome of Carla to Te Puia is one of the reasons we enjoyed the Kiwi and Maori experience so much. have to say also that we ventured into questions of discrimination, earning a living in New Zealand and more...and carla had the thoughtful and incisive answers we sought. Make this a "must" as you visit Rotorua...
Tom R.
Viv USA
September 2014
Great experience and very educational.
Advertisement
Advertisement