Explore the mystical Waitomo Glowworm Caves, discover the galleries and lofty chambers and take a boat ride through the Glowworm grotto – lit up by thousands of tiny living lights.
Highlights
Sightseeing day-tour from Rotorua to discover the Waitomo Glowworm Caves.

See Fitzgerald Glade, where trees have formed a tunnel of natural greenery arching over the road.
Take a 45-minute guided tour through the world famous Waitomo Glowworm Caves
See vaulted caverns, stalactites and stalagmites and hear how these limestone formations were created over millions of years.
Enjoy boat ride through the Glowworm Grotto, a subterranean cavern illuminated by the lights of thousands of tiny glowworms
What You Can Expect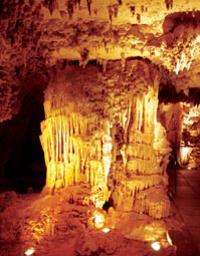 Depart Rotorua in the morning and travel over the scenic Mamaku Ranges as the tour heads west to Waitomo. Enjoy a gourmet lunch-box (if option selected) aboard the bus as you travel through the picturesque countryside to the Waitomo Glowworm Caves, passing by beautiful Lake Karapiro, popular for kayaking and rowing.

On arrival at the caves, start your tour by exploring the main chambers. View the impressive stalactites and stalagmites, created by the constant dripping of water over thousands of years. Later, board your boat and head down river to the grotto. As your eyes become accustomed to the darkness, you will see a faint band of light that surrounds you, these are the glowworms. Be entranced by thousands of tiny living lights hanging like ropes of pearls from the ceiling of the cave.

After your caves tour, re-board the coach for your return journey to Rotorua. passing through the Fitzgerald Glade, a section of the highway where the native bush grows right up to the roadside and the trees form a canopy overhead like a tunnel.
October 2014
January 2015
Very good tour overall, most time spent with drive to and from Rotorua. The cave tour very good,a little short and not allow any photography or video. Glowworns fantastic viewing.
Advertisement
Advertisement