Discover the subterranean galleries and lofty chambers of the Waitomo Glowworm Caves on a 6-hour guided tour from Rotorua. Ride a boat into the Glowworm Grotto and learn about the limestone formations and their tiny inhabitants that illuminate the darkness with thousands of living lights. Round-trip hotel transport includes a scenic drive through the Mamaku Ranges and Fitzgerald Glade. Upgrade to include a boxed lunch on board.
Highlights
Sightseeing day-tour from Rotorua to discover the Waitomo Glowworm Caves.

See Fitzgerald Glade, where trees have formed a tunnel of natural greenery arching over the road.
Take a 45-minute guided tour through the world famous Waitomo Glowworm Caves
See vaulted caverns, stalactites and stalagmites and hear how these limestone formations were created over millions of years.
Enjoy boat ride through the Glowworm Grotto, a subterranean cavern illuminated by the lights of thousands of tiny glowworms
What You Can Expect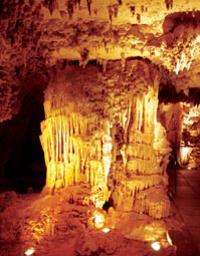 Your day trip to New Zealand's famous Waitomo Glowworm Caves begins with coach pickup from your Rotorua hotel in the morning. Take a scenic drive through the picturesque countryside, heading west to Waitomo for a 45-minute guided tour of the vaulted caverns and limestone formations created over thousands of years.
En route, drive through the Mamaku Ranges and pass by Lake Karapiro, and enjoy a gourmet lunch-box (if option selected) aboard the bus.
Upon reaching the Waitomo Glowworm Caves, follow your guide underground to explore the main chamber decorated with dripping stalactites and stalagmites. Then take a small riverboat into the Glowworm Grotto, where you'll notice thousands of faint lights hanging like strands of pearls from the cave ceiling and lighting the darkness.
Learn about the source of this luminescence before returning to the coach for the drive back to Rotorua. You'll pass through the tunnel-like canopy of enchanting Fitzgerald Glade before drop-off at your hotel.
May 2016
Interesting, unique and fun.
October 2014
Sauly Australia
January 2015
Very good tour overall, most time spent with drive to and from Rotorua. The cave tour very good,a little short and not allow any photography or video. Glowworns fantastic viewing.
March 2012
The caves are amazing and very peaceful. Once your eyes become accustomed to the darkness, the glowworms are revealed. Well worth a visit.
April 2014
Caves are fantastic! Gloworms are amazing!
Your guides are knowledgable!
If you like action and adventure, then this tour may be too soft for you, and you should consider other tours that involve climbing, abseiling etc. you cannot take pictures in the cave, which was disappointing.
February 2011
Interesting tour. Too big of a group on the tour making it difficult to hear the tour guide. The tour is only 45 minutes. The bus ride from Rotorua was 2 hours each way.
ADAM W United Kingdom
July 2010
It was ok but not sure if the trip truely does the price justice.
Advertisement
Advertisement