Tour Salt Lake City with ease on this hop-on hop-off sightseeing adventure that provides a convenient way to visit the attractions that interest you. As you travel around the city by open-air bus, hop off when you wish at any of the 17 stops, which include Fort Douglas, Temple Square and This Is the Place Heritage Park. While you're on board, listen to narration to learn about a bit about Salt Lake's history. When booking, you have the option of either a 1-day or 2-day pass.
Highlights
Hop-on hop-off tour of Salt Lake City
Visit top Salt Lake City attractions such as Temple Square, Fort Douglas, This Is the Place Heritage Park and Utah's Hogle Zoo
Create your own sightseeing schedule and explore at your own pace
Travel aboard an open-air bus and enjoy commentary written by a historian

Choose a 1-day or 2-day pass
Why Our Insiders Chose This Tour
With the 1-day or 2-day pass option, this tour is great for larger groups and for those who want to explore at their own pace.
What You Can Expect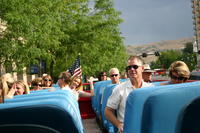 Hop on the Salt Lake City sightseeing bus at one of several stops around the city, and enjoy easy transportation to top attractions like Lion House (Brigham Young's former pioneer home), the Governor's Mansion, Fort Douglas, This Is the Place Heritage Park, the Utah Museum of Fine Arts, the Hogle Zoo and City Creek Mall.

The full route takes 1.5 hours, and you can hop off at any of the stops to check out the sights that most interest you; see the Itinerary section for the list of 17 stops. Learn about the city when you're on the bus via the onboard narration, which was written by a knowledgeable historian, and enjoy access for either one or two days, depending on option selected when booking.
Itinerary
Hop-on hop-off bus stops:
Big Bus Welcome Center
Lion House
Genealogical Library
Council Hall
North Capitol Hill
Cathedral of the Madeleine
Governor's Mansion
Rice-Eccles Stadium
Utah Museum of Fine Arts
Fort Douglas Military Museum
Red Butte / Museum of Natural History
This Is The Place Heritage Park
Utah's Hogle Zoo
Trolley Square
The Leonardo / Library Square
City Creek Mall
Clark / Gateway Mall
travelingsenior United States of ...
June 2016
Bought a 2-day pass and had a great time. George, the owner/driver, was very knowledgeable of the sites and offered additional information beyond the pre-recorded guide. He also ensured that I got back in time to connect with a scheduled train departure. Anna, who redeemed vouchers for tour bus passes, was very helpful in directing me to public transportation that would allow me to visit an attraction earlier than the tour bus in order to meet my time constraints, and then return via the tour bus. When I phoned the office for directions from the train station to the tour bus's departure point, and to inquire on the pickup area for one of the attractions, Jerry patiently advised me. All team members communicated regularly with each other to ensure a seamless tour and transportation for passengers. I highly recommend the tour. A 2-day pass worked well for me despite having to commute between Provo and SLC.
August 2015
Great tour, was able to see so much of Salt Lake City which you couldn't have done on your own.
Salt Lake City is lovely.
July 2015
From the time I hopped on the bus, hopped off, made different transfers, and hopped back on another bus, I felt very welcomed. There were two different drivers this particular day, and both were knowledgable, helpful, friendly, and personable. I highly recommend this tour for anyone who wants to see the sights that Salt Lake has to offer.
September 2014
Great tour. The guide had a wealth of knowledge.
September 2014
Our driver was extremely knowledgeable and was able to provide additional information about the city and recommendations for additional visits.
August 2014
This was a great ride! Saw all the highlights of the city.
January 2014
We planned our fall trip to Salt Lake City and purchased the perfect tour a month in advance. Only to find on arrival that Viator's "internet sales sub-contractor" sold us a tour that was discontinued at summer's end. Jerry the owner Viator Tours answered our phone call for assistance, then personally met us at the visitor's center and offered several solutions including a personal tour with one of his drivers, George Gonzales. We accepted the private tour and viewed Salt Lake City with this native guide. Beautiful city! Fantastic history! We highly recommend you arrange your Viator tour with this guide. Viator's outstanding business scruples are RARE and my family and I want to thank Jerry for our wonderful experience. Today, it's so rare the CEO of a business serving thousands of customers shows personal concern for one unknown family! The Kleinhenz Family, CA
June 2016
It would have been good if the Viator website for this tour had a Route Map and a Stop Arrival Time Schedule. We had to get this on our after a fair amount of looking and calling around in Salt Lake City itself. Other than that, the Hop on Hop off was very good.
October 2015
Great. Had a great time. Hard to find pick up stops.
September 2015
All tour guides drivers were good. One was exceptional. I wish I knew his name.
Advertisement
Advertisement