Enjoy a day trip from Salvador to Morro de Sao Paulo, one of the most famous landscapes of Bahia. Known for its charming beauty and infrastructure, this village attracts people from all over the world. A great way to escape urban Salvador and enjoy the natural beauty Brazil has to offer!
Highlights
Day trip from Salvador to Morro de Sao Paulo
Fine beaches, crystal-clear waters and tide pools
Ferryboat ride and speedboat journey
Swimming, diving and trails
Knowledgeable guide
Hotel pickup and dropoff
What You Can Expect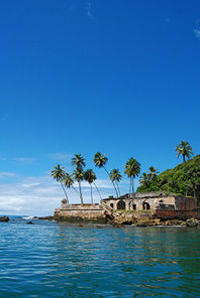 Morro de Sao Paulo, located on the island of Tinhare in the Bay of Camamu, is an enchanting location with fine beaches, crystal-clear waters and naturally forming tide pools.
Enjoy a relaxing ferryboat ride from Sao Joaquim, a short bus trip to Valença and a quick speedboat journey before arriving at this natural paradise that attracts thousands of people from all over the world.

You'll get the opportunity to visit the splendid beaches that are ideal for swimming and relaxing. Explore trails and go diving while you visit this unique location. You also have full access to all facilities.
December 2011
the tour was good.. our tour guide Julliana was grt and she made it a point to explain every thing to us in english.(everyone speak portuguese thr).. she had grt co-ordination skills.. the pick up and drop off was grt..very fast...all my ratings are based on julliana's skills..she was awesome...
April 2011
the trip takes 2h30'. Instead of a boat directly to Morro we had to take a ferry-boat (no places reserved, we had to stand 35' as it was crowded) then a bus for 1h30' and finally another boat for 30'. We remained in Morro 4 hours, and not in the best beaches..
Advertisement
Advertisement