Tour code:
3595SOM_OVERNIGHT
Soak up the gorgeous Salzburg scenery with a 2- or 3-night stay in Schloss Leopoldskron (Leopoldskron Castle), made famous in 'The Sound of Music.' Revisit your favorite scenes from the film with an accompanying 'The Sound of Music' tour and explore the city's top attractions, including Nonnberg Abbey, Mondsee Cathedral and the Mirabell Gardens. Enjoy a complimentary coffee and cake at Cafe Fürst and a free bike rental to continue exploring the city on your own.
Highlights
2- or 3-night The Sound of Music tour at Schloss Leopoldskron in Salzburg
Stay in the Meierhof guesthouse at Schloss Leopoldskron, which served as the setting and inspiration for the movie
Visit filming locations in the palace and in Salzburg, such as Mirabell Gardens, Nonnberg Abbey and Mondsee Cathedral
Learn about the real Von Trapp family, and enjoy coffee and cake at Cafe Fürst
Enjoy ample free time to explore Salzburg's Old Town, a UNESCO World Heritage site
Choose two or three nights of accommodation, with buffet breakfasts included
Recent Photos of This Tour
2- or 3-Night Schloss Leopoldskron Stay in Salzburg Including 'The Sound of Music' Tour
What You Can Expect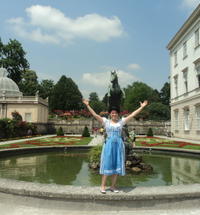 Opt for a 2- or 3-night stay at the Hotel Schloss Leopoldskron, including cake and coffee at the famous Cafe Fürst and The Sound of Music coach tour. Breakfasts are also included with your stay.
Itinerary
Day 1: Schloss Leopoldskron
Check in to your guesthouse at Schloss Leopoldskron in the afternoon. An impressive hideaway located just minutes from Salzburg's UNESCO World Heritage-listed Old Town, the historical palace-come-hotel sits by an idyllic lake with panoramic views of the Alps and Hohensalzburg Fortress, surrounded by 17 acres (7 hectares) of manicured grounds. Schloss Leopoldskron now functions as a private hotel, offering accommodation in the main 18th-century palace building, two town houses and in the adjacent Meierhof guesthouse.

After checking in, the whole day is yours to spend as you please. Your hotel offers free bike rentals and a public pool for your enjoyment, and you're welcome to wander Salzburg at your leisure. The guesthouse offers a welcome drink as part of your stay, so head to the bar to enjoy this whenever you want.

Overnight: Meierhof guesthouse, Schloss Leopoldskron

Day 2: Schloss Leopoldskron – Salzburg The Sound of Music movie sites – Schloss Leopoldskron (B)
After a buffet breakfast in the main palace building, start your tour of The Sound of Music filming locations with your guide. View the breathtaking landscapes and locations in and around Schloss Leopoldskron where the movie was filmed, and visit historical and architectural landmarks throughout Salzburg and the picturesque lake district.

The front side of Schloss Leopoldskron was used as the Von Trapp family home. Remember the scene where the kids fall out of the boat into the water? That scene took place on Leopoldskron Lake, just steps away from the palace. See the Venetian room, which inspired the movie's ballroom scenes, and visit the gazebo where Sixteen Going on Seventeen was sung.

Leave Schloss Leopoldskron and travel by coach to more filming sites throughout Salzburg. Learn about the story of the real Von Trapp family and listen to your favorite songs from the movie including My Favorite Things, Edelweiss and, of course, the glorious title song: The Sound of Music.

Pass by Nonnberg Abbey, where Maria was a novice nun, and Mirabell Gardens, where Maria and the children were seen dancing around the statue of Pegasus the winged horse while singing Do-Re-Mi.

Stop to see the glass pavilion in the gardens of Hellbrunn Castle and ogle the scenery of St Gilgen and Lake Wolfgang. Then, make the most of some free time in Mondsee to visit Mondsee Cathedral (own expense), where Maria and Captain Von Trapp were married.

Your movie tour ends in central Salzburg and, before leaving, your guide will give you a souvenir of your experience. From here you're free to stroll through Salzburg Old Town and enjoy coffee and cake at the famous Cafe Fürst — simply show a voucher given to you at your guesthouse. Make your own way back to Schloss Leopoldskron independently and spend your evening as you wish.

Overnight: Meierhof guesthouse, Schloss Leopoldskron

Day 3: Hotel Schloss Leopoldskron (B)
Enjoy a leisurely breakfast in the palace building before checking out of the guesthouse in the late morning (2-Night Stay only). If you opt for the longer 3-Night Stay, enjoy a full day at leisure to relax and make use of the hotel facilities or explore Salzburg independently.

Overnight: Meierhof guesthouse, Schloss Leopoldskron

Day 4: Hotel Schloss Leopoldskron (B); 3-Night Stay only
Check out of your guesthouse in the late morning after a final breakfast in the palace building.
May 2016
The highlight of our Salzburg visit. Breakfast is served in a beautiful dining hall and you get private access to an actual Sound of Music location while the tour bus groups have to look at the location from a far distance. Worth it.
March 2016
Wonderful. If you want to explore the grounds where The Sound of music was filmed this is the only way. Amazing hotel and staff. Great buffet breakfast incl. Tour was outstanding. It snowed and the country side was beautiful, even with reduced viability. Great package. Worth every dollar.
August 2015

Irene USA
August 2015
This exceeded all expectations! The staff at the hotel were extremely friendly and helpful, our room was great, and the surrounding area was gorgeous. After exploring the city, the hotel and lake provided a nice peaceful place to come back to. In addition, not only were the breakfasts at Schloss Leopoldskron delicious, but the dining room was so lavish that I felt like royalty eating in there. Can't forget about the Sound of Music tour either! Our guide told us interesting facts about the movie that I wouldn't have known otherwise. This is a must during your stay in Salzburg!
May 2015
This was incredible. The Sound of Music tour was nice and we had a good guide, but it's not the best tour I've ever been on. The best part of this was being able to stay on the Schloss Leopoldskron grounds. Since it's private property, the tours can't go there, and we were able to enjoy the grounds tourist-free. The hotel staff is also very friendly and helpful. However, they did neglect to make our reservation for the Sound of Music tour after saying they would. So I would just double check on any reservations you ask to be made for you.
The main downside is the hotel is a bit of a walk about 20 minutes from the main downtown, but it's doable. You can also get a taxi for 10 Euros.
The staff is helpful answering any questions. This is definitely something I'd recommend, and something I would love to do again!
April 2015
The location is perfect, just outside the old town, but still walkable. Beautiful pond and beautiful library inside, with a couple of rooms to look through.
The room was clean and spacious. The staff were super friendly and helpful! Breakfast was delicious. Would come back in a heart beat. The sound of music tour was fun and informative. Tour guide was funny and we saw so much, even through the snow. The tour took more than 4 hours because she took us to the Marabel palace after the bus dropped us off.
I would highly recommend this tour and hotel!
March 2015
Excellent. Staff was very kind. Place is wonderful! I am planning to go back on near future!
September 2014
The Hotel was v beautiful. Most staff v friendly.
September 2014
Amazing, accommodation was beautiful. Tour was great, guide was so knowledgable
February 2016
Salzburg is beautiful. The stay at Schloss Leopoldskorn was an experience. It's a beautiful place, tranquil and serene, not a place for kids but for honeymooners or those who wish to be away from the busy town centre. Good place to relax and read and just laze around. Service is good and staff are friendly. The Sound of Music Tour was fun and entertaining.
Advertisement
Advertisement