See the underground world of Obersalzberg's salt mines on this 4-hour trip from Salzburg. Led by a local guide, venture along the scenic Alpenstrasse as you wind through the Bavarian Alps. Suit up in traditional miners' wear and descend into the salt mines dating back 450 years. Then, experience a unique raft sail along the salt lake in the mines' grottos and hear the history and lore of the underground world. After a stop at the charming village of Berchtesgaden, your tour will conclude in Salzburg.
Highlights
Half-day Berchtesgaden Salt Mines tour with transport from Salzburg
Travel along the scenic Deutsche Alpenstrasse for mountain views
Step straight inside the popular attraction with a skip-the-line ticket
Protect your clothes by wearing a traditional salt miner's uniform
Slide into the mine shaft, ride on a mini-train and cruise around an underground lake
Watch a video about the mines' history and explore with a local guide
Visit the town of Berchtesgaden on the way back to Salzburg
Why Our Insiders Chose This Tour
This is an experience that's both educational and fun, making for a great family day out. Don a miner's uniform, shoot down a slide and ride a boat on the intriguing underground 'mirror lake.'
Recent Photos of This Tour
Bavarian Mountains and Salt-Mines Tour from Salzburg
What You Can Expect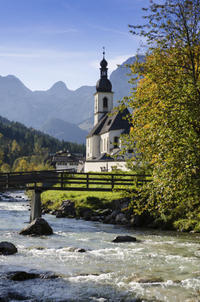 Your tour will begin at Mirabellplatz in central Salzburg, where you'll join up with your guide and hop aboard your coach. Enjoy a scenic drive along the King's Lake River through the Bavarian mountains before arriving in Obersalzberg.

Then slip into miners' attire and descend into the grottos on a slide! After a thrilling ride down, explore the underground world, learning about the mines' fascinating, 450-year-old history. Top off your adventure with a raft sail on the salt lake and a train ride.

After ascending back to the surface of the earth, visit the charming town of Berchtesgaden to purchase a snack or plate of apple strudel. Your tour will conclude at its original departure point in Salzburg.

April 2016
This is a great tour. We had a great tour guide who provided us with a lot of great information during the drive. Once we got to the salt-mines we were walked right in and put in the front of the group for the tour. If you are doing the English speaking tour you will receive an audio guide that takes you through the mine. It's a great tour with a lot of information.

April 2016
very informative and and a lot of fun.The tour guide was excellent and a gentleman.
Ajsa India
April 2016
Amazing is an understatement for this tour.. Carlos is a matchless guide.. Very well informed and he adds a very nice touch of humour to his commentary.. His comic timing is terrific.. The salt mine is another world.. I won't write much about it here since it takes away the element of surprise for those who're planning to visit it.. But it is a MUST VISIT place.. Due to limited time we didn't visit the Eagle's Nest.. But hopefully some other time we would.. Absolutely recommended..
March 2016
We thoroughly enjoyed our trip to the mountains and the salt mines. The scenery was fantastic, with lots of snow. the salt mines interesting and fun and our guide Walter was great.
January 2016
I thought this was a very interesting and fun tour for all ages! The tour has a lot of diversity to it and our salt mine guide was playful, adding to the fun!
December 2015
very interesting to see how the salt is taken from the underground.
December 2015
Honestly, I never would have chosen to go on this trip if it weren't for so many of my friends recommending it, and now I'm going to do the same! It may not seem hip, but the trip was amazing. The guide was knowledgeable and funny, the drive was beautiful and the salt mines are fascinating. You get to go down a slide that is steep but fun akin to Disneyland's Splash Mountain minus the cart and on a boat across water that is so undisturbed it looks like mercury. The stop in the cute town of Berchtesgaden is the icing on the cake - or the cream on the apple strudel. 5/5 would do again.
November 2015
Great guide, informative tour of the outlying area os Salzburg, and a fun tour of Salt Mine. Learned a little history of the area.
November 2015
Comfortable ride through the Salzburg countryside...very professional driver and tour guide....we had a very informative guide who was open for questions....we would highly recommend!
October 2015
Very unique, very educational. If you can also spend time in the small town of Berchtesgaden nearby you will have created a wonderful day of touring worth a rating of 10!
Advertisement
Advertisement