Feel festive this Christmas season with a horse-drawn sleigh ride in a village near Schladming. Departing from Salzburg, this day trip ventures along the Salzach River Valley and travel up 3,281 feet (1,000 meters) to the Alpine mountain of Dachstein. Relax with some lunch at a local inn before hopping on your 2-hour sled ride to soak up the wintry scenery. After this full-day excursion, your tour will conclude at its original departure point.
Highlights
Chrismastime horse-drawn sleigh ride day trip from Salzburg

Get into the Christmas spirit on a merry horse-drawn sleigh ride in the tiny village of Ramsau in the Alps

See stunning alpine scenery as you travel alongside the Salzach River after leaving Salzburg

Marvel at panoramic views from the base of Dachstein mountain before your 2-hour horse-drawn sleigh ride

Sit back and relax or snuggle up as your sleigh glides along the snow!

Recent Photos of This Tour
Christmas Horse-Drawn Sleigh Ride from Salzburg
What You Can Expect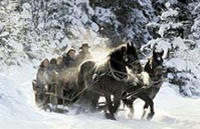 Your day trip will begin in central Salzburg's Mirabellplatz, where you'll join up with your guide and hop aboard your coach. Journey along the Salzach River Valley to the tiny village of Ramsau, located at the base of the Dachstein, an impressive Alpine mountain.

Upon arrival, relax with lunch at one of the local inns (own expense). Treat your taste buds to some of the region's specialty dishes, including apple strudel or the popular wiener schnitzel. Afterward, step out into the crisp air and head to the field where your horse-drawn sleigh will be waiting, decked out with jingle bells. Climb in and begin gliding across the snow as your horses take off for your 2-hour adventure. Cozy up with supplied blankets from the carriage and, if you choose, stop midway to make snowballs or snowangels.

After your horse-drawn sled ride through the Alps concludes, you will be driven back to central Salzburg.

March 2016
The bus drive up through the Austrian Alps was just beautiful! What a way to spend Christmas Day!
This tour was so well organised - when the bus arrived at our destination, waiting for us was a long line of horses with their sleighs! With snow on mountain tops only, our sleigh ride was just magical!
January 2016
A perfect day out despite the lack of snow.
March 2015
We did the trip on St. Stephens Day. My husband and I thoroughly enjoyed it. There wasn't the snow that we thought we were going to have but that had nothing to do with organiser. The weather is the weather. We had an enjoyable dayand would go on sleigh ride again. Very well organised.
February 2015
Great day out!!
Tour guide was excellent.
Would highly recommend.

January 2015
does it get any better than taking a horse-drawn sleigh through the Alps!? it brings new meaning to the Christmas tune..."dashing through the snow, in a 2-horse open sleigh"! we had an absolutely amazing time. the only slight bummer is you share the sleigh with 6 people, so you may not get to sit in front, as you have to keep the same seats the whole time based on weight distribution. BUT, you're getting gorgeous views of the Alps and Ramsau/Dachstein no matter what. plus you get to make a nice stop for a gluhwein und kuchen!
January 2015
Wonderful experience and fabulous scenery all covered in snow. Surreal, felt a bit like a character in a snow dome.
January 2014
Fantastic day, my friend and I loved it, friendly staff, beautiful setting, totally recommend it, was a dream come true!
January 2014
Went on Dec 28th. We were worried bec the weather had been so unseasonably warm in Salzburg that we wouldn't see snow and we would wind up on a carriage ride....but NOT the case. They take you by bus (about 1 hour) to Town of Ramsu....here there's lots of snow. The journey along the way is spectacular.
My family of 3 joined another family of 4 on the carriage. (The tour person effectively organizes this for everyone to be with whomever they want to share sleigh with so don't worry). The two kids in the group sat up front with the driver and totally loved the experience. (The front group gets snow kicked up from hoofs of horses sometimes). For about 1 hr 1/2 you journey thru town taking loads of photos breathing in cold fresh air and laughing "all the way". You will see lots of locals and vacationers cross country skiing. You will also see lots of people sledding and riding horses. It's just magical. All the time you are comfortably covered up with the supplied blankets from the carriage. Do not forget: hat, gloves, scarf and camera.
Midway is the stop for a little warm up inside if you choose. Kids played in snow - making snowballs
. Snow angels and running around in general. Adults had coffees and delicious AMAZING strudel from the cabin house outside under heat lamps taking in the scenery. Stop here for 1 hour.
Alas the horses get ready again and your off for the second part of the journey.
The last stop in the returned village is where you can eat a meal (on your own). You are there about 2 hours. We enjoyed meal and then went outside with one of the sleds the hotel has to offer. Great fun...surrounded by skiers,snowboarders and other sliders.
Walk around the town and watch the ski jump contest if there is one taking place!
Retuned back to hotel about 6:30 at night. This was the very best exhilarating and most fun day the family had.
Highly recommend it do not miss this opportunity.
January 2014
Loved the whole day! We enjoyed seeing some of the ski villages on the way, and the sleigh ride was really authentic and fun. We'd thoroughly recommend this activity.
January 2014
A very fantastic trip with my daughter on the sleigh ride. All the way up to the snowny plateau area, the scenery is so beautiful. During my coffee break, my daughter had her happy time in a very small playground near the restaurant.
Advertisement
Advertisement