Soak up Salzburg's musical heritage with a 1.5-hour classical music concert inside Schloss Mirabell's Marble Hall. Admire the Baroque interior typically inaccessible to the general public and pass the grand marble staircase before settling into your seat. Hear renowned chamber music from Beethoven, Bach and Mozart as you enjoy an intimate evening in an old-world setting.
Highlights
Ticket to a classical music concert at Schloss Mirabell in Salzburg
Admire the palace's Baroque interior – normally off limits to the general public
Walk past the Donnerstiege – the palace's spectacular marble staircase
Enjoy a 1-hour 40-minute concert inside the lavish Marble Hall
Listen to music by world-renowned classical music composers like Mozart, Bach or Beethoven
Why Our Insiders Chose This Tour
A must-do for fans of classical music, as well as anyone looking for a memorable night out. What sets this apart from many other concerts is that the setting is very intimate, putting you in close proximity to the musicians. Also, the Marble Hall is just so stunning and glamorous!
Recent Photos of This Tour
What You Can Expect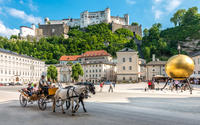 Built in 1606 for the Archbishop of Salzburg, the Mirabell Palace was burned down in the city fire of 1818. Thankfully, the exquisite Marble Hall and the Donnerstiege, the palace's ornate marble staircase, remained unharmed. Today the palace is one of Salzburg's most renowned architectural gems and a UNESCO World Heritage Site.

Your evening will begin at Schloss Mirabell in central Salzburg. Step inside the palace and marvel at the grand interior that is typically closed off to the general public.

Pass the Donnerstiege – the gorgeous marble staircase ornamented with sculptures – before entering the Marble Hall. The chandeliered room is said to have once hosted rehearsals for Mozart's father, and also served as the Prince-Archbishop Wolf Dietrich's banquet hall.

Then settle into your seat and enjoy your classical music concert in the intimate venue. Hear the sounds of the violin, cello, piano and viola. The works performed vary from concert to concert, but typically include compositions from Beethoven, Mozart, Bach and Handel.

March 2016
This was probably the most beautiful venue I've ever been in. The experience was a memory of a lifetime.
The one issue was that it wasn't clear to us which gate we were to go to. At the first gate where we thought we were supposed to be there was a sign for a concert that started earlier, and we thought we had missed our concert. It was a bit of luck and persistence that lead us to the correct entrance.
December 2015
Both pianist and violonist were exceptional. Sorry I cannot remember their names. It is also exciting to be in the Mirabell Building Marble Hall in which Mozart played.

October 2015
I really enjoyed the music but did not enjoy the children that was running loose and no one was taking care of them.
October 2015
I got the best seat in the house, thanks to you. I was right in front of the pianist and violinist who both hit every note pitch perfect. This is a must experience for any Salzburg visit.
September 2015
September 2015
I attended the Schloss Mirabell concert and had a wonderful time. The concerts are always different and a schedule is available at the Mirabell Palace. The night I went, there were three excellent female musicians playing Mozart and Bach on piano, cello, and violin. I purchased advanced seating and was positioned in the middle front row only a few feet from the musicians. The venue is beautiful with very good acoustics and the music was wonderful. Because the concerts are all different, it is hard to know exactly what to expect but I was very pleased by superior seats to an excellent concert in a spectacular and historical setting.
August 2015
This was exellcent. Very high level of musicians, and a wonderful setting and atmosphere - indeed one of the highlights of our trip
July 2015
Beautiful venue with great acoustics! It was a relatively small room in the palace, and the musicians were outstanding, making it personal and very rewarding. We brought our 9-yr-old son who loves classical music, and the musicians were available during the break for him to speak to, which made it a perfect evening for us.
July 2015
Concert was fantastic. The venue is gorgeous and we had front row seats. The musicians were wonderful - all in all a great evening.
June 2015
We had a really lovely evening. It was perfect to have the opportunity to attend a small venue in a beautiful historic Salzburg building, and listen to Mozart and other composers being played by a group of very talented musicians, who also obviously seemed to be enjoying performing for us.
Advertisement
Advertisement