Enjoy convenient, reliable, comfortable private transportation from the San Antonio International Airport (SAT) to your hotel in downtown San Antonio or near San Antonio Medical Center, Dominion or Fair Oaks. This is a great way to skip the stress of having to stand in long taxi lines!
Highlights
Private transfer from San Antonio International Airport to your downtown San Antonio, San Antonio Medical Center, Dominion or Fair Oaks accommodation

Enjoy private yet affordable transportation and skip the stress of taxis or shuttles
Simply call the operator upon arrival for immediate pickup
Choose from three comfortable vehicles to suit your group size
Service available 24 hours a day, seven days a week
What You Can Expect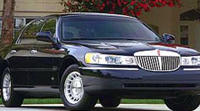 Upon arrival at the San Antonio International Airport (SAT), you'll be met by your professional driver. Depending on the number of people in your party, you'll book either a sedan, a sports-utility vehicle, or a stretch limousine. Once you're settled comfortably in your spacious private vehicle, you'll be driven straight to your downtown San Antonio, San Antonio Medical Center, Dominion or Fair Oaks accommodation.

When making a booking for this private arrival transfer from the San Antonio International Airport to your chosen destination, you will need to advise your flight details and your destination details to complete your reservation. Your transfer will be confirmed within 24 hours of booking, and you will be provided with a travel voucher to present to the driver. It's that easy!

Important note: Price is per person, based on three passengers per sedan, five per sports utility vehicle or six per limousine.


June 2016
Our driver was very courteous
March 2016
Our driver was on time and made contact with me via cell phone. He was very friendly and professional. We had no issues. The price was very good too.
January 2016
Jason once again picked us up. I asked him to take us to the National Car Rental site at the airport. He said that he had pulled up the address and it said Dollar Car Rental. I told him that perhaps they were in the same area. We did eventually find it and he let us off by the fence where we could see the sign. He was not very friendly. When you pay for a private transfer, it is nice if the person at least talks to you and acts like he is glad to be of service.
Jason, I guess, is a capable driver. I was disappointed to walk in the rain when we arrived in San Antonio when there was a road open to the hotel. I probably would not use this company again in San Antonio.
August 2014
The driver was late, not very well dressed and unfriendly. He did however find our hotel.
October 2015
Incorrect vehicle arrived

Jeffrey M United States of ...
August 2015
This was a bust and it was supposed to be a surprise for my husband. Driver was not there when we arrived so he wasn't checking for our arrival. When my husband called he said he was 5-6 min away and we should wait outside. About 20 min later he called again and again was asked what he was wearing pink shirt. When the driver arrived he didn't have a sign anywhere in his car so I know he never intended to come in and meet us. The town car was clean .
February 2015
ordered and paid for a limousine service, got an SUV, driver watched us load our luggage into the SUV, was not waiting for us in baggage claim, had to make a number of phone calls to track him down. very disappointing.
December 2014
This was the most disastorous pick up of our trip. Booking issues which took over an hour to resolve. When we arrived at the airport we had to call the company twice to locate the driver. We were picked up outside the terminal, no assistance with our luggage. The driver was disheavalled and was dressed shabibily. The drive to the hotel was quite stressful, as driver seemed to drift over the lines, and struggled to keep the car in his lane, he appeared intoxicated or extremely tired, which made the drive very stressful. He then dropped us on the footpath and not in the hotel foyer, and left us to struggle with four bags. We asked for a quote to AT and T center and was told $120 to take us there. We felt this was extravagant, when we paid $15 for a cab the next day.We called Carmel Limosine and complained and asked that they send a different driver for the next transfer.
June 2014
As per the booking we expected the driver to meet us at the baggage claim, instead we had to go search for him - he was driving around the pick-up circuit outside. We had to call the company to find out where he was and the vehicle type to look for - eventually found him. Not what you want after 28 hour flight.
Viator need to advise car companies of their requirements. Very disappointed.
John C United Kingdom
June 2014
Bad driver same one we had on return if different driver I would recommend
Advertisement
Advertisement