Spend the day at SeaWorld® San Antonio, and come face-to-face with the ocean's most fascinating marine animals. With over 30 attractions, shows and rides, this family-friendly SeaWorld San Antonio admission ticket has something for everyone!
Highlights
Spend a day at SeaWorld San Antonio
See the world-famous Killer Whale Shamu
Enjoy over 30 rides, attractions and shows at San Antonio's premier park

What You Can Expect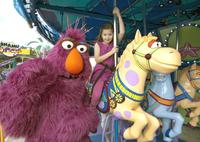 Experience life far under the sea as you feed dolphins, get up close to penguins and count the teeth on a shark! Of course, there's also the legendary rush of the Journey To Atlantis® water coaster and Shamu® - the biggest star both day and night in Believe® and One Ocean®.

A must-see attraction is Dolphin Walk, where you can touch and feed the playful and adorable Atlantic bottlenose dolphins. Continue your voyage to Pirates 4-D, which combines latest 4-D special effects technology with multi-sensory theater effects - experience sprays of water and other surprises during your adventure with the sea's most hapless band of pirates. If you're feeling extra adventurous, hop on The Great White, Texas' first inverted steel roller coaster, and go heels-over-head five times during more than 2,500 feet of breathtaking loops.

See itinerary below for a selection of SeaWorld attractions.
Itinerary
Exhibits:

Dolphin Walk
Sharks & Coral Reef
Rocky Point Preserve
Penguin Encounter
Boardwalk Games
Flamingo Cove
Alligator Alley
Animal Connections Conservation Center
Rides
:
Great White
Journey to Atlantis
Shamu Express
Steel Eel
Rio Loco
Sesame Street Bay of Play
Shows:

Shamu: One Ocean
Azul: Lure of the Sea
Clyde and Seamore's Sea Lion High
Pets Ahoy

One World:
Dive into the exhilaration of the sea in all-new Shamu show, One Ocean. The energy and spirit of the ocean envelops you in a multi-sensory celebration of life underneath the sea that entertains as it educates and inspires. Majestic killer whales join you on a journey into a world that drenches your senses in the vivid colors, vitality and global rhythms of the ocean. Dancing fountains set the stage as you connect with thrilling sea creatures and realize we are all part of one world, one ocean. .
Dolphin Walk:
Touch and feed playful Atlantic bottlenose dolphins at Dolphin Walk.
Journey to Atlantis:
"Journey to Atlantis", is part roller coaster, part water ride. Start your journey by climbing the 100-foot-high lift onto a turntable which rotates you backwards. Take a moment to enjoy the panoramic view of San Antonio, then dive backwards through a reverse camelback and onto the second turntable. One more spin and then the final plunge into a lake.
Penguin Encounter:
Experience SeaWorld's slice of the Antarctic while a 120-foot-long moving walkway transports you through this frozen wonderland. You'll see more than 100 penguins - including rockhopper, gentoo, chinstrap and king - and three species of flighted birds as they jump, slide and dive both above and below the water. Inside the penguin's habitat, the air is a chilly 30 degrees, and the water an icy 45 degrees - perfect conditions for penguins. To add to this ideal habitat, nearly 6,000 pounds of snow falls daily on the rocky cliffs.
August 2015
VERY GOOD FOR THE FAMILY, MY WIFE HAS MOBILITY PORBLEMS AND THERE WAS SCOOTERS AVAILABLE AT A DECENT PRICE FOR BOTH DAYS OF OUR VISIT.
June 2015
June 2015
I had no complaints. The room was very clean. Convenient location and the staff was great. Highly recommend this hotel.
August 2011
The hole family loved all of it, lots of shows, rides and water to cool off everywhere.
August 2011
Sea World was great. The shows are wonderfull. The meal wristband is the way to go. No waiting in line with the prepaid tickets.
August 2015
The viator deal that we got was really great on admission - we went 2 days with the whole family over a weekend for less than the cost of general admission for a 1 day family pass. The park was really enjoyable for the kids. The main negative was that the food was outrageously expensive and not very good, and had long wait times. Better to leave the park to eat and then come back, since it is open until 10 pm.
June 2014
Great town, lots of things to do.
June 2014
SeaWorld is a good place for the children to enjoy. Those who don't been there, I encouraged to check first the schedule for the activities.
June 2013
It was fun and great the kids had a blast!! However your online price for tickets was higher than at the park and the Hotel we stayed at that offered tickets!!
July 2013
The show of Shamu' s was great. there was also a trained animal show that was excellent we saw. The trained animals were largely from animal shelters the way I understood it, but I cannot remember the name of the show. We also rode one ride, I think Voyage to Atlantis, exhilarating, especially when we finally got splashed by the water in the 105 degree heat. One ride we were going to ride, Rio Loco looked fun, but due to technical difficulties, shut down the moment we got into the raft. I think their water pumps overheated or broke down. We went on a weekend and paid for a package all you can eat and drink at five different locations. We thought, due to the heat that keeping hydrated should be important, but be prepared to wait in line for over an hour for a refill of lemonade or to eat. If we had kids, perhaps the SeaWorld would have been a great family experience, but we do not have kids. Friends have told us the beluga whale show is great, but we were unaware of it. At the end of the day, we were exhausted, mostly from the heat and waiting in line though the shows and exhibits were good to great.
Advertisement
Advertisement