Special Offer
Book a 5-day Resort Hopper for less than the price of a 1-day!
Let your imagination run wild during a day of fun with this admission pass to LEGOLAND California. Build, play and explore among the park's range of 60 attractions, including the fearsome brick-based reptiles of Dino Island, the mind-blowing LEGO art of Miniland USA, the DUPLO play area for younger guests, and much more. Optional 1-day and 5-day "resort hopper" upgrades let you extend the fun with included entry to nearby SEA LIFE Aquarium and LEGOLAND Water Park.
Highlights
Admission to LEGOLAND California with optional SEA LIFE Aquarium visit and extended passes, from Carlsbad

Explore more than 60 rides, shows and games, interactive exhibits and a water park

Test your building skills when you construct LEGO towers to withstand earthquakes
Drive electric Lego cars at the driving school or pilot a plane in the Land of Adventure
Have a choice of activities suitable for different ages of kid, and fun for the whole family
Why Our Insiders Chose This Tour
So much fun for the young and the young at heart! Be sure to buy the park-hopper passes as there are three parks to visit and you'll need at least two days to see them all. SEA LIFE Aquarium is an awesome introduction to the underwater world!
Recent Photos of This Tour
What You Can Expect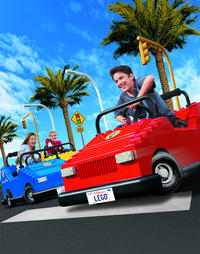 Head to LEGOLAND California for a fun day of exploring thrilling rides and imagination-stimulating games among a range of attractions that fill a 128-acre (52-hectare) site!

Visit Explorer Island where you can travel through a prehistoric jungle on Coastersaurus and dig for life-like fossils at Dig Those Dinos. Or watch the kids become heroes at a fire station play gym where they can act out the work of a fire fighter as they run, climb and slide.

Little kids can build with large soft play bricks at DUPLO Playtown, making forts or small hideaways from squishy LEGO bricks. Take to the high seas at Pirate Shores, a pirate-themed splash park that features six water rides including Splash Battle, Soak 'N Sail, and a water course with LEGO boats!

Be sure to save time for Miniland USA, which showcases incredible LEGO art. Marvel at large-scale LEGO models that represent eight regions in the USA and are made from more 20 million LEGO bricks! Examine the New York section, which includes a Central Park filled with LEGO people skating, riding carriages, and strolling the paths. The New England Harbor shows a quaint town with interactive mini-farm animals that dance to music. Take a boat cruise on a lake to see Miniland's Mt Rushmore, Taj Mahal, Sydney Opera House and more. You can even get a look into the Model Shop where master builders are at work on new LEGO creations.

If you need a rest, refresh yourself at the LEGO Legends of CHIMA Water Park.

Choose from more than ten restaurants and food stands for a bite to eat. Several stores give you options for Lego shopping with a service that allows for pickup when you exit.

LEGOLAND and SEA LIFE Aquarium 1-Day Resort Hopper
Upgrade your ticket to include admission to SEA LIFE Aquarium, located next door to LEGOLAND California, and two chances to visit both parks. Walk through a 35-foot (10-meter) tunnel to explore the Lost City of Atlantis, which features sharks, rays and a colorful array of tropical fish. Hold a sea star or crab at the Touch Pool. Watch daily feedings of the animals and learn about the habits of the marine creatures from demonstrations by knowledgeable staff. Kids and adults will be amazed at this interactive guide to the aquatic world.

Includes same day visits to LEGOLAND and SEA LIFE Aquarium, with a second same-day visit to both parks to be completed within 9 days of your first visit.

5-Day Resort Hopper
Upgrade by revisiting these two great family attractions with a 5-day Resort Hopper Special. The 5-day Resort Hopper includes unlimited admission for 5 consecutive days to LEGOLAND California, SEA LIFE Aquarium and LEGOLAND Water Park.

Hdawg USA
January 2016
I'm a lego enthusiast so a five star review may seem like a given, but that aside, there is something for everyone to enjoy. Lots of building stations with lego pieces for the kids to play with and Miniland USA with loads of hidden easter eggs to find.
September 2014
As always it is a pleasure to book through Viator. Legoland was great for the small children that were in our group and it was not a fast paced park, so the adults were able to relax as well. The Hotel resort is great, the themed rooms, buffett meals, entertainment for the children and an added bonus, the entertainment in the lift! We went for a joy ride many times just for the fun experience.
January 2014
We really enjoyed our day at LEGOLAND. HOWEVER the initial tour we booked (LEGOLAND including transport from San Diego) was cancelled at short notice due to insufficient numbers. We did then however rebook just entry tickets and made out own way there. The Viator staff were very helpful is changing tickets and refunding money. NOTE: Actually getting to LEGOLAND from San Diego is a mission from San Diego via public transport so start early to make the most of the day. There is no direct transport from Carlsbad Poinsettia to LEGOLAND and this is highly disappointing. LEGOLAND and MTS should get their act together.
January 2014

Justin W Australia
April 2013
Great place, aimed more for smaller kids. the look and feel is great, so much to see and do.

October 2012
If you have children who love LEGO, you MUST visit LEGOLAND. My husb and i took our 10yr old son and we visited twice. You cannot see all this park in one day as it is huge. We did the Lego park on the first day and then the Aquarium and the Waterpark on the second. The Aquarium is easily done in a couple of hours but the waterpark is also huge and once you're children are inside, they won't want to come out. Loved everything about this park. It is a long drive out of Anaheim but well worth it.

Skootre USA
December 2011
If you're between the ages of 4 and 8, this place is heaven. The rides are - mostly - tame and targeted at kids, and there's plenty of Lego building blocks and models to keep you entertained.
We didn't have time to go to the aquarium or water park, but they look cool, especially if the weather was hot.
We saw some people in Legoland itself without kids, which was a head-scratcher. There's not much for adults here, it's really all about the kids.
It's also heavy on the marketing tie-ins. I dare you to leave Legoland without buying at least one Lego kit. It's impossible. Luckily your kids will have plenty to chose from and will be very happy that Legoland has a great collection of cool and hard-to-find Lego kits.

JennyC United States of ...
June 2011
There is so much to see and do here with the three parks - the Water Park, SeaLife Aquarium and Legoland. This was my first visit and the kids had a blast, as did the older people in the group!!
Kim H Australia
November 2010
Loved all the interactive activities to do at Lego Land. Had a great day and would recommend this to all ages
Debra E Australia
February 2010
Our kids really enjoyed the day. I think it's more suitable for younger children, but our kids 9 & 11 had a great time, especially our son.
Advertisement
Advertisement