Escape the traffic and enjoy the great outdoors on a guided bike tour along the La Jolla coast, just a few miles north of San Diego. Ride along one of the most beautiful coastlines in southern California and experience firsthand why San Diego is known for its pristine beaches and amazing weather. This coastal bike tour is a beautiful guided ride along San Diego's most picturesque shorelines and some of the most famous landmarks in the area.
Highlights
Guided bike tour of La Jolla Shores

Ride from La Jolla down to Pacific Beach
Enjoy panoramic views of the coastline
See wild sea lions and seals
Snacks and water included
What You Can Expect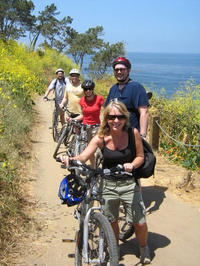 Your bike tour begins at La Jolla Shores where you'll follow a path which overlooks the Pacific Ocean. Enjoy beautiful panoramic views of the coastline and sandstone cliffs of San Diego as you cycle at a leisurely pace. You'll continue biking through the back streets of La Jolla, Bird Rock, Wind'n'Sea and Pacific Beach before returning to La Jolla Shores.

Back in La Jolla there will be a brief stop at La Jolla Cove and Children's Pool. This small cove was once a swimming area for children, but is now home to wild seals and sea lions. A great opportunity to see wild marine mammals up-close!

This 2-hour bike tour is the perfect way to spend the day sightseeing along the San Diego coastline and through its surrounding communities.
Attractions include:
Admission into the La Jolla Sea Caves and Cave Store
Children's Pool and La Jolla Seal Beach
San Diego's famous surfing breaks
The La Jolla Sea Lion Rookery with up-close looks at these amazing animals
Views from 100-foot bluffs overlooking La Jolla Cove and Ecological Reserve
The quaint and historic La Jolla Village neighborhood
The diverse La Jolla Tide Pools highlighting marine biological diversity

June 2015
Tour was great! Description of an "easy" ride may be a tad incorrect. Several hills during the ride were challenging, but the trip and guide were awesome
April 2013
We enjoyed this tour very much.
May 2012
I hadn't ridden a bike for over 30 years, but was persuaded to try this tour.
Well they say you never forget and luckily I hadn't!
There were 4 in our group, which was a nice number.
Our guide took us around the coast of beautiful La Jolla. We stopped from time to time, so that he could tell us about the area and local plant and wildlife etc.
We finished by riding back through the town.
Finally he dropped us off at our hotel for $25, which we thought was quite reasonable.
We enjoyed this trip very much. The guide was knowledgable and a good guy. Also the people working at their store were very friendly too.
Would definitely recommend.
July 2010
Great bike tour! Definitely the best way to see La Jolla and get the best views. Our guide was very knowledgeable. Uphill climbs were a little tough, it was a great workout!
June 2013
I travel very frequently and use Viator frequently. This was my most disapointing tour ever. The tour provider had no clue why were there. After calling Viator about my problem, just spent $50 on a cab ride and left a trade show early, they weren't sympathetic and seemed to take the side of the operator for some strange reason. The only consolation the Viator rep gave me was that someone higher up would review my case.
Say what? Where is the case I show up for a 2:30 tour at 2 that is pre-paid and a review is needed?
To date I have not been contacted by anyone from Viator.
Advertisement
Advertisement