Soar above the skies of San Diego in style as you enjoy a 20- to 60-minute aerial tour in a vintage 1920s-era biplane. Pick from a range of different flight paths for your ride, allowing you to view San Diego sights like its gorgeous coastline, bustling downtown or glitzy Coronado Island. Thanks the biplane's unique design, you (and up to one companion) ride up front, enjoying unobstructed views while your expert pilot handles the flying and navigation from the back seat. Customize your flight by adding some thrilling rolls and stunt turns, or keep things mellow and just enjoy the view.
Highlights
Biplane ride in San Diego

Fly over beaches, downtown San Diego, Coronado and inland San Diego County
Each flight can be more thrilling than a roller-coaster or totally tranquil

One or two passengers sit in the front cockpit while the pilot operates the plane from the rear cockpit
Choose from five different itineraries of varying lengths

Recent Photos of This Tour
Open Cockpit Biplane Sightseeing Ride in San Diego
What You Can Expect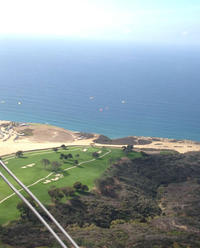 Take a memorable biplane ride above the beautiful sights of San Diego aboard this 1920s vintage plane. Whether you're an aviation enthusiast or simply looking for novel way to experience the city, this aerial ride is sure to lift your spirits.
Begin your aerial adventure by arriving at the city's Montgomery Field any time during the tour's normal operating hours. Pick a time, flight itinerary and trip length that best suits your schedule and interests. Then climb aboard your open-cockpit biplane to begin your ride.
As many as two guests can sit in the front cockpit, while your pilot sits in the back, handling all the flying and navigating. The planes used for your trip also have interesting stories to tell. One was originally built in 1927, the same year that aviator Charles Lindbergh took to the skies to cross the Atlantic, and was designed to carry air mail. Another plane, built in 1929, was owned by Chicago private investigation firm that used it to transport a crime-sniffing bloodhound. The third biplane has been lovingly restored to near-mint condition, appearing almost like it just came off the factory floor.
Your ride lasts between 20 and 60 minutes, with a variety of itinerary options on offer. You might choose to fly down the San Diego coast, fly over Carlsbad and Torrey Pines, check out fabulous La Jolla, see downtown or admire landmarks like Sea World, San Diego Bay or Coronado Island. For a full list of flight options, check out the Itinerary details below. At the end of your ride, land back at Montgomery Field to finish your trip.
Please note: If you would like a separate plane for each person, please make individual bookings for each party. Any 2 passengers on the same booking will share a plane.
Itinerary
Barnstormer Flight (20 minutes): This quick, exhilarating flight provides spectacular views of San Diego's major sights.

Del Mar Run (30 minutes): Fly down the San Diego coast to the Del Mar Fairgrounds, where the San Diego County Fair takes place. Plus, admire the lavish homes in Rancho Santa Fe.

Torrey Tour (40 minutes): Take in sensational beach views from Carlsbad to Torrey Pines.
Surf's Up Beach Flight (50 minutes): See the entire coast from Oceanside to Pacific Beach on this coastal flight that goes past Del Mar and La Jolla to Mission Bay, then heads back over the magnificent homes in Rancho Santa Fe.

La Jolla Coaster (1 hour): Marvel at breathtaking vistas of Del Mar, La Jolla, Torrey Pines, Mission Bay, Sea World, San Diego Bay, Coronado and Point Loma. This comprehensive flight also includes views of Lake Hodges, Rancho Santa Fe and lovely inland hillsides and lakes.

May 2016
The weather was terrible that day. They know the next day I Am flying back . So they make sure I have the tour and make me happy :) amazing experience
March 2016
It was perfect. Bonnie is so helpful on the phone and at the desk. And the flight was too much fun. I'm so glad we did the 40 minute flight, anything less would have been too short.
November 2015
Great experience highly recommended.
November 2015
wonderful experience, beautiful flight and great people. we loved it! thanks so much!
November 2015
Great time, we enjoyed the view from above. The open cockpit just makes it that much better. If your looking for fun or something different to do,this is it! We will do it again
September 2015
Had an amazing time!!! Would definitely do it again!!!
September 2015
crazy fun! If you wanna step out of your comfort zone- this is the adventure!!! highly recommend this tour- the staff and pilot were top notch!
June 2015
Amazing trip! Truly an outstanding experience.
June 2015
Great Experience that I wanted to share with my wife. Pilot Billy was great and I will be back!
March 2015
Excellent service by friendly people. Thanks to Peter and Bonnie. You have never seen San Diego until you've seen it in this plane. Go for an hour, it's worth the money.
Advertisement
Advertisement