16 Reviews
Location:

San Diego, California

Duration:

Flexible
Special Offer
Save 10% on the combined admissions when you book a 2-Visit Pass! Book and travel between October 1 and October 31, 2015 and receive 1 free child admission for every paying adult!
Inspired by the African Serengeti and the endless expanses of the Asian plains, the 1,800-acre San Diego Zoo Safari Park offers you an exotic safari adventure unlike any other outside of Africa itself. San Diego Zoo Safari Park is home to more than 3,500 rare and exotic animals - most of whom roam freely in vast enclosures.

Choose between a 1-day ticket to the San Diego Zoo Safari Park or upgrade to a 2-visit pass which is valid for either a 2nd day at the Safari Park or a visit to the San Diego Zoo.
Highlights
Africa Tram Safari at the San Diego Zoo Safari Park

San Diego Zoo Safari Park is home to more than 3,500 rare and exotic animals
Miles of walking trails lead guests to overlooks of lions, tigers and special encounters with exotic creatures
Why Our Insiders Chose This Tour
The tram tour offers an up-close look at magnificent lions, jaguars, elephants, and other animals in environments similar to their native habitats. And you simply can't miss the Cheetah Run, where the world's fastest animal chases a toy -- they're too fast for your camera!
Recent Photos of This Tour
San Diego Zoo Safari Park
What You Can Expect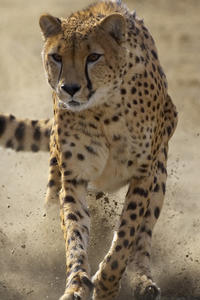 Witness a family of giraffe mingle among the gazelles and cranes while rhinos gather at a watering hole. Observe South African cheetahs lounging on a sunny hill or gaze into the eyes of the majestic California condor. Board the Africa tram tour for a 30-minute tour past herds of elephants, zebras, and several endangered species.

Venture into the dense forests and grassy savannas at the Heart of Africa, a 32 acre safari trail. Miles of walking trails lead guests to overlooks of lions, tigers and special encounters with exotic creatures. Stroll through Nairobi Village for shopping and dining.
Itinerary
Africa Tram: An exciting expedition with brightly colored tour vehicles and our diverse animal collection creating a relaxing adventure. The ride path takes you around some of the field exhibits, giving you a chance to connect with the animals on a closer level.

Cheetah Run: Witness the fastest land mammal up close and personal doing what it does best: run! During Cheetah Run, watch as the sleek cat races on a straight 330-foot-long track that allows it to really stretch its legs and reach maximum speed of about 70 miles per hour.

Conservation Carousel: For kids and kids at heart, our colorful Conservation Carousel features 60 ride elements to choose from, many of which replicate rare and endangered animals. You can ride a giraffe, rhino, zebra, cheetah, and more—which will be your favorite? $3 per person for one ride or $6 per person for an all-day wristband.

Lorikeet Landing: Watch our colorful rainbow lorikeets swoop down to enjoy nectar offered by guests. Exhibit entrance is free; lorikeet food is available for purchase to experience the thrill of feeding these birds by hand.

Robert the Zebra: If you've ever wanted to have a conversation with a zebra—or even if it never crossed your mind—this is your chance! Robert the Zebra lives in digital, animated form on a large screen, where he can see the people who have come to visit. He asks questions, cracks jokes, talks about zebra life, and is very curious about humans. Chat with our interactive digital zebra in the Park's Discovery Station Amphitheater.

Fisher-Price Samburu Jungle Gym: Kids love to climb and explore in this safari-themed play area; parents love the shade-covered picnic area! Located below Benbough Amphitheater.

Discovery Station: This kid-friendly area is filled with musical instruments, puppets, books, craft activities, and wildlife "toys" and is designed to give children and their adult companions a playful space for animal-themed fun. Educators facilitate learning and activities every day during Park operating hours. You can stop by for an impromptu animal presentation or do a stone rubbing of your favorite animal footprint.

Frequent Flyers Bird Show: Watch as our avian stars soar over your head and perform other feats that showcase their amazing natural abilities! Located at Bird Show Amphitheater, between Gorilla Forest and African Woods.
October 2015
my group thoroughly enjoyed the tour.
our guide was pleasant and entertaining while informing us.
May 2014
Was wonderful! I have been a couple times before but this time took the Behind the Scenes Tour and would recommend it to everyone. Our guide was so pleasant, accommodating and informative! Loved seeing the baby lions up close!
July 2013
This is a great place to visit. It's a bit different than a Zoo. The tram ride is fantastic and so informative.
Then all the exhibits are fabulous -- they have great food -- it's just a really nice day to spend. Again, can't see it all in just one visit. Go back again and again.
July 2013
Great park. The viator gave us discount ticket entry to the zoo, but we waiting in line to get tickets though. We added caravan ride to feed the giraffe and rhinos. Overall, I strongly recommend. I wish I had more time to see the cheetah run and ride on the tram. Tram had very long waiting line, maybe because it was Memorial Day. We left mid-day since we spend rest of day at Balboa and San Diego Zoo on same day.
November 2012
Wonderful experience of getting so close to the nature of Safari! Thrilled by the cheetah run.
April 2012
WHAT A WONDERFUL PARK. HANDLERS ARE VERY KNOWLEGDABLE OF THE ANIMALS AN HABITS. i WOULD RECOMMEND THIS PARK TO ANYONE.
February 2012
There are a number of ways to visit this open area of Africa & Asia, as well as some more adventurous ways like the segways and flightline safaris to get the adrenalin pumping. But for the more senior visitors the cart safari or caravan safari are very enjoyable as well as informative, and the cheetah run is unbelievable - the speed of that animal!!!
October 2011
Saw the new baby elephant. Love the fact that the anilmals are in a natural enviroment., our guide on the tram was funny
February 2010
It was a great experience and would enjoy going again.
Anonymous
February 2009
This was a great park. It was really well laid out and had all the animals I wanted to see. The enclosures were more realistic than you would expect and the keepers obviously have a great love for the animals. Hearing the lions roar just as I was leaving was amazing - they're so incredibly loud.
Advertisement
Advertisement