Span the globe in one afternoon at the world-famous San Diego Zoo. Popular with adults and children alike, a visit to San Diego Zoo is an ideal family-friendly activity during your time in California.
Highlights
Transportation and admission to the world famous San Diego Zoo

See thousands of wild animals including many on the endangered species list
Perfect for every member of the family

Recent Photos of This Tour
What You Can Expect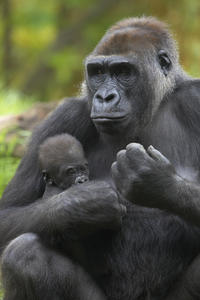 With literally thousands of wild animals including many on the endangered species list, its no wonder that San Diego Zoo is world-famous. Meet Zhen Zhen, the newest addition to the panda family, and the fourth baby panda born at the San Diego Zoo. Swing by the Zoo's newest attraction, Monkey Trails to journey into the depths of a tropical rainforest. In addition to a variety of monkeys, you will also see the rare pygmy hippo, venomous snakes and clouded leopards.
Activities available at San Diego Zoo include (additional cost):
Guided Bus Tour: A 35-minute tour by double-decker bus covering 75 percent of the San Diego Zoo. Your ticket also includes use of the Express Bus which allows you to hop on and off at three different stops throughout the Zoo. (included)
Skyfari Aerial Tram: Take an airborne shortcut over the treetops to the other end of the Zoo and enjoy spectacular views of the Zoo, its animal and plant collection, and surrounding Balboa Park. (approx. $3)
Balboa Park Miniature Railroad: pulls out of the station for three-minute rides around a portion of Balboa Park. (approx. $1.75)
ENTCO Wild Earth Safari Ride: Players of all ages can take a safari through the plains of Africa. Your mission: to explore the wild as rookie photojournalists and to capture on film the essence and beauty of the natural world around you. Two guests per ride (photographer and driver), dynamically and navigate the stunning landscapes of Africa on a quest for that "perfect picture". (approx. $6)
Only need transportation? Transportation without admission is also available.
Please note: This is a transportation and admission package. You will not be able to redeem your voucher at the San Diego Zoo.
Itinerary
Some of the attractions at San Diego Zoo include:

Monkey Trails and Forest Tales:
The most elaborate and ambitious animal habitat history is now open, ushering in a new era at San Diego Zoo. Joan B. Kroc's Monkey Trails and Forest Tales is home to more than 30 species of African and Asian birds, mammals, reptiles, and amphibians, some of the world's most exotic and endangered wildlife. You can enjoy a three-dimensional journey into the depths of a tropical forest and a new understanding of the diversity of life on Earth. An elevated walkway located across from the Zoo entrance takes you directly through the tree canopy where you will encounter some of the most rare and endangered monkeys on Earth.
Giant Panda Research Station:
The San Diego Zoo has had a love affair with giant pandas ever since two of the black-and-white bears came to visit in 1987. After years of red tape and tons of application paperwork, the Zoo and China agreed on a 12-year research loan of two giant pandas, Bai Yun and Shi Shi. A brand-new exhibit area was built for the panda guests, which has since been expanded and renovated and is now called the Giant Panda Research Station. Although currently housing four giant pandas, the facility can comfortably house up to six! Next to the public panda viewing area is the building that houses the Giant Panda Team, made up of the pandas' keepers and researchers. Be sure to stroll through the Giant Panda Discovery Center, located nearby. It includes a climb-in panda den, interactive exhibits, and even a chance to find out what pandas sound and smell like!
Polar Bear Plunge:
At first thought, a polar bear in sunny San Diego seems curiously out of place. But with the San Diego Zoo's Polar Bear Plunge, you'll discover that polar bears are right at home, where every day is an Arctic summer day. From the underwater viewing room you can see how agile and playful the polar bears really are. In fact, they're known to swim right up to the glass to check out all the humans on display. Polar Bear Plunge is one of the largest polar bear exhibits in the world. It's wet and it's wild - polar bear style!
Tiger River:
Mesmerizing and gorgeous but also endangered, the Malayan tigers are always a pleasure to watch. Their exhibit was designed to closely resemble a natural jungle habitat and was built on a steep slope that gives the tigers plenty of exercise. A waterfall splashing into a pool and logs to climb on or use as scratching posts give the tigers a variety of things to do. A heated cave near a viewing window encourages the tigers to spend their naptime close to curious tiger admirers.
Children's Zoo:
There are more than 30 special animal exhibits and activities designed with the younger visitor in mind. The popular Petting Paddock allows kids a chance to feel the wooly coat of a sheep or comb a gentle goat's hair. The animal nursery has large viewing windows to let you watch animal babies being bottle-fed or cuddled by our caring keepers. The Children's Zoo has animals not found anywhere else on Zoo grounds, such as wombats, spider monkeys, and our ever-fascinating naked mole-rats. Best of all, about 45 of the 200 critters living here are trained as animal ambassadors, so you might get to feel how sharp a hedgehog's quills are, or hear how quietly a horned owl can flap its wings.
Sun Bear Forest:
Surrounded by the fantastic sights, sounds and scents of the Asian tropical rain forest, you may forget the hectic jungle of the city for a moment. Lose yourself in this forest in the city, where naturalistic enclosures and thousands of exotic plants combine to help animals and Zoo visitors alike experience life in an Asian forest. Bornean sun bears, the smallest bears in the world, are one of the most enjoyable animals to observe, especially in the natural setting of Sun Bear Forest. Here, the sun bears, named for the golden crescents on their chests, display their frolicsome nature. Extremely agile and often comical, sun bears are great tree climbers and make excellent use of their enclosure's climbing structures.
Flamingo Lagoon:
With their flamboyant color and amusing behaviors, flamingos make the perfect welcoming committee at San Diego Zoo! The Flamingo Lagoon features two separate viewing areas, affording a choice of vantage points. One area features an elevated walkway where you can look down into the exhibit instead of across it at eye level.
Rainforest Aviary:
The Owens Rain Forest Aviary offers bird lovers an up-close look at more than 200 feathered friends representing 60 species and about 180 birds. The free-flight aviary simulates the sights and sounds of a real Southeast Asian jungle environment. It focuses on exotic species from Southeast Asia and Australia, including flowers, ferns, and foliage indigenous to that region.
Absolutely Apes:
For decades the orangutans and siamangs at the San Diego Zoo have delighted visitors with their colorful personalities and intriguing vocalizations. Now, the two families of apes, indigenous to the same Asian rain forest ecosystem, share a habitat at the Zoo. Absolutely Apes provides a lush, naturalistic environment where arboreal orangutans and siamangs can climb, swing, and live in the same terrain as they would in the wild.
Sea Lion Show - It Began with a Roar:
This show spotlights animals that can be found around the globe and, as always, features our charismatic California sea lions.
The Wild Ones - Legends and Lore:
Delve into the legend and lore of both predators and prey from around the world and witness the mystery of their natural behaviors. You may even get a chance to participate!
Dr. Zoolittle Show:
Join San Diego Zoo's physician of fun, Dr. Zoolittle, in the Children's Zoo for an interactive and hilarious show.
September 2012
I think this is the 1st thing to do in San Diego
April 2011
We had a great time at the San Diego Zoo. The buses arrived at the exact scheduled time, picking us up from, and dropping us off, at our hotel. The driver was polite and knowledgeable about the area, regarding questions specific to San Diego.
February 2011
A must when in San Diego. Zoo is excellent.Pick up and drop off ... no problems.
February 2009
Pick up from zoo to hotel was on time and good.
Anonymous
February 2009
The San Diego Zoo is a great place to take the entire family. There are so many animals from all over the world to see and the keepers make sure you learn about them too.. The bus transportation made everything so easy for us.. Such a great day!
March 2012
I had a blast at the zoo!Many animals that Ive never seen or heard of before.Pick up was good again.Everyone should go to the SD zoo for an education on our wild life.
September 2011
This is a must visit. Learned alot.
Advertisement
Advertisement