Head over to SeaWorld San Diego, one of the world's top marine theme parks, for a full-day of family-friendly fun and amazing aquatic animals. With transportation and admission included, there's no need to worry about long lines, parking or public transport. Or have the option to only book this comfortable bus transport for a hassle-free round-trip ride to the popular park. Dive in for a day of amazing animal shows, fun-filled rides and up-close animal encounters that will thrill the whole family.
Highlights
Transportation and admission option to Sea World San Diego

Skip the hassle of driving, parking or finding a taxis with this easy transportation option from San Diego hotels to SeaWorld

Experience one of the world's premier marine adventure parks
Come face to face with the friendly dolphins
Plunge into fun and fantasy on Journey to Atlantis
Recent Photos of This Tour
What You Can Expect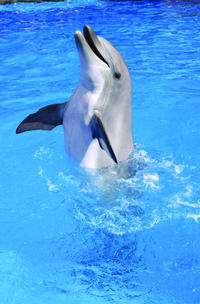 After morning pickup from select San Diego hotels or Kettner Blvd, relax on the easy drive to SeaWorld without worrying about parking hassles or finding a taxi.
If you upgrade to include your admission ticket, this package covers all the bases for a full day of fun at the action-packed 200-acre (81-hectare) marine adventure park. With dozens of world-class shows, unforgettable animal encounters and thrilling rides, the whole family will be entertained for hours.
Watch the incredible acrobatics of the dolphins, come face-to-face with a polar bear or count the teeth on a shark. Journey into the tail-chasing, ruckus-making world of your pet in Pets Rule, or ride the waves on Shipwreck Rapids. Little ones will be enchanted by Elmo's Flying Fish and the Sesame Street Bay of Play.
At the end of the day, sit back for the relaxing drive back to the San Diego hotel where you started.
See below for a list of some of SeaWorld's rides, shows and attractions.
Please note:
This is a transportation and admission package. You will not be able to redeem your voucher at SeaWorld San Diego.
Itinerary
Select attractions, shows and rides at SeaWorld include:
Tours and Attractions:
Dolphin Encounter
Shark Encounter
Penguin Encounter
Dolphin Interaction Program
Beluga Interaction Program
Animal Spotlight Tour
SeaWorld Behind-the-Scenes Tour
Penguins Up-Close Tour
California Tide Pool
Shamu's Underwater Viewing
Shows

One Ocean
Madagascar Live! Operation Vaction
Pets Rule!
Blue Horizons
Cirque de la Mer

Rides:

Manta
Journey to Atlantis

Shipwreck Rapids
Wild Artic Ride
Skytower
Abby's Sea Star Spin
Oscar's Rocking Eel
Elmo's Flying Fish
Sesame Street Bay of Play

Blue Horizons
Watch soaring birds, playful dolphins, dramatic pilot whales, thrilling high divers and daring aerialists perform a mesmerizing display of dance, flight, color and entertainment.
Shamu: One Ocean
Be enveloped by this multi-sensory celebration of life under the sea that entertains, educates and inspires. Majestic killer whales join you on a journey into a world of vivid colors, dancing fountains and the rhythms of the ocean.
Dolphin Encounter
Watch bottlenose dolphins and pilot whales perform in a high-energy show with some surprise comic moments. Enjoy this fast-paced show featuring tail walks, spinning jumps, back flips and plenty of splashes!
California Tide Pool
Roll up your sleeves and touch amazing creatures including a sea star and sea urchin. Marine experts will be on hand to answer any questions you have and share their knowledge.
Journey to Atlantis
Take excitement to new heights on the Journey to Atlantis. This wet and wild ride combines a thrilling roller coaster with a heart-stopping water ride. During the six-minute adventure, experience simulated earthquakes, floods and dazzling special effects, and plunge down an eight-story rush of adrenaline-pumping exhilaration. After the journey, view one of the world's most remarkable and unique marine mammals: the Commerson's dolphin.
Shipwreck Rapids
Take the ride of your life on Shipwreck Rapids, the park's first adventure ride that includes raging rapids, roaring waterfalls, water cannons, sunbathing sea turtles and a near collision with a ship's propeller. Later, enjoy a festive atmosphere and tasty treats at Shipwreck Reef Cafe (own expense). Keep and eye out for surprise visits by an array of exotic animals!
Wild Arctic Ride
Hop aboard the Wild Arctic ride for a heart-pounding adventure. This simulated jet helicopter will take you on a motion-based 'flight' to a remote research station called Base Station Wild Arctic. Experience a wild adventure of real bumps, jumps and zips!
Sesame Street Bay of Play

Come play with your favorite Sesame Street characters at this vast play area filled with family-friendly rides, character appearances and plenty of new ways to play. Soar into the sky on Elmo's Flying Fish ride. Twirl and whirl on Abby's Sea Star Spin and get your picture taken with Elmo or Big Bird.
Please note:
Attractions, shows and rides subject to change.
April 2016
We were on a cruise and this saved us alot of money, going with them over the ships excursion to Sea World. We did have to walk about 2 blocks from the ship to the train station, which turned out to be very fun seeing the city.
We enjoyed our driver and he picked us up also later in the afternoon as planned. We had a great time in Sea World and especially enjoyed the polar bears watching them swim and dive for fish for dinner.
The Whales were great and we spent alot of time watching them swim around under the restaurant after their show was over.
October 2015
Was an amazing experience
November 2014
I had a very nice tour, only the weather wasn t so good, but overall i enjoyed , The driver Frank was very friendly and prompt in services. i recommend this tour .to everybody! Thank you Viator!
December 2012
I booked the transportation only. The driver came on time ws very friendly nd helpful. I strongly recommend them
June 2012
Don't miss if you go to San Diego
March 2012
driver on time both sides of the trip. Easy to just be dropped off without having to find parking for day
April 2011
Fantastic tour and the driver
Stanislaw M Poland
December 2009
It was a marvelous experience! It was the second time I visited this place after many years, this time with my wife. I Loved the shows and animals!
Helen D Ireland
August 2008
Great place, very enjoyable. Shows are spectacular, and times are spaced out just right so you can get around everything. Highly recommendable.
Anonymous
August 2008
It was an amazing experience not only for my children but, for us as parents, to be able to share the same memories with our children that we had as a child. We fed the seals and dolphins, hit every ride in the park and watched all of the shows. My family had the best time there, we can't wait to go back.
Advertisement
Advertisement