Head over to SeaWorld San Diego, one of the world's top marine theme parks, for a full-day of family-friendly fun and amazing aquatic animals. With transportation and admission included, there's no need to worry about long lines, parking or public transport. Or have the option to only book this comfortable bus transport for a hassle-free round-trip ride to the popular park. Dive in for a day of amazing animal shows, fun-filled rides and up-close animal encounters that will thrill the whole family.
Highlights
Transportation and admission to Sea World San Diego

Experience one of the world's premier marine adventure parks
Come face to face with the friendly dolphins
Plunge into fun and fantasy on Journey to Atlantis
Recent Photos of This Tour
SeaWorld San Diego Transportation and Admission
What You Can Expect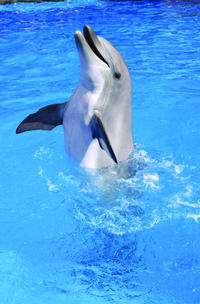 After morning pickup from select San Diego hotels or Kettner Blvd, relax on the easy drive to SeaWorld without worrying about parking hassles or finding a taxi.
If you upgrade to include your admission ticket, this package covers all the bases for a full day of fun at the action-packed 200-acre (81-hectare) marine adventure park. With dozens of world-class shows, unforgettable animal encounters and thrilling rides, the whole family will be entertained for hours.
Watch the incredible acrobatics of the dolphins, come face-to-face with a polar bear or count the teeth on a shark. Journey into the tail-chasing, ruckus-making world of your pet in Pets Rule, or ride the waves on Shipwreck Rapids. Little ones will be enchanted by Elmo's Flying Fish and the Sesame Street Bay of Play.
At the end of the day, sit back for the relaxing drive back to the San Diego hotel where you started.
See below for a list of some of SeaWorld's rides, shows and attractions.
Please note:
This is a transportation and admission package. You will not be able to redeem your voucher at SeaWorld San Diego.
Itinerary
Attractions, Shows and Rides at SeaWorld:
Shamu Show: Believe
At the heart of every being lies a spirit of wonder. Feel it come to life in the most sensational show ever: Believe. A captivating and visually stunning Shamu show that will transport your heart to the edge of wonder.
Dolphin Discovery
Dolphin Discovery showcases bottlenose dolphins and pilot whales in a splashy, high-energy show with some surprise comic moments. It's a fast-paced show featuring tail-walks, spinning jumps and back-flips. If you are seated in the first 10 rows of Dolphin Stadium you may get wet from the 55-degree salt water.
Pets Rule
Come learn what your pets already know - Pets Rule! Venture into the tail-chasing, ruckus-raising world of your pet in SeaWorld's Pets Rule! Dogs dance, cats cavort and birds flock. Even a potbellied pig gets into the act. The pet's backyard paradise features trees to climb, a fence to balance on, a pool to cool off in, a dog house for some R and R and fire hydrants for well, you get the picture.
Clyde and Seamore's Risky Rescue
Watch as your favorite animal actors drench you with surprises. Sailors Clyde and Seamore and the crew of the USS Motley set off in their old naval submarine to rescue Admiral Biggenbottom from Anemone Territory. If successful their beloved submarine will be saved from being decommissioned. This action-packed adventure is as big as the sea itself, with special effects that will blow you out of the water.
Shark Encounter
This 280,000-gallon attraction features a 57-foot, walk-through acrylic tube running the length of the sharks' habitat. As you travel through the sharks' amazing world, you can view hundreds of fascinating sand tiger, bonnethead, blacktip and whitetip sharks swimming overhead.
Shamu: Close Up
Get face-to-face with Shamu. Venture beneath the waves for an up-close look at Shamu. Watch as killer whales glide through the 6.7 million gallon pool.
Rocky Point Preserve
Rocky Point Preserve, a two-part attraction, allows you to see and learn about bottlenose dolphins and California sea otters. Here you can enjoy feeding the fun-loving dolphins at specified times each day and visit an underwater viewing area for an exciting look at the dolphins surfing and frolicking, while curious and furry sea otters dive for crabs and sea urchins nearby. Surrounding the animal habitat are several interactive elements that are designed to educate kids and grown-ups alike.
Wild Arctic
Welcome to Base Station Wild Arctic. Here you'll find yourself face-to-face with polar bears, beluga whales, walruses, arctic foxes and seals. You'll feel the freeze as you pass through Wild Arctic's ice tunnel, complete with foggers, misters, simulated snow and a 25-foot-long ice wall. It's a wild adventure for all.
Penguin Encounter
A snow-filled habitat where penguins swim and waddle in 25°F temperatures. Chill out with nearly 300 Antarctic penguins at the Penguin Encounter.
Manatee Rescue
Learn how to care for endangered species at Manatee Rescue. Manatee Rescue is one of a handful of U.S locations outside Florida displaying the endangered Florida manatee. Here you can see several rescued and rehabilitated manatees residing in a 215,000-gallon freshwater habitat, featuring a natural environment for manatees and a dramatic underwater viewing gallery for guests.
Forbidden Reef
Touch and feed California bat rays as they glide though the water. Travel down under the waves and get face-to-face with moray eels. Take an up-close look at hundreds of these exotic creatures in their mysterious world of underwater caverns. In other words, have the experience of your life.
California Tide Pool
Touch amazing creatures in the California Tide Pool. Roll up your sleeves and touch a sea star, sea urchin or other fascinating creatures in a recreation of one of the ocean's richest environments. Here you'll also find park educators are always on hand to answer questions and share information.
Journey to Atlantis
The first splash is just the beginning. What begins as a peaceful water ride erupts into an adventure as the spirits of Atlantis fight to keep you. You'll brave twists, turns, and watery falls of mythic proportions. And you'll never know what's around the next corner or the next drop - even when it's 60 feet down!
Shipwreck Rapids
Prepare to get doused! It's time to brave the waves on Shipwreck Rapids. Spin and splash through river rapids, plunge through an underground cavern and dodge dripping cargo nets as you swirl around a tropical island.
Wild Arctic Ride
Get on board for a heart pounding ride to the Wild Arctic. Board a simulated jet helicopter for an unforgettable motion-based "flight" to a remote research station called Base Station Wild Arctic. You'll experience a wild adventure of real bumps, jumps and zips.
April 2016
We were on a cruise and this saved us alot of money, going with them over the ships excursion to Sea World. We did have to walk about 2 blocks from the ship to the train station, which turned out to be very fun seeing the city.
We enjoyed our driver and he picked us up also later in the afternoon as planned. We had a great time in Sea World and especially enjoyed the polar bears watching them swim and dive for fish for dinner.
The Whales were great and we spent alot of time watching them swim around under the restaurant after their show was over.
October 2015
Was an amazing experience
November 2014
I had a very nice tour, only the weather wasn t so good, but overall i enjoyed , The driver Frank was very friendly and prompt in services. i recommend this tour .to everybody! Thank you Viator!
December 2012
I booked the transportation only. The driver came on time ws very friendly nd helpful. I strongly recommend them
June 2012
Don't miss if you go to San Diego
March 2012
driver on time both sides of the trip. Easy to just be dropped off without having to find parking for day
April 2011
Fantastic tour and the driver
Stanislaw M Poland
December 2009
It was a marvelous experience! It was the second time I visited this place after many years, this time with my wife. I Loved the shows and animals!
Helen D Ireland
August 2008
Great place, very enjoyable. Shows are spectacular, and times are spaced out just right so you can get around everything. Highly recommendable.
Anonymous
August 2008
It was an amazing experience not only for my children but, for us as parents, to be able to share the same memories with our children that we had as a child. We fed the seals and dolphins, hit every ride in the park and watched all of the shows. My family had the best time there, we can't wait to go back.
Advertisement
Advertisement