Special Offer
Price displayed includes a 15% discount off the local admission price!
Explore the fascinating world beneath the waves as you spend the day with this admission to SeaWorld San Diego. Go nose-to-nose with a joyful dolphin, belly up with a gentle beluga whale or waddle along near the sociable penguins. It's a park that's both fun and educational, making every encounter a new journey of discovery. Choose to upgrade your ticket with access to Aquatica San Diego, SeaWorld's brand new waterpark.
Highlights
Spend a day at SeaWorld San Diego
See Shamu, the famous killer whale, perform dazzling tricks and aquatic feats!

Enjoy rides, attractions and more than 10 amazing animal shows
Get up close to penguins, turtles, dolphins and more

Include a visit to SeaWorld's waterpark, Aquatica San Diego

Why Our Insiders Chose This Tour
Learn about conservation while having a blast at this famous marine life park. SeaWorld has it all -- live shows, thrill rides and the one-and-only Shamu show!
Recent Photos of This Tour
What You Can Expect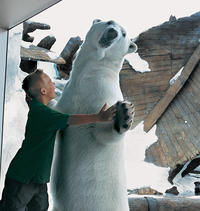 Take trip beneath the waves as you spend the day with the friendly marine life at Sea World San Diego. This one-day admission pass gives you access to the park's endless range of marine animal exhibits, fun rides and entertaining shows. It's the perfect family-friendly mix of education, entertainment and fun.
What will you explore first? Your options inside are nearly endless. Get mesmerized as you watch the park's bottlenose dolphins and pilot whales in a high-energy performance, filled with hilarious moments. Or get up close and personal with the marine life along the California coast, thanks to this interactive look inside a California tide pool. Check out the Shark Encounter to watch these magnificent fish glide through the water, or hop aboard a adrenaline-fueled fun-ride like Shipwreck Rapids or the Wild Arctic Ride. There's also plenty of kid friendly attractions, like Sesame Street Bay of Play. The choice is up to you.
See Itinerary below for descriptions of select SeaWorld attractions.
Itinerary
Select attractions, shows and rides at SeaWorld include:
Tours and Attractions:
Dolphin Encounter
Shark Encounter
Penguin Encounter
Dolphin Interaction Program
Beluga Interaction Program
Animal Spotlight Tour
SeaWorld Behind-the-Scenes Tour
Penguins Up-Close Tour
California Tide Pool
Shamu's Underwater Viewing
Shows

One Ocean
Pets Rule!
Dolphin Days

Cirque de la Mer

Rides:

Manta
Journey to Atlantis

Shipwreck Rapids
Wild Artic Ride
Skytower
Abby's Sea Star Spin
Oscar's Rocking Eel
Elmo's Flying Fish
Seseame Street Bay of Play
Blue Horizons
Watch soaring birds, playful dolphins, dramatic pilot whales, thrilling high divers and daring aerialists perform a mesmerizing display of dance, flight, color and entertainment.
Shamu: One Ocean
Be enveloped by this multi-sensory celebration of life under the sea that entertains, educates and inspires. Majestic killer whales join you on a journey into a world of vivid colors, dancing fountains and the rhythms of the ocean.
Dolphin Encounter
Watch bottlenose dolphins and pilot whales perform in a high-energy show with some surprise comic moments. Enjoy this fast-paced show featuring tail walks, spinning jumps, back flips and plenty of splashes!
California Tide Pool
Roll up your sleeves and touch amazing creatures including a sea star and sea urchin. Marine experts will be on hand to answer any questions you have and share their knowledge.
Journey to Atlantis
Take excitement to new heights on the Journey to Atlantis. This wet and wild ride combines a thrilling roller coaster with a heart-stopping water ride. During the six-minute adventure, experience simulated earthquakes, floods and dazzling special effects, and plunge down an eight-story rush of adrenaline-pumping exhilaration. After the journey, view one of the world's most remarkable and unique marine mammals: the Commerson's dolphin.
Shipwreck Rapids
Take the ride of your life on Shipwreck Rapids, the park's first adventure ride that includes raging rapids, roaring waterfalls, water cannons, sunbathing sea turtles and a near collision with a ship's propeller. Later, enjoy a festive atmosphere and tasty treats at Shipwreck Reef Cafe (own expense). Keep and eye out for surprise visits by an array of exotic animals!
Wild Arctic Ride
Hop aboard the Wild Arctic ride for a heart-pounding adventure. This simulated jet helicopter will take you on a motion-based 'flight' to a remote research station called Base Station Wild Arctic. Experience a wild adventure of real bumps, jumps and zips!
Sesame Street Bay of Play

Come play with your favorite Sesame Street characters at this vast play area filled with family-friendly rides, character appearances and plenty of new ways to play. Soar into the sky on Elmo's Flying Fish ride. Twirl and whirl on Abby's Sea Star Spin and get your picture taken with Elmo or Big Bird.
Please note:
Attractions, shows and rides subject to change.
February 2016
Easily a whole day to see the entire park and all it's shows. Was a wonderful experience!

February 2016

October 2015
Ended up going two days when we only had planned one. It was worth reshuffling.
October 2015
very good day we had no problems getting in to the park with the vouchers as with all the viator trips we did
September 2015
February 2015
Sea World is everything that I thought it was going to be and more. The dolphin show was amazing and the whale show was the best! You can tell the dolphins and whales like doing tricks for food and they enjoy showing off to the crowd. Be forewarned! The "splash zone" isn't some imaginary zone, you WILL get wet! Haha, bring a towel or rain poncho :) Be sure to spring on some of the extra tours - well worth the money and great experiences.
January 2015
Loved it we dined with shamu which was great and the park was not to busy so lines were short, love it

December 2014
October 2014
Thoroughly enjoyed SeaWorld - the shows were wonderful. It was however disappointing that the opening times in September were from 10am to 5pm. This did not allow time to cover all of the attractions especially as the show times were set so that sometimes you were sitting doing nothing for 30/40 minutes as you have to be there in time to get a suitable seat. We were in fact unable to take advantage of any of the rides. We also felt that there was no real advantage in booking through Viator as the entrance fee was the same at the venue and in fact our hotel was offering a $20 discount per ticket which would have made the cost a lot cheaper than we actually paid.

September 2014
very gooooooooooooooooooooooooooooooooooooooooooood
Special Offer
$88.99 Save $14.00
Advertisement
Advertisement