Take a trip through American naval history with admission to the USS Midway Museum in San Diego. This enormous ship, known as the longest-serving aircraft carrier of the 20th century, now offers a range of interactive exhibits, a self-guided audio tour and numerous restored aircraft across its 4-acre (1.6-hectare) flight deck and sections below. It's an essential piece of San Diego's, and America's, military history.
Highlights
Visit one of the largest aircraft carriers in the US Navy fleet

Enjoy over 60 exhibits including the flight deck, galley, engine room and more

Audio tour included in the admission price is available in English, Japanese, Spanish, French, German and Mandarin

A must for the entire family

Recent Photos of This Tour
What You Can Expect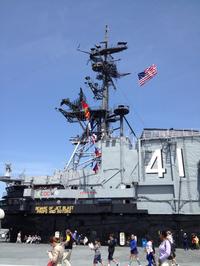 Climb aboard the USS Midway carrier in San Diego, a former naval vessel that now plays home to a fascinating range of exhibits on the American military. It's a fascinating way to learn about military history along with an iconic piece of Americana.
Begin your USS Midway visit on downtown San Diego's Embarcadero, boarding the ship any time during its regular hours of operation. This marvel of engineering once housed more than 4,500 crew members across its various decks, and served in the US Navy between 1945 and 1992, making it the longest-serving aircraft carrier of the 20th century. Over the years more than 225,000 sailors have walked its sturdy decks.
Once on board the ship, you have a range of options to explore. For more than a decade this famous carrier was the largest ship in the world (too large to fit through the Panama Canal, in fact), so there's no shortage of things to do. Continue on a self-guided audio tour, told through the stories of the ship's former officers and sailors.
Or visit some of the 65 highlighted locations throughout the vessel, covering its bridge to its engine room. There's also 25 restored aircraft lining its deck and a range of interactive exhibits to suit visitors of all ages. You can also get a better sense for life at sea as you explore the ship's restored living quarters, including the galleys, sleeping quarters and officer's country.
Before you go, don't forget to check out the flight simulator, and make sure to stop by the gift shop and café to cap off your visit.
June 2016
I've enjoyed a lot
I recommend to everyone
June 2016
Very interesting tour..Really makes one appreciate our military !!!!
June 2016
This was awesome, take the audio tour, it is well worth the money.
March 2016
Fantastic! The ship is awesome and the vets aboard that helped with the tour showed great pride and knowledge.
March 2016
This was a truly amazing and historical tour. Please take your time and listen to all the audio info provided.
Also if you get the chance take all the tours available and do talk to the docents onboard they are very well versed in the history of this beautiful ship.
February 2016
It was an excellent self-paced tour. We didn't feel rushed and though there were hundreds of people onboard the ship, it didn't seem crowded. The volunteer hosts were extremely helpful and made our tour all the more enjoyable.
January 2016
We were really impressed by the volunteers who explained everything so well. And the views of San Diego from the Deck were beautiful. I would recommend this tour. Very well planned out to see all the areas.
December 2015
so much fun, I would highly recommend. The vets giving the information on the ship were incredible.
November 2015
Highly recommended. Audio tour just the right balance, short clips rather than constant, gave chance to get a feel for the place at your own pace. Good that everywhere was pretty much accessible and gave a very good feeling of what it would have been like on board. Staff extremely friendly and helpful and clearly passionate about having served. As a non-military or US citizen, found it more enjoyable than expected.

November 2015
loved it we met a prisoner of war he was a pilot that got shot down and was sent to starlag 3 and was liberated by paton. great exibits fantastic day.i would recommended this tour to anyone
Advertisement
Advertisement